There has been quite a bit of hype surrounding the Detroit Red Wings' top prospects. And their performance at the annual NHL Prospects Tournament in Traverse City certainly added fuel to the fire.
After dropping the first game of the showcase to Minnesota's prospects, the baby Red Wings rebounded to take the next two contests en route to a tournament championship appearance, only allowing one goal in the process.
#RedWings battle Blue Jackets for 2018 NHL Prospect Tournament Championship. | #DRWPT #LGRW

Details –> https://t.co/wDxIUixev0 pic.twitter.com/IZQ1bXqs62

— Detroit Red Wings (@DetroitRedWings) September 11, 2018
In the championship game against Columbus' prospects, the Red Wings fought well in a back-and-forth affair, but ultimately dropped 7-3 after giving up five unanswered goals in the third. Despite the loss, this tournament was an excellent showcase of Detroit's top-tier prospects.
Related: 42 Red Wings Prospects & What to Know About Them
First Round Potential
Leading the way for the Red Wings prospects were their four most recent first-round draft picks: Dennis Cholowski, Michael Rasmussen, Joe Veleno and Filip Zadina. This should come as no surprise, as these players have been discussed ad nauseum this summer.
But it certainly gives Red Wings fans confidence to see their highly regarded prospects take over in actual games while wearing the winged wheel. In fact, the top line of Veleno centering Rasmussen and Zadina controlled the final round robin game against New York while they were on the ice – and they frequently were.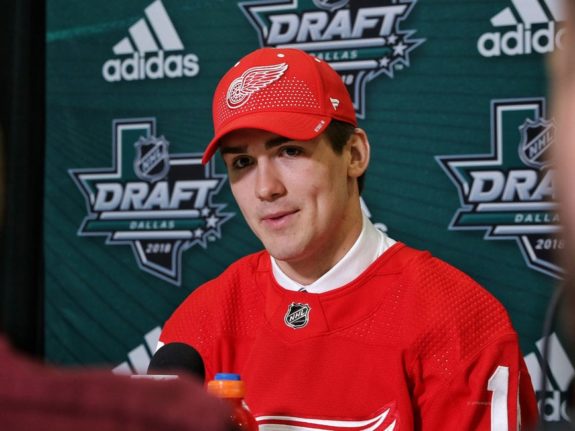 Red Wings director of player development Shawn Horcoff noted the play of his top prospects to Detroit's Dana Wakiji:
"We felt coming in here we were going to have a good team on paper. I think guys, they've put a lot of hard work in over the summer and I think you're starting to see that. (Dennis) Cholowski and Ras (Michael Rasmussen) and Gio (Givani Smith). I think a big difference for us is our 18-year-olds. Our young guys have come in and in a very hard tournament, done very well. You see (Joe) Veleno, (Jared) McIsaac, (Alec) Regula, and obviously (Filip) Zadina, speaks for himself."
Potent Power Play
The three combined with Cholowski and Axel Holmstrom to form a dominant power play, which scored five goals in the four tournament games. Givani Smith added another power play tally as part of the second unit in the championship too. Considering Detroit's recent floundering with the man advantage, it's hard not to get excited about these prospects contributing to an NHL power play one day.
For Zadina and Rasmussen, that may be this coming season. Rasmussen has been a force in front of the net and should be able to hold his own against grizzled NHL veterans despite his age. His hand-eye coordination is reminiscent of Tomas Holmstrom and even offers some playmaking and finesse potential down low as well.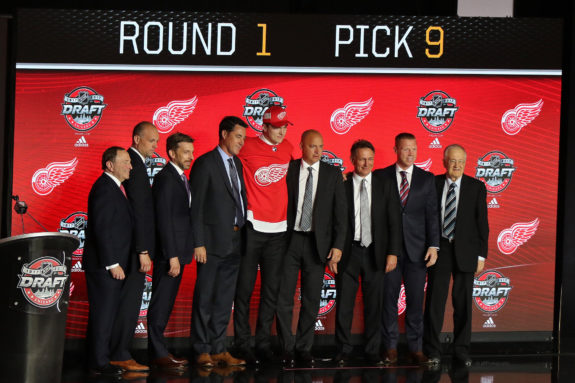 On his off-wing, Zadina is the shooter that Detroit's power play has been looking for. His dangerous shot is even more lethal when firing from around the faceoff circle. Zadina also has the hockey IQ to pass up quality shooting opportunities to set up teammates for better chances.
In addition, Cholowski has quarterbacked the power play well, finding passing lanes and firing the puck on net himself often – something Red Wings' defensemen preferred not to do as much last season.
To his left, Veleno played Henrik Zetterberg/Tomas Tatar's "playmaker" position well and even buried a highlight reel snipe against the Rangers' prospects. The younger, non-related Holmstrom wreaked havoc in the slot and near the net-front as well – sound familiar?
Related: Red Wings 2018-19 Season Preview & Rebuild Guide
Let the Speculation Begin
On Tuesday, Steve Yzerman stepped down as Tampa Bay's general manager. Long-time assistant Julien BriseBois will replace him and Detroit's former captain will stay on with the franchise as a senior advisor.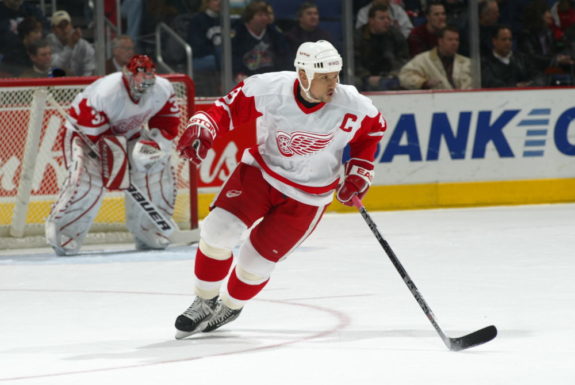 Yzerman's decision was made so he can spend more time with his family in Michigan, but it didn't take long for social media to begin speculating about a reunion with the Red Wings. Yzerman will "return home" and still work for the Lightning through the 2018-19 season.
During the team's press conference, Yzerman declined to comment on his plans beyond this season.
Could Yzerman return to Hockeytown next summer? Or does the hand-working executive simply need a break and more time with his family? Time will tell.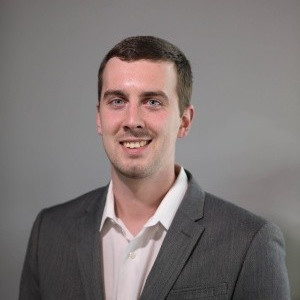 Tony Wolak is based in the Washington D.C. area and covers the Detroit Red Wings for THW. As a former junior and college hockey player, Tony has a unique perspective on Red Wings topics.