What's The Grind Line? Apart from the once-famous line of Kris Draper, Kirk Maltby, and either Joe Kocur or Darren McCarty, The Grind Line is also The Hockey Writers' weekly column about the Detroit Red Wings. Jacob Messing, Tony Wolak and Rachel Anderson are the muckers who make up THW's forechecking unit and sound off on Red Wings topics.
---
Over the past three seasons, the Detroit Red Wings have lacked the "advantage" part of the man-advantage. The team finished 27th and 24th in the last two years, respectively. It's been a weak point for coach Jeff Blashill, who overtook the league's second-best power play after the departure of Mike Babcock following the 2014-15 season.
Blashill is on his third offense and power-play coach after Pat Ferschweiler and John Torchetti each failed to lift the Red Wings into a threatening offense. While part of it may be a lack of finishing talent, changes need to be made to a team that has fallen in goals-for in each of the last three years, finishing 28th in that regard last season.
Heading into the 2018-19 season, Dan Bylsma is taking over the offense and power play. His experience as a head coach, winner, and former Stanley Cup champion should do the Red Wings well. He'll have plenty of options to run on the power play, and The Grind Line is ready to give him some deployment advice.
Jacob Messing:
First off, Bylsma's strategy may change up usage, but you'd be hard-pressed to find a strategy that wouldn't run the most efficient with this five-man group:
Mike Green – right point quarterback
Dylan Larkin – half-wall passer
Anthony Mantha – net-front and slot
Thomas Vanek – left point shooter
Filip Zadina – right side, off-wing shooter
The biggest factor here is whether Zadina makes the team or not. He's a confident, pure goal scorer and can play on the goalie's left side, an opposite to Alex Ovechkin or Patrik Laine. He's highly skilled and hungry to prove he wrongly slipped in the draft.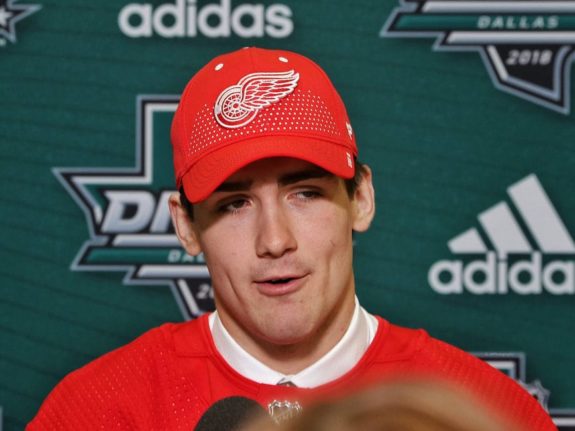 Larkin has shown a playmaking ability, and they could be a fantastic duo for years to come. Larkin led the Red Wings with 47 assists last season. He's the natural choice as the top power-play unit center, whether Henrik Zetterberg returns in 2018-19 or not. He has already shown strong chemistry with Mantha as the pair is expected to play together again.
Mantha's 6-foot-4 frame, tenacity, and goal-scoring make him the obvious choice as the net-front and slot presence for the Red Wings. His long reach and slick hands for his size will help him pick up loose pucks, a large reason he led the team with nine power-play goals last season.
Green does not really offer the booming slap shot of some of the league's top power-play defensemen, but he does quarterback the zone well and find the open man with crisp passes and heads-up play.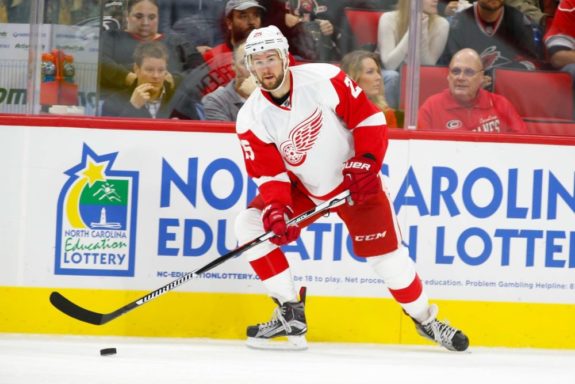 That's where Vanek comes in. He's a power play producer and shines when he's not expected to play stellar defense. His right shot offers a one-timer for the three left-handed forwards and multiple options on the half-wall are what make many teams so dangerous on the power play. He has an elusive shot and would generate a lot of rebounds for Mantha in the crease.
Tony Wolak:
Before divulging my ideal power-play unit, I want to share a couple of conclusions that I came to when considering the personnel:
The power play would be better with a relatively accurate Martin Frk in the lineup, but with the logjam up front at the moment, he won't see much ice time.
Detroit has quite a few players who could plug into PP1—which is a good thing—so there should be no excuses if the power play is once again impotent.
With Frk in the lineup, I would want to run a power play similar to the 1-3-1 setup Washington uses to feature Ovechkin's shot and the passing of Nicklas Backstrom, Evgeny Kuznetsov, and John Carlson. But without Frk, the Red Wings should run a different strategy to exploit the strengths of these players:
Green – top of umbrella quarterback
Larkin – half-wall shooter/passer (where Frk would be)
Mantha – off-wing shooter
Vanek – net-front and slot shooter
Henrik Zetterberg – goal-line passer
Green is the clear choice to direct traffic and facilitate play from up top. Having Larkin on his strong-side wing to work up and down the boards gives the Red Wings a second premier passer to find the open man plus an excellent shot when an opportunity opens up. Tomas Tatar played this role well in past years – Larkin should be even better. These two players would also lead Detroit's zone entries, given their speed and vision.
As Detroit's best pure shooter, Mantha should be set up on his off wing to receive passes from Green, Larkin, and Zetterberg (more on the captain in a minute). There will be plenty of opportunities for one-timers and for Mantha to creep down low while the defense is looking the other way. Top-ranked prospect Zadina could also plug in here if the Red Wings prefer to keep Mantha closer to the net.
Down low, Zetterberg remains Detroit's best playmaker along the boards and still has excellent vision. He'll work along the goal line (on both sides of the net) to draw the defense away from the shooters.
Finally, Vanek will be stationed out to screen the goalie and deflect shots coming in. He'll also work as a bumper in the slot to distribute pucks to Larkin and Mantha on the half walls. Vanek's net-front presence is an upgrade over Justin Abdelkader and gives the Red Wings another right-handed shot capable of one-timers if Zetterberg or Mantha choose to pass from the goalie's left.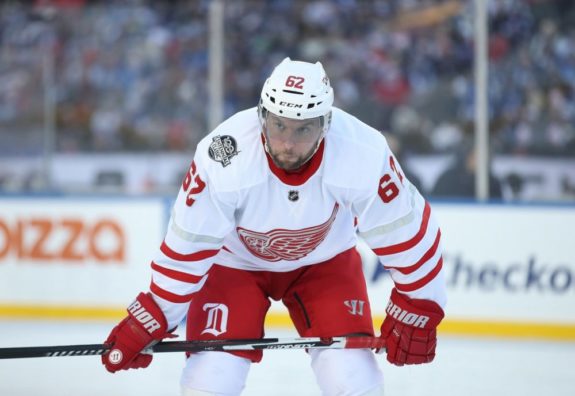 The goal of setup would be constant motion and crisp passing. Each player has a zone that they should stay around, but should move quite a bit within it to cause chaos for the defense. And if the Red Wings can continually make great passes around the offensive zone, lanes will open up for quality shots on net.
Of course, Larkin needs to be re-signed, Zetterberg may not return, and Detroit still needs to get under the salary cap upper limit. If all of these players are in the lineup opening night, I'd want these five on the ice when the Red Wings go up a man.
Rachel Anderson:
Mixing the veterans with fresh legs is how I would approach the power play.
Green – right-point quarterback
Larkin – off-wing shooter
Frans Nielsen – half-wall shooter/passer
Tyler Bertuzzi – left point passer
Luke Glendening – net-front, slot
Combining Green and Bertuzzi on the back end would provide a versatile offensive/defensive push. I'd put Nielsen, Larkin and Glendening up front.
Green is a proven powerhouse defensively. He has an offensive edge while on full strength that can only be amplified while on the power play. He's fast and efficient with playmaking and can help get the puck in deep.
Pairing Green's vivacity with Bertuzzi's scrappy style on the back end, they'd enable a first offensive push into the zone. Bertuzzi, though not a defenseman, has experience on the power play from Grand Rapids and is controlled enough to be trusted in that role.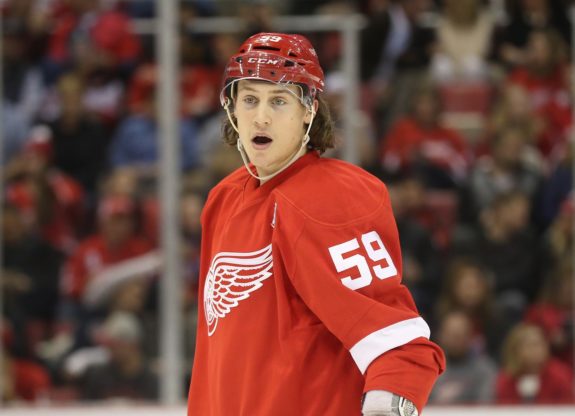 Nielsen, Larkin and Glendening would take the front. Nielsen and Glendening would take the wings and Larkin at center. As with the back end, pairing Nielson with a few of the younger guys brings a lot more experience to the front. Nielson is a confident body along the wing who can drive the puck and create plays.
Glendening is a master at taking the trash at the net. Maintaining the wing and in front of the net is where he's found a home. On the power play, though a play can be made, he can stand by for any stray pucks. Larkin has the speed to cut through and fill center. Larkin has a precise shot and can drive the center lane, opening options for Nielsen and Glendening along the wings.
It's an unlikely first unit, however, a mixture of seasoned players along with some fresh legs will enable the Wings to create more options in terms of power play units. Glendening, Nielsen, Larkin, and Green all have several seasons under their belts of special team experience. The addition of Bertuzzi will consistently grow his ability when his time of increased responsibility comes.
I offer opinions and insight on the Detroit Red Wings organization and its prospects.