College hockey is an exciting sector of a sport loved by many. The tournaments, the atmosphere, the unpredictability—all combine for a hockey experience like no other. As the NCAA receives more and more recognition at the NHL draft, more and more hockey fans have begun to pay attention to the league, and there are a number of reasons to consider falling in line.
NHL Prospects
NCAA hockey was used as a launchpad for some of the NHL's best players. Current big names include Jonathan Toews, Erik Johnson, Blake Wheeler, Jack Eichel, Noah Hanifin, and James van Riemsdyk. That is in addition to the bountiful number of prospects in the league like Clayton Keller, Ryan Donato, Adam Gaudette, Henrik Borgstrom—the list goes on and on.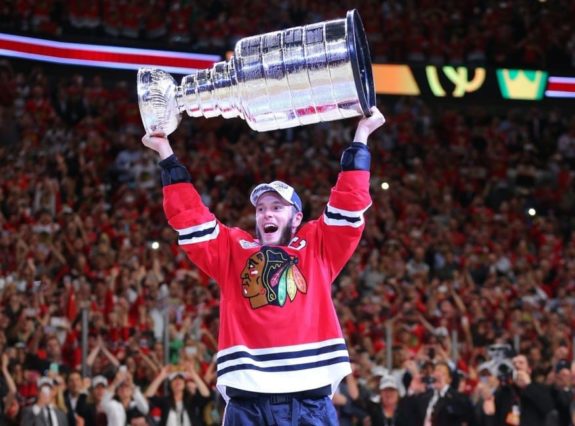 Just this year, 67 NCAA players were taken in the 2018 NHL Entry Draft—seven of whom were selected in the first round. Those early selections include Brady Tkachuk (No. 4) and Quinn Hughes (No. 7). In total, 32 percent of draft picks this year made their way via the NCAA.
Unpredictability
It is obvious that the game of college hockey is played by college students with ages ranging from the late teens to the early twenties. While most of these players have played the game of ice hockey throughout their life, there is still an aspect of inexperience, which in turn causes mistakes. But these mistakes contribute to the excitement—you never know what is going to happen, as a 3-1 lead can easily become a 4-3 deficit.
The stage gives way to unexpected heroes and awestriking performances. It allows the story of an underdog dethroning a Top-20 program, of a high-scoring affair, and a 1-0 grind. The game is quite simply unpredictable, making it one of the more exciting variations of hockey.
College Hockey Atmosphere
NHL arenas are some of the loudest buildings that host the sport, but the atmosphere of a college hockey rink is unmatched in a number of other ways. We're not talking about 20,000 fans filling an entire arena with their chants and filing in and out of beer stands, restaurants, and the pro shop between periods. We're talking about something a little different.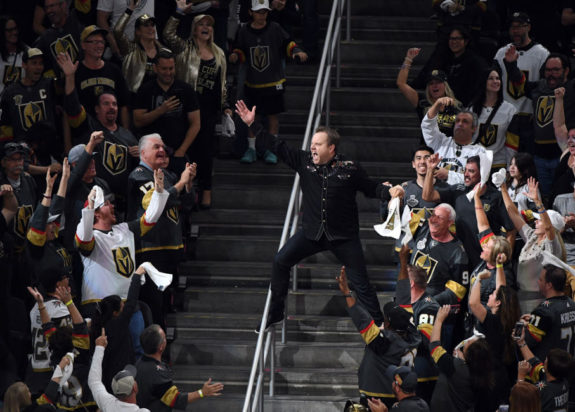 College hockey fans in attendance range from raucous students, dedicated alumni, and locals rooting for hometown pride. There are the schools' bands that provide the viewing experience's its most unique touch. Plus most NCAA stadiums feature little distractions, oftentimes just a single food stand and a limited merchandise shop—if that. It's this compactness and simplicity that makes for a great place to watch a game.
A lot of college hockey rinks offer enough room for just a few thousand fans—there never seems to be a bad seat in the house. While NHL tickets can cost a fan hundreds of dollars, you can pay for most college hockey viewing experiences out of your pocket, making it extremely accessible if you are located near a program. Attending an NCAA ice hockey contest is simply a unique experience. It may not have the roaring crowd and the bells and whistles of an NHL game, but it has its own feel and perks.
NCAA Tournaments Galore
Tournaments are another aspect of college hockey that offers excitement. There are a number of tournaments that arise throughout the season, such as the annual Beanpot tournament that pins a number of New England programs against one another, and the Friendship Four held in Belfast, Ireland—bringing the sport across the Atlantic and resulting in the Belpot trophy being handed to the winner.
Individual conferences also hold tournaments to crown the king of the region en route to the NCAA National Tournament, which pins the nation's Top-16 teams against one another. While this sounds a lot like the playoffs in a number of other hockey leagues, this one doesn't feature a best-of-seven series. The matches are one-and-done deals – the winner moves on, the loser is sent packing. It makes for exciting games to watch, radiating the feeling of a Game 7 given the stakes.
Growth of College Hockey
Lastly is the fact that the game of college hockey is ever-growing. While it remains largely untelevised until the end-of-the-year tournament, it is slowly becoming more accessible thanks to the internet. Often at the hands of schools' journalism programs, some of the programs' websites are able to host live streams. There are also a number of schools trying to break into Division I hockey, such as the University of Illinois and the University of Arizona.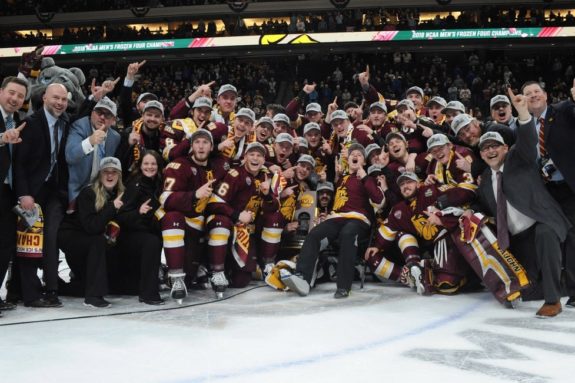 More and more college hockey players are making their way to the NHL as well. Over 30 percent of the league now features players who used college puck to reach hockey's highest plateau. It's a great statistic for college hockey, drawing more and more players to the NCAA in order to compete for an NHL draft pick while simultaneously working towards a degree in case Plan A doesn't pan out.
College hockey is growing, and it will be interesting to see just how much it grows over the course of the next few years.