It's time to be honest with ourselves. The Chicago Blackhawks just aren't the dynasty they used to be. Winning Cups in 2010, 2013, and 2015 has certainly raised expectations. The Hawks are supposed to be contenders every year, right? Wrong. The team has struggled in the past three seasons, and everyone is wondering if they can return to their former glory. Our Blackhawks' staff here at The Hockey Writers has been trying to make sense of it all.
Welcome to the first of many Blackhawks' roundtable editions for this summer and the upcoming 2018-19 season! Today Meghan Dillon, Greg Boysen, and Gail Kauchak will give their opinions on three questions regarding the Blackhawks future.
To start things off, much talk is given to the forward line combinations for the Blackhawks. Head coach Joel Quenneville is notorious for changing up the lines on a nightly basis, much to the chagrin of fans. It's easy to debate who would work best together. Recent THW articles have discussed whether superstars Jonathan Toews and Patrick Kane should reunite. Or whether Kane and Alex DeBrincat might be a good fit. So this is our first question of the day.
1. Kane and Toews or Kane and Debrincat? Why?
Meghan Dillon
Since Kane and Toews have both changed so much since they were last on the same line, it would be interesting to see them together again. However, I think Kane and DeBrincat would be better on the same line. I wrote more in-depth on their chemistry last year.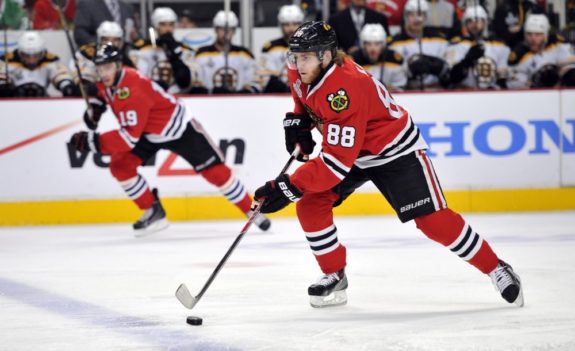 To sum it up, I think they complement each other very well when it comes to skill, size, and speed. They're both amazing goal scorers so they would be an offensive force to be reckoned with. However, if a miracle happened and Artemi Panarin comes back to the Hawks, I expect him and Kane to be paired together. Their chemistry is simply incomparable, and that's something I think everyone would like to see again, if possible.
Greg Boysen
As exciting of a line featuring DeBrincat, Nick Schmaltz and Kane would be in the offensive zone, I am not sure they would be good together long term. With all of them being smaller players, I can envision them getting hemmed in their own end and giving up quite a few goals over the course of the season.
DeBrincat should play with Brandon Saad and Toews, as their style of play would open up the ice for his killer shot and they would be at the front of the net to clean up any rebounds. I really feel that the left winger for Kane's line is not on the roster yet. I'd love to see Max Pacioretty with Schmaltz and Kane, but we shall see.
Gail Kauchak
Separating Kane and Toews is the thing to do to provide more depth and balance with your "first" and "second" lines, which brings us to the second option. Yes, Kane and DeBrincat are smaller players. And yes, neither is the most defensively responsible. But darn it, what they could do on the offensive side of things! As Team USA's head coach Jeff Blashill inferred when they played together at the World Championships, Kane is a natural passer, and DeBrincat is a natural shooter.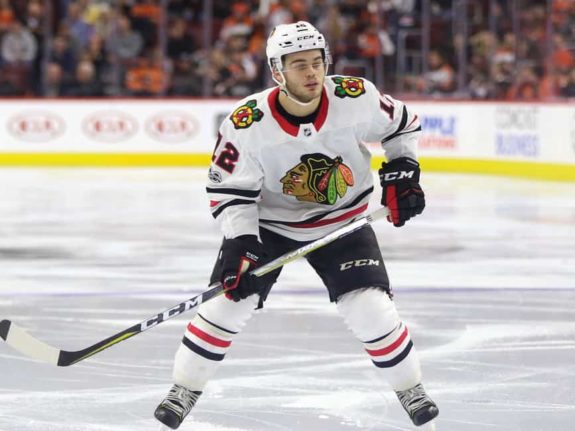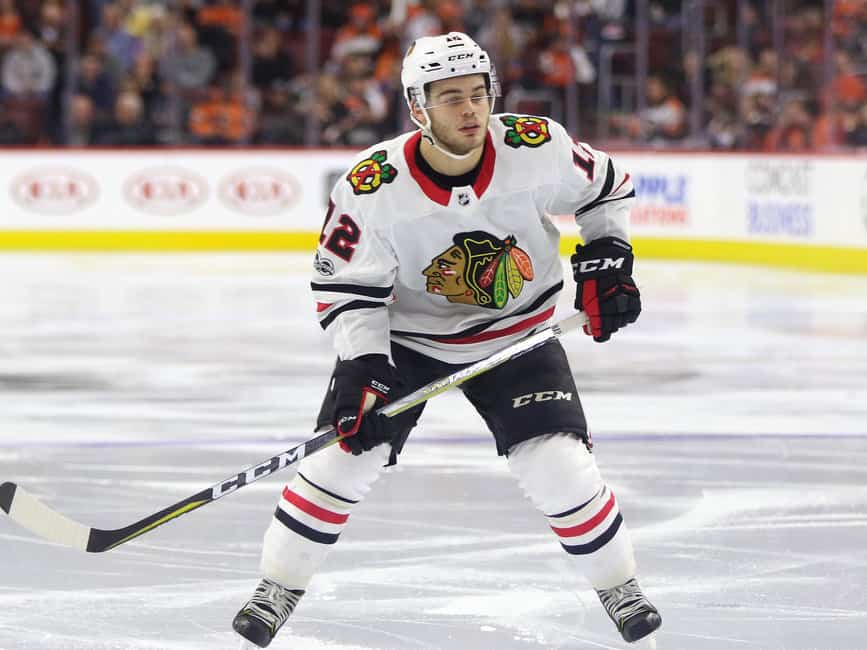 In my eyes, the key would be putting Kane and DeBrincat with the right center. Instead of the more diminutive Schmaltz, what about someone with a little bit more presence, like Artem Anisimov? After all, Anisimov did a pretty good job centering Kane and Artemi Panarin back in the day.
But then Greg has to bring up a line of Saad-Toews-DeBrincat. Oh my gosh, the options!
Moving on, many are calling for big change in the front office now that the Blackhawks didn't make the playoffs last year and were eliminated in the first round the previous two years. If they continue to struggle, should they fire general manager Stan Bowman? Or should they fire head coach Joel Quenneville? Perhaps they need to get rid of both. Which leads us to our second question.
2. Hawks Miss the Playoffs, Again…What Do You Do?
Meghan Dillon
The 2018-19 season will be a very telling one. If the Hawks can have a successful season, I think both Bowman and Quenneville should stay. If the season flops, I think Stan should go, and Quenneville should stay. Stan has made some very questionable decisions the past few years, and this is the time to redeem himself. If he flops, he should be done.
As for Quenneville, I think firing him is a terrible idea. Like Stan, he must use this year to redeem himself and has a lot to prove. If he fails to live up to expectations, firing him could be a good idea, but at the same time, the Hawks would have to deal with another team having Quenneville as a coach. Knowing what he is capable of, this has disaster written all over it.
Greg Boysen
Following the season, I would not have had an issue with the team letting go of Quenneville. I feel that every coach has a shelf life no matter how much success they have enjoyed in the past. Just look at how many teams Scotty Bowman coached during his Hall of Fame career.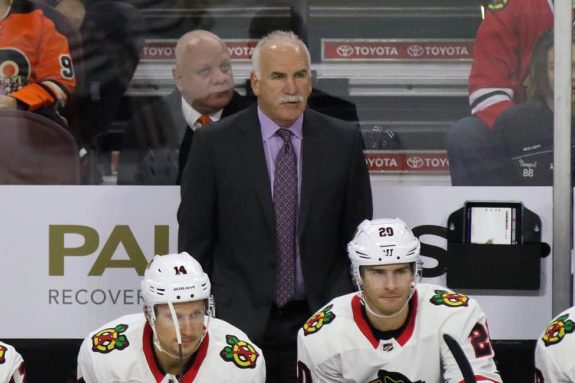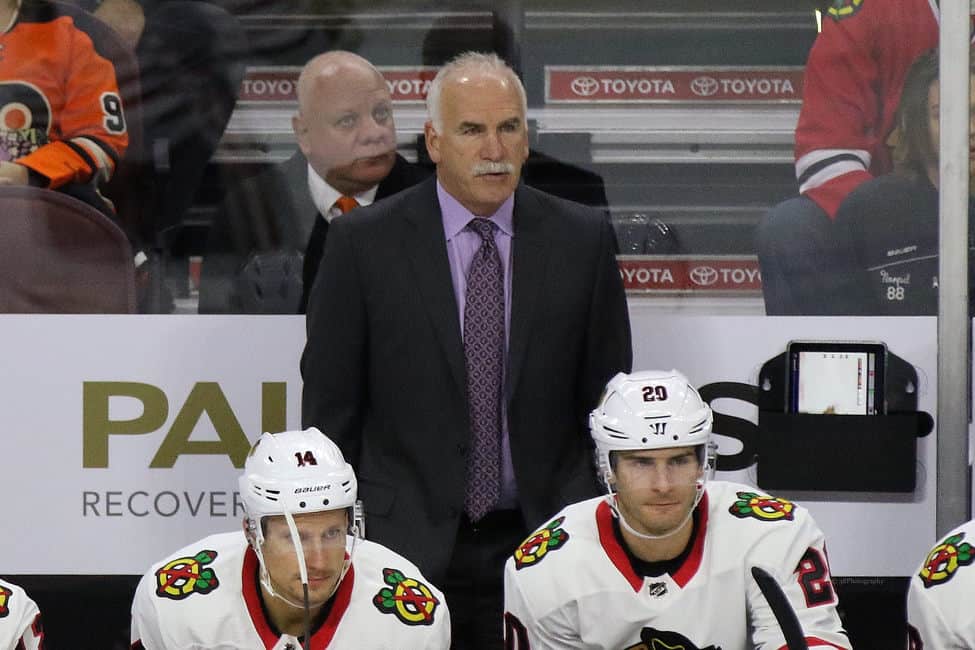 If the Blackhawks fail to make the postseason or can't get out of the first round again, I think it will be time to say goodbye to both Bowman and Quenneville.  They set the standard at winning Stanley Cups and neither of them have lived up to that since 2015.
Gail Kauchak
I don't envy Bowman. It must be incredibly hard to remain under the salary cap and put a competitive team on the ice year after year. With that in mind, it's easy to give him the benefit of the doubt after a few questionable decisions. But so many of Bowman's transactions have been head-scratchers of late, it's difficult support him much longer. It's time for Stan to go.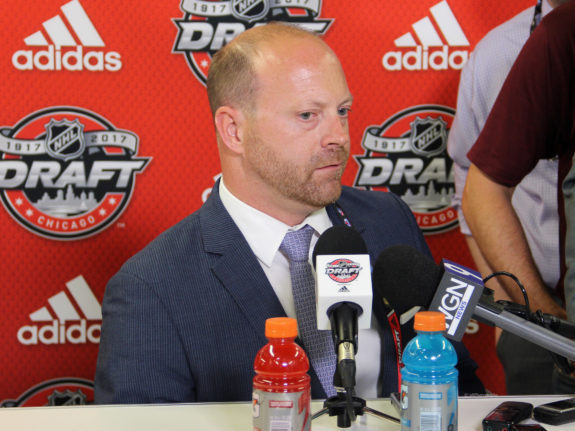 Moving on to Quenneville…It's Coach Q! The second winningest coach in NHL history. The man with such fire and passion, and the best mustache in the world! He's helped bring three Cups to Chicago, and is arguably one of the best masterminds at outsmarting his opponent in a long, drawn-out playoff series.
But he's also the guy who's constantly shuffling the forward lines, not allowing for any cohesiveness. He has a reputation for favoring his veterans and not having enough patience to allow his younger players to learn and grow. Oh, and he likes to rotate eight defensemen in and out of the lineup so none of them know whether they're coming or going. Finally, he's been coaching many of his core players for 10 years — he might be running out of the right buttons to push.
Yeah, it's time for Quenneville to go. But who will replace him, you say? Have you noticed there's a young man named Jeremy Colliton doing remarkable things with the Rockford IceHogs?
3. Marcus Kruger Is Back. Good, Bad or Indifferent?
Meghan Dillon
When it comes to Kruger, I feel both indifferent and good. He's best known for his penalty kill, which will always be a valuable skill, but that wasn't the Hawks' problem last season. They need all the help they can get, but I think that help should be focused more on defense. Kruger is also very prone to injury which could easily backfire on the Hawks' end.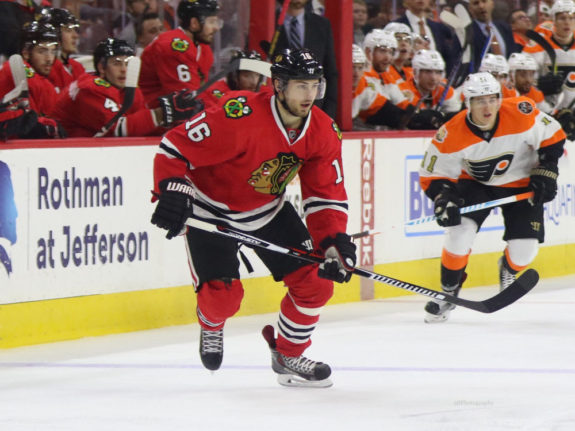 Greg Boysen
I'm indifferent about the return of Marcus Kruger. If we get the Kruger that spent part of last season in the AHL, he will be a waste of a roster spot. However, we learned that he was dealing with a sports hernia so that can help explain the poor performance in Carolina.
If we get the Kruger we were used to seeing in Chicago, then he will be a valuable addition to the team.  He would form a very good defensive fourth line with Chris Kunitz and John Hayden, which will take some of the pressure off Toews to take all the tough defensive zone starts. The only down side to this scenario is that having him back in the mix could hinder the development of players like David Kampf and Luke Johnson.
Gail Kauchak
As long as it really is a sports hernia that kept him down this past year, I'm all for Kruger returning to the fold. He's the ultimate underdog. It's players like Kruger that do the dirty work, and in the end make the stars look all that much better. Kruger has won 50.7% of his faceoffs throughout his career. Let's face it, the Hawks (and Toews) could certainly use his help down the middle. Not to mention Kruger's ability to lead a strong, shutdown fourth line, as well as contribute on the penalty kill.
---
We hope you've enjoyed this first Blackhawks' edition of THW's roundtable series. Stay tuned as we continue to follow the team throughout the summer and the season. There are many questions that need to be pondered as we continue our journey with our favorite team. Any questions you'd like answered? We'd be happy to take them into consideration.
Gail Kauchak has covered the Chicago Blackhawks as a content writer since 2014. She previously wrote for Fansided's Blackhawk Up, and has been part of The Hockey Writer's team since 2017. It's not always easy to balance life's responsibility's with one's passion, but Gail's doing her best to make it happen. Quote to live by, "Follow your dreams, and good things will happen." Wait, maybe it's "Good things happen when you shoot the puck!" You get the idea.
Follow Gail for her unique commentary about this storied franchise. And be sure to catch her and the rest of the Blackhawks' crew on their weekly Blackhawks Banter show, as well as follow her on Twitter.