Most hockey fans know that Patrick Kane is considered one of the most dangerous and dynamic playmakers in the NHL. Chicago Blackhawks fans have enjoyed watching him work his magic since he was drafted and started with the team in the 2007-08 season.
It's been 11 years now, but the 29-year-old winger is still going strong. Kane can create something out of nothing. Yet he seems to be at his most potent with another playmaker with whom he has some chemistry. Could that other playmaker be the young Alex DeBrincat, who just finished his first year in the league? Let's look at some arguments below.
History of Kane With a Partner in Crime
The most recent example of Kane having a lethal weapon to work with was when Artemi Panarin played for the Hawks. The Russian winger signed a two-year entry-level contract with the team in April of 2015. He had enjoyed great success in the Kontinental Hockey League and wanted to try his craft in the NHL.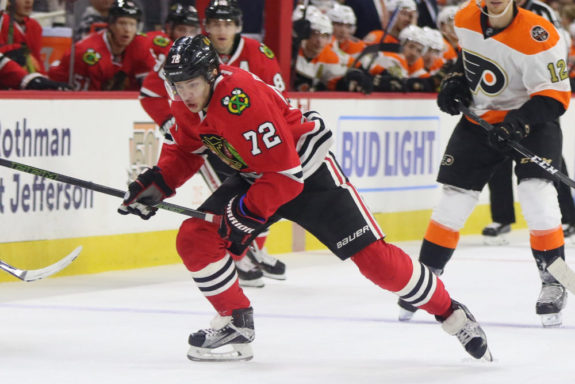 To say it went well would be a huge understatement. Panarin was placed with Kane and fellow Russian Artem Anisimov. Together, they became one of the most dynamic lines in hockey. Kane and Panarin especially fed off each other. In the 2015-16 season, Panarin earned the Calder Trophy for rookie of the year. He amassed 30 goals and 47 assists (77 points), which ranked within the top 10 among NHL skaters. Kane was awarded the Art Ross Trophy for leading the league with 106 points.
The two couldn't have done it without each other. When Kane scored, he was usually assisted by Panarin. When Panarin scored, he was undoubtedly assisted by Kane. In the 2016-17 season, they took up right where they left off. Panarin nearly matched his totals from the previous year (31 goals, 43 assists, 74 points). Kane finished with 89 points, which was tied for second place in the league with the Pittsburgh Penguins' Sidney Crosby.
Related – Blackhawks & Penguins: Who'll Get the Next First?
But alas, the Hawks were swept by the Nashville Predators in the first round of the playoffs, which prompted big moves. Panarin was dealt to the Columbus Blue Jackets, and the Kane/Panarin partnership was over. My THW colleague Greg Boysen sums up Kane's feelings about these magical two years in a recent article.
With those two seasons, obviously, I had chemistry with a player (Panarin) like I never had chemistry with anyone before. That player's gone now, and you're trying to build it up with other players. Sometimes, you think it's there, and other times, it's a work in progress.
Reasons for Kane & DeBrincat Playing Together
So who can replace Panarin? Enter DeBrincat, who nobody thought would even make the team out of training camp this past season. But make it he did. And the rookie ended up with more goals than any other Hawk (he had 28 to Kane's 27). He also finished tied for second place in points with Nick Schmaltz and Jonathan Toews (all three ended the season with 52 points). And let's not forget about DeBrincat's three hat tricks. The rookie winger did all this while mostly playing on the third and fourth lines. Gosh, what could he do on one of the top lines? What could he do with Kane?
Greg's above-linked article was mostly about the play of Kane and DeBrincat at the recent World Championships. As it turns out, they were paired up on the same line while representing Team USA at various times throughout the tournament. Things clicked immediately. DeBrincat had a goal that was assisted by Kane, and Kane tallied a goal that was assisted by DeBrincat. The two both earned another assist when they were on the ice together. They created numerous other chances but were unable to cash in on them.
Team USA's head coach Jeff Blashill told Scott Powers the following in Powers' recent post in The AthleticChi:
One of the challenges I think when you put a team together is to find guys who play well off each other. I had Kane and (Johnny) Gaudreau together a little bit, but they're almost the same player. They're both pass-first-type players. I think it's important for both of them to have shooters on their line. So, DeBrincat's a guy who scored 28 goals as a young kid in the National Hockey League. That's an incredible amount. He can score. (from 'Can Alex DeBrincat and Patrick Kane work as linemates? So far, so good', The AthleticChi – 5/7/18)
Hawks assistant coach Don Granato was also an assistant coach at the Worlds. He probably had some input in putting Kane and DeBrincat on the same line to see what they could do. I'm sure he'll be passing this on to head coach Joel Quenneville.
Reasons Against Kane & DeBrincat Playing Together
So why didn't Kane and DeBrincat play with each other much this past season with the Hawks? Well, before we go calling Coach Q an idiot, let's take a few things into account. When DeBrincat first joined the Hawks, the coaching staff probably wanted to protect him a bit from stiffer competition. After all, many thought he would play for the Hawks AHL affiliate, the Rockford IceHogs, before starting with the big club.
As time went on and DeBrincat proved he could survive and thrive in the NHL, Coach Q seemed to like the idea of having him play among the bottom-six. It created balance throughout the lineup and provided an extra scoring threat. There's also the argument that both Kane and DeBrincat are relatively small in stature, making it easy for opposing lines to overpower them. Not to mention the fact that neither exactly specializes on the defensive side of things.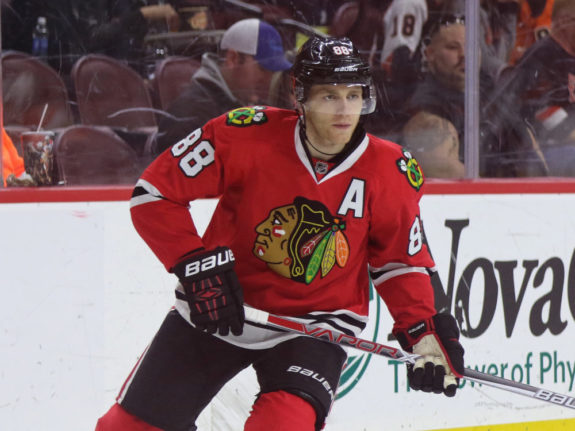 Let's also consider that the World Championship is a bit of a different animal than the NHL. It's played on a larger ice surface, allowing the offense more time and space to be creative with the puck. This tournament is not as physical as the NHL, or as demanding on the defensive end. These are all advantages for players like Kane and DeBrincat but could lead them to being exposed with the more persistent of the NHL.
Related – Top 5 Blackhawks Games of 2017-18
Who Could Center Kane & DeBrincat?
So we've established that Kane and DeBrincat could potentially be successful together, given the right circumstances. Let's take this one final step further. Perhaps we should ponder who would be a good fit at center in-between the two.
Schmaltz centered the second line with Kane a lot last season and developed some good chemistry with him. It's widely assumed he's next year's second line center. As a matter of fact, DeBrincat, Schmaltz, and Kane enjoyed most of the preseason on the same line. But this didn't transfer over to the regular season. Apparently, Coach Q was hesitant because that line was too small, not physical enough, and not responsible defensively. On paper, this appears to be the case. But perhaps they'll be given another chance. Who knows, they might surprise us.
What about Anisimov? Sure, Anisimov has been the talk of trade rumors. But general manager Stan Bowman will be hard-pressed to find someone to take on his $4.5-million contract. Chances are Anisimov will be a Blackhawk come October. That being the case, the Hawks need to find the best fit for him going forward. That fit could be in between Kane and DeBrincat. After all, he did a pretty good job centering Kane and Panarin. Anisimov could provide that physical aspect between two smaller forwards. He could be the most defensively responsible of the three. And he could be the net-front presence the other two need to cash in the chances they will invariably create.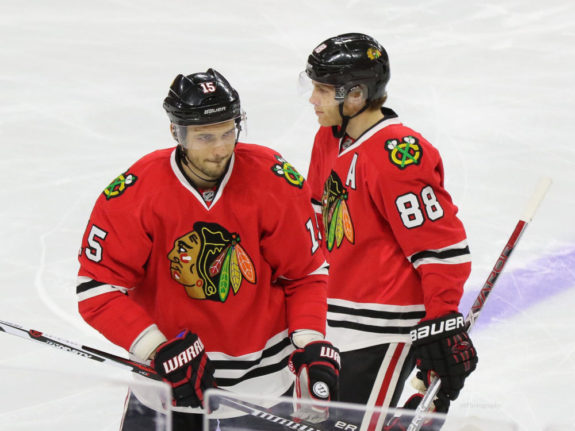 In this scenario, Schmaltz would be freed up to play the wing, potentially on the top line with Toews and Brandon Saad. That might not be such a bad thing.
It's all hypothetical, because Coach Q is notorious for doing the exact opposite of what we expect. And this is all a bit premature, as we don't even know who will be on the team come October. But it's fun to make some predictions based upon what we know. Chances are Kane and DeBrincat will see some longer looks together than they saw last season. Only time will tell whether they can make it successful.