It's going to be a very long summer for Chicago Blackhawks fans. For the first time in 10 years, the Hawks aren't participating in the postseason festivities. It's a tough pill to swallow for a fanbase that's watched their favorite team win the Stanley Cup three times in a span of six years. We're told not to live in the past. But since we have some time to spare, we might as well look back for just a few minutes. It wasn't the best season for Chicago, but there were a few highlights. I present to you the top five Blackhawks games from this past season.
5. April 4, Blackhawks @ St. Louis Blues, 4-3 Win
Let's just call this the spoiler game. It was one of the final games of the season, and the Blackhawks had long been out of playoff contention. There hadn't been much to play for in a while. But this night was different. Because St. Louis was just outside of a wild-card spot in the Western Conference, and they desperately needed points to make the playoffs. Well, guess what? They lost to their long-time division rival Blackhawks and ended up not qualifying for the postseason.
The Hawks took motivation from their spoiler role. They came from behind twice, and it was the newbies leading the way. Andreas Martinsen tied the score at 1-1 in the first period. It was his first goal in only his seventh game as a Blackhawk. The Hawks were down 3-1 in the second frame, but defenseman Blake Hillman wasn't ready to go down without a fight. He tallied his first NHL goal in just his second ever NHL game. And it was a shorthanded goal at that! Rookie Alex DeBrincat made the score 3-3 in the third period with an unassisted shot that found the back of the net.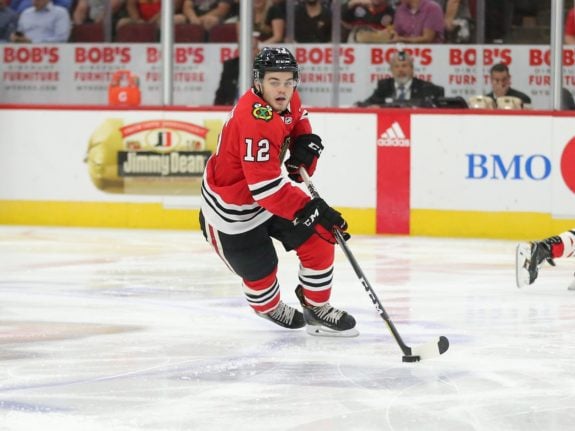 But it was a veteran who put the nail in the coffin. Duncan Keith scored the game-winning goal on the power play with only 8.5 seconds remaining in the game. It was also only his second goal of a very disappointing campaign for him. Well, if you're only going to score two goals, you might as well make one of them the tally that keeps the Blues out of the playoffs. According to NHL correspondent Lourie Korac, Keith had this to say after the game:
Well, I think we know that, the importance of their points for them. Yeah, I think there's something to be said for trying to play for that in some ways, but we're trying to win the game. You know, at the end of the day, it's a bigger game for them, but I thought that we did a good job of kind of matching that intensity, and for us it's just more fun to play in a game like that, more than anything.
Related – What's Right With the Blackhawks: Forward Depth
4. Nov. 27, Blackhawks vs. Anaheim Ducks, 7-3 win
It's always fun to score seven goals, especially when your opponent can only manage three. The Blackhawks scored the first four tallies of the game and chased Ducks goaltender John Gibson from the net. Almost everyone contributed in this contest. Nick Schmaltz had a goal and two assists, and Patrick Sharp tallied a goal and one helper. Brandon Saad and Artem Anisimov both scored. Patrick Kane added three assists while Ryan Hartman contributed two helpers.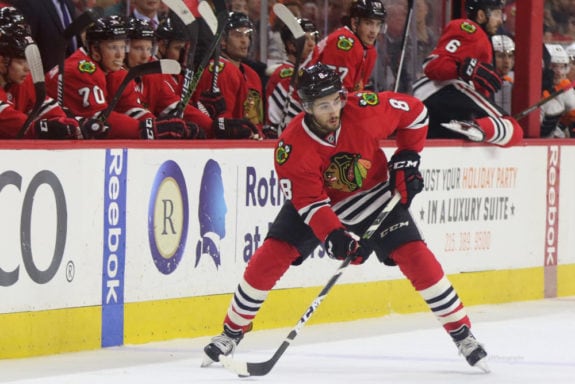 But it was DeBrincat who stole the show. This was the contest where he tallied the first of three hat tricks in his first year in the NHL. And he even added an assist for good measure! Said head coach Joel Quenneville,
Special night for him. Think he finds the net, sees the puck, gets himself available, puck follows him around, has a great stick, anticipation is high end, play recognition. Special player.
3. Jan. 9, Blackhawks @ Ottawa Senators, 8-2 win
There was no hat trick in this high-scoring affair, but it wasn't without its fireworks. Most notably, Kane recorded a career-high five points with a goal and four assists. Richard Panik, Sharp, Schmaltz, and Jonathan Toews all scored before the Senators got on the board. Schmaltz and Toews each ended the night with two goals. Defenseman Jan Rutta scored as well.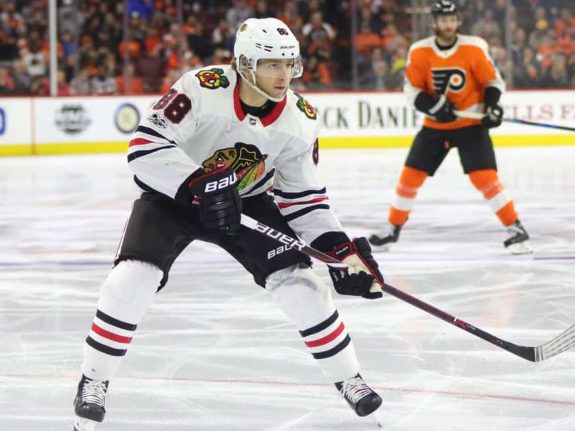 One other item to note from this contest is that the Hawks scored four power-play goals. As it turns out, this was the most goals the team scored all season on the man-advantage.
2. March 29, Blackhawks vs. Winnipeg Jets, 6-2 win
This contest provided something for everyone. Most importantly, defenseman Brent Seabrook was honored for his 1,000th NHL game. It was a fitting tribute to the 13-year veteran.
But that was before the game even started. Once the puck dropped, the United Center faithful were treated to goals by Kane, Saad, Tomas Jurco (twice!), Erik Gustafsson, and DeBrincat. Top prospect Dylan Sikura made his NHL debut on this night. He recorded two assists and played quite well. It was a well-rounded affair, with everyone pitching in. No one ended the game with more than two points, but 10 players earned at least a point.
But wait, the fun doesn't stop there! Goaltender Anton Forsberg was injured during warm-ups, so backup Collin Delia made his NHL debut. He made 25 saves before having to leave the game in the third period due to cramping. Enter Scott Foster, the 36-year-old accountant by day and emergency backup NHL goalie by night. This beer-league netminder made seven saves and allowed zero goals against the big, bad Winnipeg Jets. It was a feel-good night toward the end of an otherwise disappointing season for Chicago. Everyone won! Well, except for the Jets.
Related – World Championships Could Lead to Future Blackhawks Success
1. Oct. 5, Blackhawks vs. Pittsburgh Penguins, 10-1 win
It doesn't get much better than this! It was the Hawks' home-opener and first game of the season. The sky was the limit, and the team made a huge statement by beating the defending Stanley Cup champions in dominating fashion. This ended up being their highest scoring affair of the year.
It was a night to start padding the stat sheet, for sure. Saad punctuated his return to Chicago with a hat trick. Hartman tallied a goal and four assists, for a team-leading five points. Kane racked up a goal and three assists for four points. Schmaltz contributed three points with two goals and an assist. Seabrook also tallied three points with a goal and two assists. Panik and Sharp were the other two goal scorers. Corey Crawford was healthy and stopped 28 of 29 shots for a .966 save percentage.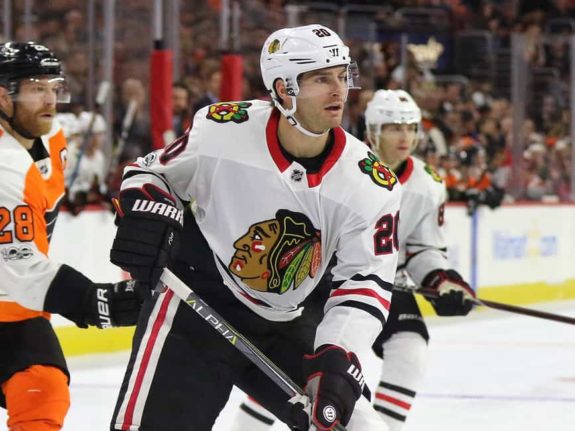 It was a terrific way to start the season. Here were Kane's remarks about the contest:
It was almost like it wasn't a real game or something. I mean, it was just amazing. It was a fun start to be part of. It's not like we were trying to run up the score or rub it in anyone's face. We were just out there playing hockey, and guys were excited to play again.
In hindsight, it was the best game of the year.
---
It was fun to look back and pick out some of the best games of the 2017-18 season for the Chicago Blackhawks. But with the good must come the bad. Stay tuned for the five worst games of the season, coming soon. In the meantime, the wait until October continues. Here's to a better 2018-19!