As the Detroit Red Wings rebuild, the focus has turned to the prospects in the system. If the present team isn't winning, it's helpful to know who's in the pipeline and when those players might be able to contribute to the Red Wings in a meaningful way.
There's been no shortage of coverage for Detroit's top prospects, such as WHL playoff hero Michael Rasmussen, feisty Joe Hicketts, playmaking blueliner Filip Hronek, and Evgeny Svechnikov, who has endured offensive struggles of his own this season. Soon, these four players—plus others—will join the likes of Dylan Larkin and Anthony Mantha as Detroit's young core on which the organization will lean heading into the future.
Related: Rasmussen's 2018-19 Red Wings Role
But what about the lesser-known prospects? Who's the next David Pope – someone capable of flying in under the radar and developing into a legitimate NHL prospect?
In this week's edition of The Grind Line, The Hockey Writers' Red Wings coverage team each shares a prospect who they think deserves some more attention. These three underrated prospects could develop into NHL contributors with a little more seasoning.
Tony Wolak: Chase Pearson
Heading into his sophomore year at the University of Maine, 2015 fifth-round selection Chase Pearson was named as one of his school's two captains for the 2017-18 season. The team felt Pearson already had the leadership qualities necessary for guiding the university on the ice. Much like the Red Wings brass who drafted him, coach Red Gendron thinks highly of his co-captain, as noted in an interview with the Bangor Daily News:
He's a great player, a great human being and a selfless kid. It's not about him.
The kid can score, too. After an impressive freshman season in which Pearson scored 14 goals and added eight assists, the 6-foot-2 center upped his point total from 22 to 27. His seven sophomore-year goals were a step back, though, and can be attributed to a scoring drought to begin the season. Nonetheless, Pearson was still able to reach 27 points in one less game than the year before while playing on Maine's top line.
🚨 Congratulations to Hockey East All-Star Honorable Mention selection, Chase Pearson!#BlackBearNation #HockeyEast pic.twitter.com/pkaDsXUyAd

— Maine Men's Ice Hockey (@MaineIceHockey) March 14, 2018
There's still room for improvement, though. In four Hockey East tournament games, Pearson failed to register a point. And surely, Pearson would love to have a consistent junior season without any extended scoring droughts.
If he can take another step forward in year three at Maine, it would not be surprising to see the 2018 Hobey Baker Award nominee become a point-per-game player and top 15 goals for the season. Pearson's school is trending upward with a young squad plus solid defense and goaltending. If they are able to become a Hockey East threat, Pearson will be right in the middle of the offensive production while staying responsible in his own end.
Related: The Grind Line: Intriguing Red Wings Draft Options at No. 6
Jacob Messing: Christoffer Ehn
In early April, the Red Wings assigned Christoffer Ehn to the American Hockey League's (AHL) Grand Rapids Griffins after spending the last three seasons with Frolunda HC of the Swedish Hockey League (SHL).
The 21-year-old was drafted in the fourth round, 106th overall in 2014 as a reliable defensive center and has continued to work on his offense overseas. He signed his entry-level deal last year when the Swede joined the Griffins for the first time, but he didn't get into the lineup.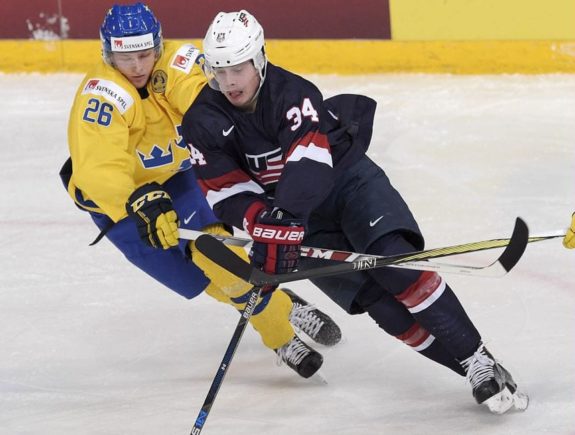 Following his loan to Frolunda, he rejoined the Griffins down the stretch again. Even when injuries and suspensions created openings in the playoffs, where the team fell in the first round, Ehn didn't get a chance to play due to contracting mono.
Listed at 6-foot-3 and 181 pounds, Ehn's frame is enticing for a Red Wings team that has continued to add size in recent drafts, and with enough talent around him, his offense should continue to progress to make him a real two-way threat.
Related: The Grind Line: Finding Holland a Friend
Ehn is coming off of a career-year with Frolunda, scoring seven goals and 17 points in 50 games, bringing his totals to 32 points (11 goals, 21 assists) in 147 SHL games. He's added a goal and three points in 46 postseason games and was a member of Frolunda's championship team in 2015-16.
His chances at a roster spot with Detroit in the fall are slim to none, but he remains a decent prospect and should be a stable center for the Griffins as his offensive game continues to develop.
Rachel Anderson: Axel Holmstrom
Axel Holmstrom is an unsung hero of the center lane and lives up to his name, though there's no relation. Much like Tomas Holmstrom, the name Wings fans remember, Axel plays with grit and ferocity. Holmstrom is as heavy as some of the taller guys currently with the Griffins, at 218 pounds while standing 6-foot-1.
In 66 games, Holmstrom earned 26 points during the 2017-18 season. Most of those points (19) were assists, as Holmstrom was able to control the front of the net and dish out passes from in tight. His size gives him the advantage of having a powerful stance anywhere on the ice and the ability to push through defensive lines.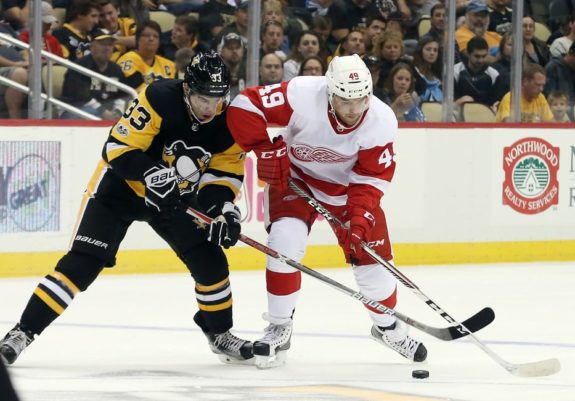 Holmstrom has also shown maturity when moving the puck. He rarely dumps it in just for the sake of getting the puck off his stick, but is patient in waiting for the right opportunity,
"I think (my) decision-making is better than it was in the beginning," Holmstrom told Griffins media in a pregame interview.
On top of his improvements with on-ice decisions, off the ice, Holmstrom shows a youthful resilience. Having a bout of injuries to recover from after being drafted by the Wings 196th overall in the 2014 NHL Draft, Holmstrom bounced back and established himself as a dependable center. He's not as fast as he could be, but with his work ethic, the offseason training time will prove to be a fruitful time in that regard. Given one more season to hone in on his skating a bit more, Axel could prove to be just as strong as his predecessor.
Which underrated Detroit Red Wings prospect are you high on? Comment below with your pick.