The Chicago Blackhawks head into the 2018 offseason with a lot of questions marks. After a dismal 2017-18 campaign where they finished dead-last in the Central Division and 25th in the league, it's awfully easy to focus on the negative. Sure, we could talk about how the Hawks need a top-four defenseman, better special teams, and a healthy Corey Crawford. Heck, the Hawks could probably use more depth at center, and it's essential the veterans step up next season.
Quite frankly, it's a tad bit depressing. It seems like everything is wrong with the Blackhawks. But that's not exactly true. Lost in all the negatives, there are a few things that are trending in the right direction. One of these is the forward depth the Hawks are quietly building. It might not look this way. Lots of youth was brought in last season. New players struggled to find their way. Many times they didn't look good. But the potential is there, and the 2018-19 season could see that potential come to fruition. Let's take a look at what the Hawks bring to the table in the way of forward depth.
The Veterans
Patrick Kane
Kane was the Hawks best producer this season, to no one's surprise. But he didn't live up to his usual standards. While he managed 76 points, he put up numbers of 89 and 106 points in the previous two seasons. Granted, he also had one Artemi Panarin on his wing. But Kane did find some chemistry with Nick Schmaltz as his center this year. It could be argued he needs another playmaker on his left wing. But let's face it, Kane is still a huge asset no matter who he plays with.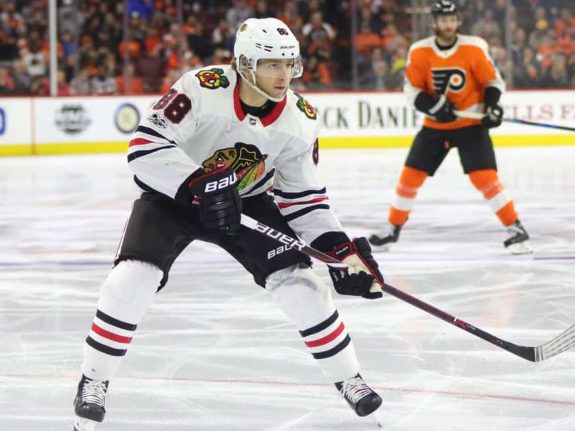 Jonathan Toews
Toews doesn't score as many goals anymore, and he's not as strong on the puck. But he's one of the best in the league at winning faceoffs. He's still solid defensively, and his possession metrics are high. So how to spark Toews?! Do you stick with Brandon Saad on the left side of this top line, even though both players had a down season? Do they simply need the right person to give them a spark? This is coach Quenneville's challenge moving forward, because the captain isn't going anywhere.
Brandon Saad
Speaking of which, Saad is due for a bounce back year. His possession numbers were also great this past year. He did a lot of things right, but he just couldn't finish. If he works hard in the offseason, and sticks to his game, that's going to change.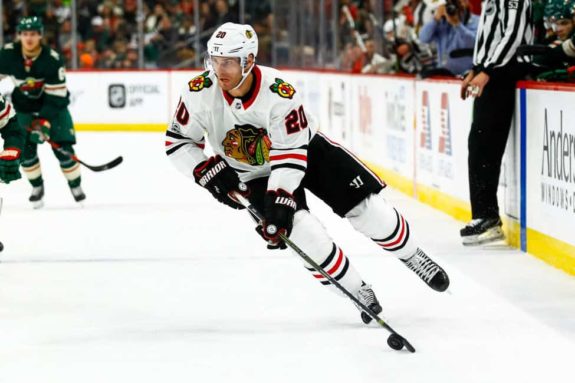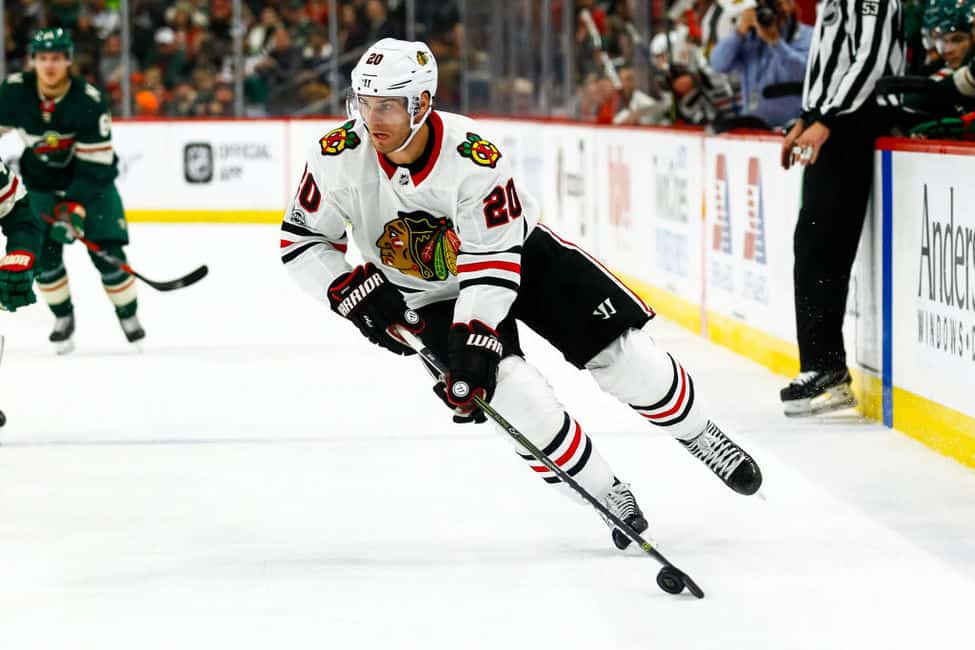 Saad doesn't have a whole lot of chemistry when playing with Kane in the past. Keeping him with Toews to start the season would make the most sense. Or do you provide balance by putting him on the third line to free up some of the younger guys on the top lines?
Artem Anisimov
Anisimov was placed in the section with the veterans because he's been with the team for three seasons now, and he's almost 30 years old. But where does he fit in? On a team that's trying to build on youth and speed, Anisimov is relatively old and slow. He's not especially good in the faceoff dot (45.7 percent), and he costs $4.5 million a year against the cap.
On the upside, he's one of the only players that plants himself in front of the net to provide screens and deflections, and he was the highest scorer on the team on the power play (11 goals). He might not be the best center, but he's a center on a team that doesn't have much depth in that department. Is it worth it to keep him around? What could the Hawks get in return for him?
Related – Sharp's Legacy With the Blackhawks
The Rising Stars
Alex DeBrincat
Well. It's hard to argue with DeBrincat's success. He wasn't even supposed to make the team out of training camp. He was considered too small, and his talent wasn't going to transfer over to the NHL level.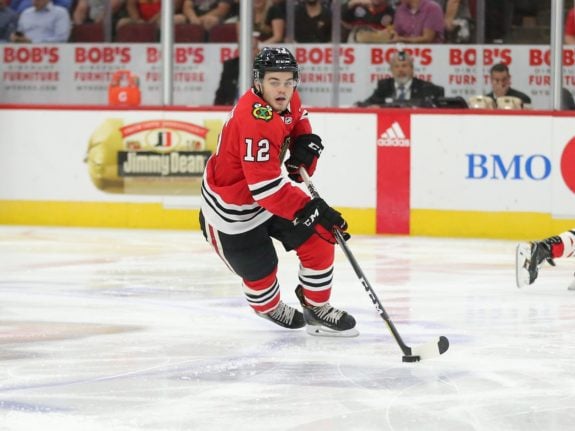 He proved everyone wrong by not only making the team, but playing in all 82 games and being the Hawks' top goal scorer (28 goals). Not to mention three hat tricks. He fit in pretty much wherever he was placed in the lineup, but spent most of his time on the third and fourth lines. That should change next season. DeBrincat is a playmaker with a wicked shot, and he's responsible defensively. There's no reason he shouldn't be given a bigger role moving forward. He's earned it.
Nick Schmaltz
Schmaltz established himself as the second line center for the Blackhawks this past season. He's built excellent chemistry playing alongside Kane. His 21 goals and 31 assists are both third on the team. He's also an expert at stealing the puck. His 86 takeaways rank third in the league.
Schmaltz's one weakness is in the faceoff circle. His faceoff percentage of 40.1 is nothing to write home about. But it is improved from last season (30.9%), and surely this is something he will concentrate on in the offseason.
Vinnie Hinostroza
Hinostroza had the tough luck of starting the year in Rockford, mostly because he didn't have to clear waivers while others did. But he finally got his shot with the big club and proved he deserved to be there. In 50 games played, he posted 7 goals and 18 assists.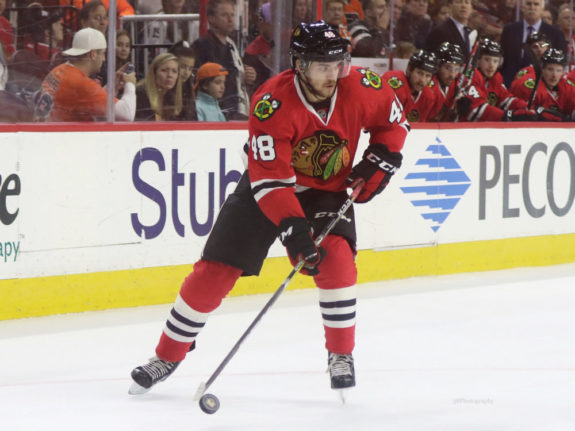 According to Charlie Roumeliotis of NBC Sports, "When Hinostroza was on the ice at even strength, the Blackhawks controlled 54.57 percent of the shot attempts and had a high-danger goals-for percentage of 58.33. He also had a points-per-60 minutes rate of 1.98 during 5-on-5 play; only Patrick Kane had a higher one (2.16) on the Blackhawks."
Similar to DeBrincat, Hinostroza spent a lot of time as a bottom-six forward but held his own when he was inserted on the top lines. He doesn't have the kind of talent and nose for the net that DeBrincat has, but he could easily play a complementary role on one of the top lines.
Dylan Sikura
After signing with the Hawks on March 25, this top prospect joined the team for the final portion of their season. He only suited up for five games, which is quite a small sample size. But he did contribute three assists and looked quite at home playing on the same line as DeBrincat.
Only time will tell if Sikura can make an immediate impact for the Hawks next season. Is he ready? Some time spent in Rockford would probably do him good, but expect him to make an impact later in the season.
Related – Blackhawks Future Focus: Diving into Defense
The Depth Pieces
Anthony Duclair
The former Arizona Coyote was brought into the fold on Jan. 10, 2018, when the Hawks acquired him in exchange for Richard Panik. They were interested in the youth and speed of Duclair. But he hasn't exactly lit the world on fire, posting only two goals and six assists in 23 games. The potential is there, but the consistency isn't. He's a restricted free agent next year, so we'll see if the Hawks want to give him another chance. Who knows, perhaps Duclair will be a pleasant surprise with a fresh start next season.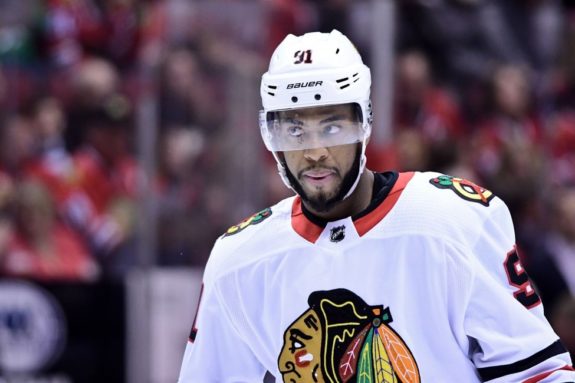 Tomas Jurco
Jurco has had even more time to prove himself than Duclair, but he hasn't really done so either. He's been with the team since Feb. 2017, when he came over from the Detroit Red Wings. The Red Wings didn't use him very much, and he spent a lot of time in the AHL. In Chicago, Jurco underwhelmed both last year and this year. Also a restricted free agent this next year, it might behoove the Hawks to move on from Jurco. Especially with the youth in the Blackhawks' system.
John Hayden
This Yale grad is a prime example of such youth. Like Sikura, Hayden signed with the Hawks straight out of college, and joined the team at the end of the season. Per Coach Q's whims, he was placed on the first line with Toews and found instant success. In his second NHL game, he scored his first goal, assisted by the captain.
Things have come down to earth a bit since then. But Hayden's developed a reputation for his grit, energy, and physical play. There's plenty of skill there as well. Look for Hayden to successfully take on a bigger role next season, perhaps even as a top-six forward.
David Kampf
Kampf has been a reliable presence since being called up from the Rockford IceHogs in late December. He's entrenched himself as a capable fourth line center, winning 53 percent of his faceoffs. For a team that relies heavily on Toews to win faceoffs, this is refreshing for the future.
Matthew Highmore
Here's another example of a successful AHL player that's trying to prove himself at the NHL level. In 64 games with the IceHogs, Highmore was one of the leading scorers, tallying 24 goals and 19 assists. He was named the IceHogs Rookie of the Year. Highmore played in 13 games this season with the Hawks, recording two goals. He looks to continue his success as a part of the Blackhawks next season.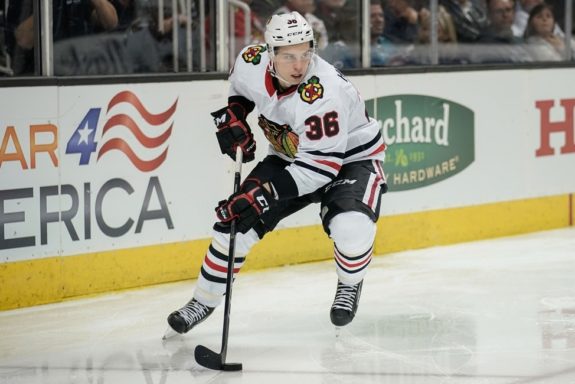 Andreas Martinsen
Martinsen is no rookie. He's 27 years old, and he's played 128 NHL games in his career, including nine contests with the Blackhawks this season. He was an emergency recall after another fellow IceHog (Matthew Highmore) got called up and then injured, so he had to make the most of his opportunity. In those nine games, Martinsen recorded one goal, 17 penalty minutes, and 35! hits. Will he be the new enforcer for the Blackhawks?
Victor Ejdsell
Our final forward of this piece was acquired from the Nashville Predators in the trade for Ryan Hartman. Ejdsell is a center, which the Blackhawks desperately need. At 6-foot-5, 214 pounds, he could add some size to the team as well. His sample size is small; Ejdsell only played in six games. He contributed one assist, seven shots on goal, six hits, six blocked shots, and two takeaways. He will be someone to keep an eye on next season.
---
The long and short of it remains that the Blackhawks have a plethora of offensive talent on their roster. As a matter of fact, this forward depth is one of the biggest assets of the team. It might need some fine-tuning, but it doesn't need much fixing. Unfortunately, there are other things that need fixing. Their strength could be a moot point if the Hawks can't bolster their defense or improve on special teams. Or if Corey Crawford can't return to his former self in net. There's no doubt their success hinges on some of these question marks. The hope for them is that their forward depth doesn't go to waste this next season.