As the 2017-18 season wrapped up for the Chicago Blackhawks on April 7, 2018, the NHL career of Patrick Sharp did as well. With three Stanley Cups as well as an Olympic gold medal to his name, he's retiring from a career most NHL players can't imagine in their wildest dreams. As one of the dynasty's most well-known and beloved players, he is sure to be missed.
In his eleven seasons with the Hawks, he tallied a total of 249 goals and 283 assists, but his legacy goes far beyond his numbers.
The Early Years
Sharp joined the Blackhawks in the middle of the 2005-06 season when they were a completely different team and organization. The thought of making the playoffs after their best season was laughable and players were assigned areas of the city to hand out free tickets. To fans today, it sounds absurd that the Blackhawks would have trouble selling tickets to the United Center, but that's where things were.
When asked of those days, Sharp told Blackhawks team historian Bob Verdi, "There weren't a lot of people in the United Center back then, but looking back, I became part of a perfect storm. Duncan Keith and Brent Seabrook were there. Then came Patrick Kane and Jonathan Toews. The outdoor game at Wrigley Field. We were a young group getting better with a great new organization under John McDonough and Rocky [Wirtz]. Then the sellout crowds every night, so many games in a cool atmosphere, then three Cups."
Everything changed in the 2007-08 season when Patrick Kane and Jonathan Toews started as rookies. Sharp, then 25, took on a leadership role of the two teenagers. His mentorship of Kane and Toews helped shape them into the top players they are today. Both players cite him as a great influence and mentor in their early days.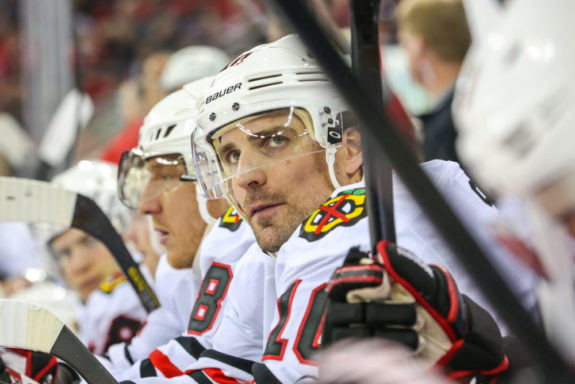 Toews spoke of Sharp in admiration to Mark Lazerus of the Chicago Sun-Times after his final game at the United Center:
"It's a tough situation, because how do you tell a guy like that that he can't play anymore, just because there are so many young guys coming up?" Toews said. "To me, that's not a reason. He can still bring a ton on the ice — we all know that we've all seen that. He's done really well [considering] the opportunities he's gotten, and the ice time he's gotten, and the chances he's gotten to be in offensive situations. But he also brings a ton off the ice. He brings experience, he brings energy, he brings a presence and leadership in the locker room that I think all the young guys really respond to. Once you lose that, you feel the void."
Duncan Keith and Brent Seabrook were also on the team prior to 2007 and took on leadership roles. After the final game of the 2017-18 season, Seabrook said, "You can't put his contributions and what he has meant to the team, the organization, the city of Chicago (into words). He's an unbelievable guy, great in the locker room, great with all of us and it was pretty cool to see the Jets fans cheer for him tonight."
Three-time Stanley Cup Champion
The highlights of Sharp's career came in the first half of the 2010's when the Hawks won three Stanley Cups in six seasons. Although Sharp never snagged a Conn Smythe trophy out of the three wins, he was an essential player in all three championships. Whether it was getting in greasy goals at the right time or being a team leader, the Hawks probably wouldn't have won three times in six seasons without him.
When asked about how special those years were during his final interview he said, "You look back to those great years, and you always want to try to recapture that feeling. Whether it's having a great team or being good in those big situations, just being on a winning team, probably the most obvious statement you're going to hear all day. It's a lot more fun than being on a team we had this year."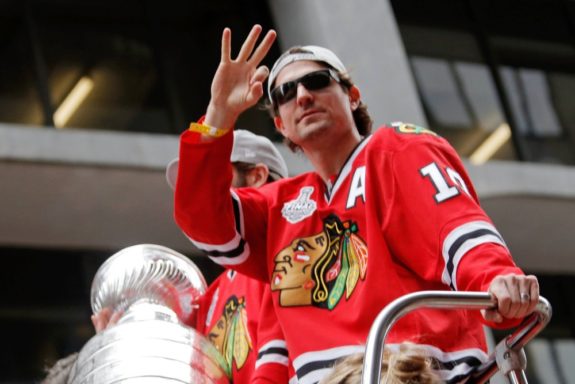 Sharp remembers the first Stanley Cup victory fondly, as he told Verdi, "It was a great night for all of us, but really special for me. The Flyers drafted me, and I had played there a bit with them. When I lifted the Cup, I looked up and saw the banner from the Philadelphia Phantoms, their American League farm team. Calder Cup champions 2005. Played on that team too."
Unsung Hero
Despite wearing a letter for the majority of his time with the Hawks and having similar numbers in his prime, he never received the same type of praise fellow teammates Toews, Kane, and Keith (who all have Conn Smythe trophies and were honored at the NHL 100 last year) received. Keith agrees as he told Lazerus:
"I don't think he's had the spotlight much, as far as the attention others here get, but if you look at his statistics, especially come playoff time, he's usually leading the team in goals, he's right there in points. He's always scored big goals for us, and that doesn't just happen. That shows his heart and his character, and that's why you win championships, because of guys like him. He's been as big part of the championships as anybody, and if it's his last game, it's going to be emotional."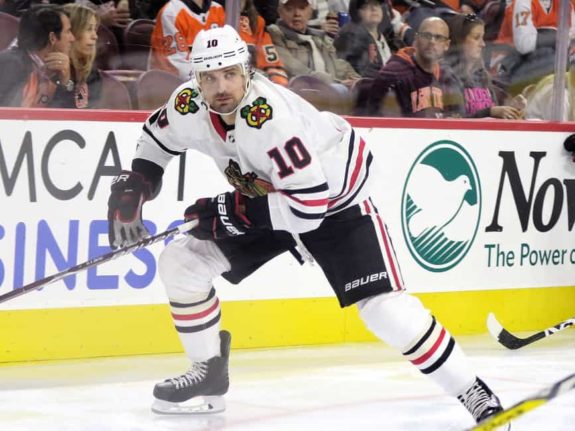 Despite his lack of recognition, Sharp always has been and always will be a fan favorite. Even during his two years with the Dallas Stars, Sharp jersey's in the Chicago area were a common sight. His legacy goes beyond the scoring sheet and awards and into the hearts of players and fans. He may be hanging up his skates for good, but he will always be special to the Blackhawks organization, fans, and city of Chicago.