Ottawa Senators general manager Pierre Dorion has a lot of decisions to make this offseason, but how he approaches the first item on his to-do list will give fans an idea of what direction the team is headed in.
After a thirtieth place finish, it's safe to assume that coach Guy Boucher knows he might not be back in October. It's nothing out of the ordinary for a team that finished so far out of a playoff spot to re-evaluate their coaching staff, but for their first two seasons together it has seemed like Dorion and Boucher have been on the same page.
Dorion had previously been supportive of his coach throughout Ottawa's dreadful season and added several players that Boucher liked or had previously coached. However, after letting go of Nate Thompson, Johnny Oduya and Gabriel Dumont, it looks like the GM is now less concerned about keeping Boucher's favourites around.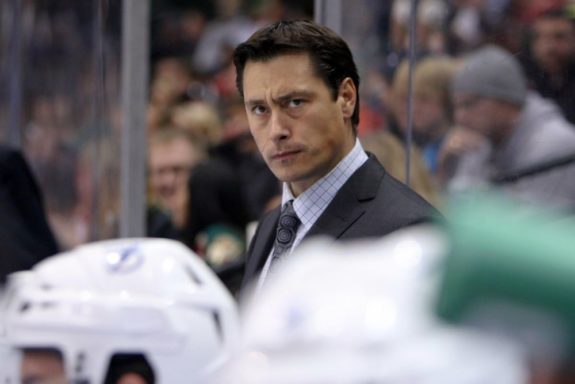 Furthermore, Dorion was vocal about his displeasure with some of the coach's decisions during his year-end press conference. Boucher tends to not hold practices as regularly as most coaches in the belief that the team would be better off resting. Apparently, Dorion is not a fan of this philosophy, saying last week:
"Rest is a weapon … If I hear that one more time, I'll go crazy."
Now that Dorion has publicly spoken out about his disappointment with Boucher, the coach's job looks significantly less safe.
Pierre Dorion's Changing Philosophy
During the press conference, Dorion also said that young players will get more ice time next season. For a team entering somewhat of a rebuild, this is a logical move. While this might be the right direction for the Senators, Boucher's coaching history suggests he'll have a problem with this.
It's no secret that the Senators' coach has been hesitant about giving meaningful minutes to rookies. While Thomas Chabot earned Boucher's trust in his first season with the Sens, this was the exception to the rule in Ottawa. Colin White struggled to find a permanent spot in the lineup for much of the season despite playing on the top line for a few games, and other rookies like Filip Chlapik were only given roster spots long after the Sens were eliminated from the playoffs.
The Senators even added players like Chris DiDomenico, Gabriel Dumont and Magnus Paajarvi to fill out the offence instead of calling up prospects from Belleville.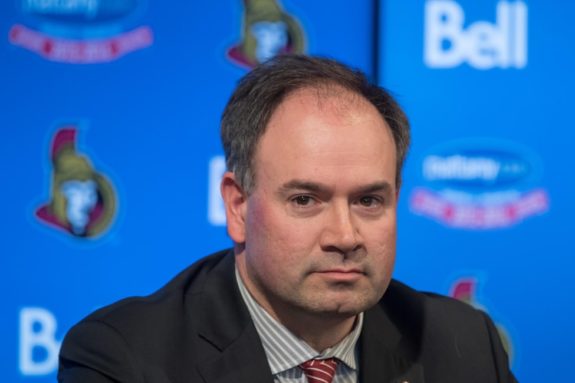 It wasn't until his media tour that there were any real signs of discord between Dorion and his coach, and it appeared as if the two had similar outlooks on the team's direction.
If Dorion is planning on changing his philosophy on how the team should be run, then he will need Boucher to either adapt or leave. Boucher has already said that he will not change his approach to coaching, saying the following:
"I'm not going to change my philosophy. Whatever slap you get in the face, you get up and get moving." – Guy Boucher #Senators

— Don Brennan (@SunDoniB) April 9, 2018
It's a bold statement from the coach of the second worst team in the league, but it shows that the Sens coach thinks his approach is the best way to improve the team. Unfortunately for Boucher, Dorion might not feel the same way anymore.
Senators Front Office Drama
If Dorion wants to see an immediate change in his team's on-ice performance, a coaching change is the way to go. However, the recent history of the Senators proves that coaching changes can only provide temporary improvement.
The Sens might also have trouble attracting the best candidates because of their strange front office dynamics. After owner Eugene Melnyk took over the role of CEO, he has been more involved in the team's day-to-day business. While Dorion has denied claims that Melnyk has been calling the shots when it comes to hockey-related decisions, this whole situation is pretty out of the ordinary.
Related: Senators' Lack of Direction –Who's to Blame?
The Senators' town hall meetings showed that there are clear issues with the organization, and simply bringing in a new coach isn't going to fix these problems. Firing Boucher and replacing him with an offensive-minded coach who believes in practice might improve the team, but if the Senators are serious about getting better, the issues at the very top of the organization need to be addressed.