The Ottawa Senators' two first-round picks from the 2015 NHL Entry Draft were expected to play a big role this year. Thomas Chabot and Colin White both excelled in their pre-NHL careers and looked to be ready to join the Sens' lineup in 2017 after getting a taste of the big leagues last season.
While Chabot has managed to establish himself as a top-four defenceman on the Senators, White's journey to the NHL has taken a bit longer. It's pretty common for a 21-year-old to bounce around between the AHL and NHL, but White also hasn't found a consistent role in either Ottawa or Belleville.
In Belleville, White has played both centre and right wing, starting in the team's top six but was shifted down for a short stint on the fourth line. He has played on all four lines for the B-Sens, with both skilled players like Gabriel Gagne and role players like Max McCormick.
After Jim O'Brien was called up to Ottawa, White took over as the B-Sens' number one centre. The Boston College alum made the most of this opportunity, tallying six points in his last four AHL games before being called up by the Senators this week.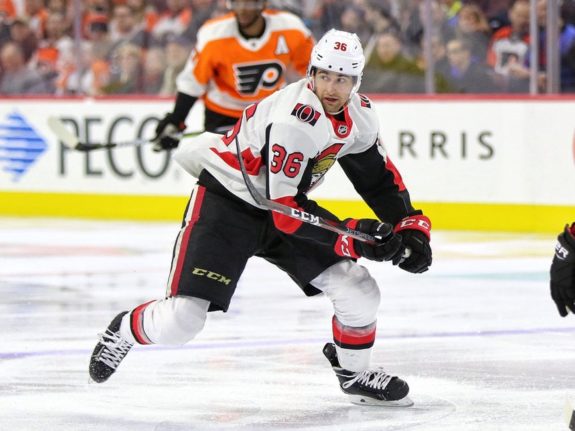 During his time with the big club, White has also been all over the place. After starting out on a checking line with Alex Burrows and Gabriel Dumont, White got a chance in the top six with Matt Duchene and Mike Hoffman for one game before being scratched. He spent his next few games with Zack Smith and Tom Pyatt, before being reunited with Duchene and Hoffman. During this second stint on Ottawa's top line, White scored his first NHL goal.
Where Does White Fit?
Heading into his draft year, the Massachusetts native was praised for his two-way game. Throughout his college and AHL careers, White has been given a role on the power play, penalty kill, on the wing and at centre. The young forward's versatility is what could make him an important player for the Sens in the coming years.
White's versatility might make it tempting for the Sens to give him limited minutes in a checking role, but keeping a high-end prospect at the bottom of the lineup can be dangerous. While he would likely be an effective bottom-six forward, putting White in a position where he'll have a hard time producing offensively might hinder his development.
The Sens don't have to go far back in history to find a case where this may have happened. Curtis Lazar, another mid-first-round pick that was praised for his versatile game, never found a way to consistently score goals for the Senators. Lazar was ultimately traded to the Calgary Flames.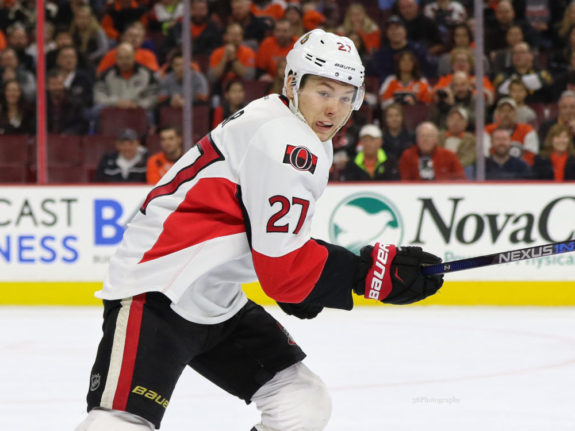 Many fans blamed this on the fact that Lazar spent most of his time in Ottawa on the team's fourth line, surrounded by minimal offensive talent. While no two players develop the same way, this is still a concern.
Duchene Line Makes Sense
Finding the right spot for White is a balancing act. Head coach Guy Boucher might be worried about giving White too big of a role, as he famously said earlier in the year that you don't "give steak to a baby." However, giving him another chance with Duchene and Hoffman could be the right move.
While it was an admittedly small sample size, White played his best hockey of the year while on this line. Of course, this doesn't come as a surprise since most players would see their production spike while playing alongside two of Ottawa's most dynamic forwards. Even still, he did not look out of place alongside the two speedsters and was able to create a net-front presence. This ability was again on display during the Senators' game against the Florida Panthers on Thursday.
Reuniting White with Hoffman and Duchene might not be a permanent solution but with only a handful of games left in the season, it's worth giving the rookie another shot with Ottawa's top scorers. Finishing the year off strong will only help his confidence going into the offseason and could, in turn, help his game improve in the fall.
Owner and CEO Eugene Melnyk says he wants the Senators to be younger and faster going forward and this is one simple way to make that happen.