Being the underdog is familiar territory for the Windsor Spitfires.
Last season, they were the underdogs in the first round against the London Knights. They were also the underdogs in the 2017 Memorial Cup, which they won in a sweep. This season, they've been the underdogs since the trade deadline, as they sold off their veterans.
Now, as they head home for Game 6 on Sunday, they find themselves as the underdogs again, down 3-2 in their first-round series against the Sarna Sting.
Spitfires Exceed Expectations
Coming into this series, it was the powerhouse Sting against the young and rebuilding Spitfires. The third-seeded Sting had baier299 goals during the regular season and built themselves for a lengthy playoff run.
The sixth-seeded Spitfires were going in the opposite direction. They dealt veterans Aaron Luchuk, Logan Brown, Gabriel Vilardi, Sean Day and Austin McEneny in a flurry of deals. Coming back were several high-end picks, plus 16-year-olds Grayson Ladd and Cody Morgan, along with 17-year-old giant Curtis Douglas.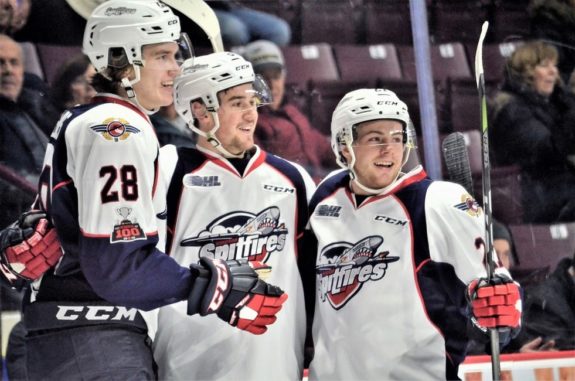 As the season wore on, the Spitfires found themselves in a battle to get into the playoffs. When the dust settled, they got the sixth seed due to a tiebreaker with the Guelph Storm. This meant a date with the Sting, who had won five-of-six head-to-head meetings this season.
The Spitfires could have packed it in as they weren't expected to advance.
They didn't, though. Spitfires head coach Trevor Letowski instilled his systems and proved to his boys that anything can happen. The message came through loud and clear.
Goaltender Michael DiPietro stood on his head in Game 1 and the Spitfires came away with a 6-2 win. In Game 2, the Sting caught on and their goaltender, Justin Fazio, matched DiPietro as the Sting won 4-1.
Back in Windsor for Games 3 and 4, the chess game continued. The Sting used their experience in game 3 to pepper DiPietro and take a 5-3 win. Once again, though, Letowski's crew refuse to be pinned by the three-count. Chris Playfair scored a shorthanded goal in the third period and the Spitfires were on their way to a 3-1 win in Game 4.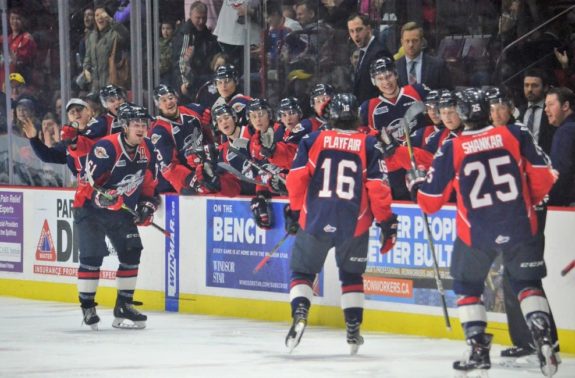 Where did this come from? When expectations are low, you might as well give it everything you have.
The DiPietro Factor
Hockey is a team sport. You win as a team and you lose as a team. It would be a lie, though, to say DiPietro hasn't been a large factor in this series.
Through five games, the Sting have outshot the Spitfires 221-115. DiPietro has faced 210 of those shots; backup goaltender Brock Baier faced 11 shots in Game 5 in relief. Despite the incredible shot difference, the Sting have only outscored the Spitfires 16-15. This means DiPietro's save percentage is .943. Yes, you read that right.
Here are some highlights from DiPietro's performance in Game 4:
While the Spitfires have averaged three goals per game, it's safe to say that they wouldn't be going to a Game 6 without DiPietro in net.
This takes nothing away from Baier, who stopped all 11 shots he faced in Game 5. When you see just 10 regular-season appearances, though, odds aren't in your favour to stop the Sting offence.
It also takes nothing away from the team effort we've seen.
The Spitfires have blocked shots left, right and center. Players like forward Luke Boka are taking the "blue and red" colours of the Spitfires truly to heart. There's a reason he was named Best Shot Blocker in Western Conference in the annual OHL Coaches Poll.
Uncertainty Entering Game 6
Late in Friday's Game 5, the series may have changed. DiPietro made a save around the crease and, after a scramble, he laid back to cover the puck. Something wasn't right and he knew it. The trainers came out to look at him and DiPietro was deemed alright.
While he tried to shake it off, just minutes later, he allowed the eventual game-winning-goal from Sting forward Michael Pezzetta. DiPietro knew he wasn't right and pulled himself out of the game with a leg injury. He didn't return.
Baier stopped all 11 shots he faced in relief. The Sting added an empty-net goal to win 4-2.
The question now is, will DiPietro play on Sunday in the true do-or-die Game 6?
Spitfires Pushing for Game 7
Whether it's Baier or DiPietro, this is the game the Spitfires have been waiting for. They have nothing to lose. Nobody expected them to be in this spot, battling for a Game 7 Tuesday night against the high-octane Sting.
It's a game of clichés. Leave nothing on the ice, give 110 percent, and the list goes on. It's not certain yet if DiPietro will be able to play or if Baier will get the call.
Either way, Letowski will continue to do hammer home the systems that got them to this point – block shots, create a wall of players around the crease and be opportunistic with the puck around Fazio. That's all you can ask of them.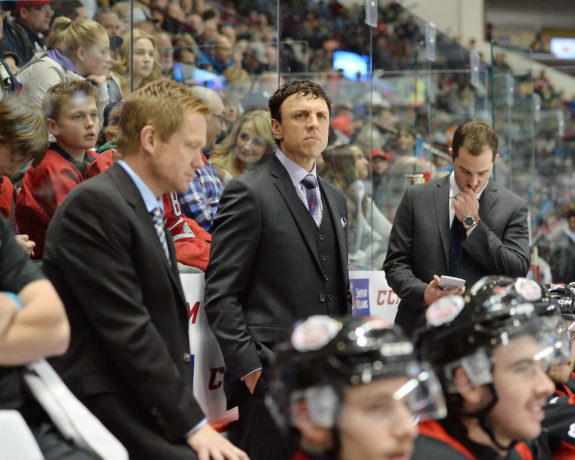 Nobody was even expecting to be at the WFCU Centre on Easter Sunday. Yet, that's what's going to happen; a pretty big hockey game with a home team that's coming in as the underdog.
Spitfires fans are used to being in this position. If history repeats itself, they'll still have one more shot on Tuesday.
Tickets for Game 6 on Sunday can be purchased on the Spitfires' website.