After just over a year on the job, Tom Anselmi is out as president of the Ottawa Senators. The story broke on Friday afternoon, but this wasn't the only news to come out of the Senators' front office that day. Hours later, the Sens announced that general manager Pierre Dorion has signed a three-year contract extension.
In the middle of a tumultuous season where the Senators have faced off-ice drama and on-ice disappointment, changes were certainly expected. However, the departure of the team's president was definitely not the kind of change fans were anticipating. Anselmi was hired last year to help secure the land deal necessary to build a new downtown arena at Lebreton Flats. While an agreement in principle has been made to redevelop this land, a downtown arena is far from a done deal.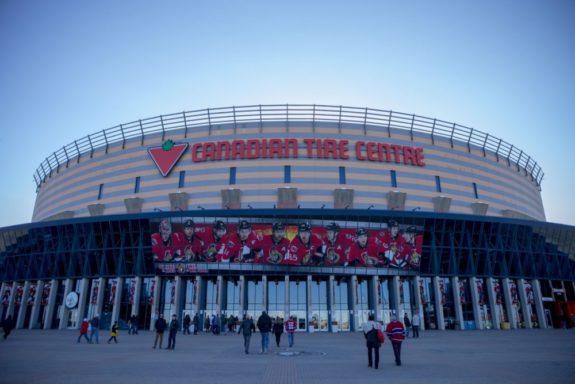 So why is Anselmi leaving before the job he was brought in to do is finished? Well, it's clear the Senators have no intention of sharing this information since the team announced Anselmi's departure with a footnote in the press release about Dorion's contract extension.
Pierre Dorion's "Win-Now" Strategy
The details surrounding this change may come out in the coming weeks, but based on the information that is out there now, there is a clear lack of direction in the Senators organization. The Dorion press release stresses a dedication to sustainable success, with owner Eugene Melnyk stating the following:
Today's announcement reflects a renewed commitment to scouting, drafting and development. It may require changes to our lineup. Rest assured, we will only tolerate pain with an endgame in mind: building an organization that wins – at all levels – year in and year out.
While some parts of that message should be reassuring to Senators fans, it raises some key questions. The moves Dorion has made in the last two years have indicated that the team is in a "win-now" mode. Dorion has signed veteran players like Johnny Oduya, Nate Thompson, and Tom Pyatt, and gave up 19-year-old Jonathan Dahlen for 35-year-old Alex Burrows.
The Sens GM also parted ways with 18-year-old Shane Bowers and a first-round draft pick to acquire Matt Duchene. It's a bit strange to claim that Dorion will lead a renewed commitment to drafting and development when he's the one who has made the Senators one of the oldest teams in the league.
Guy Boucher's coaching style certainly isn't in line with a player development-oriented philosophy, but the Senators coach may need to change his outlook if he wants to stick around.
The Senators' lack of success this season has apparently made Dorion rethink their win-now strategy, but the GM doesn't hold all the cards in terms of when a full-fledged youth movement can happen. Erik Karlsson's contract status has given him a lot of power in this franchise. As long as the star defenceman is on the team, the Senators want to be competitive.
Karlsson Rumors Will Only Get Worse
Karlsson will be an unrestricted free agent in 2019, and given the uncertainty in Ottawa's front office, many teams have inquired about the Senators captain. Even though both sides want Karlsson to remain a Senator, the trade speculation will only get worse until he is either signed or traded.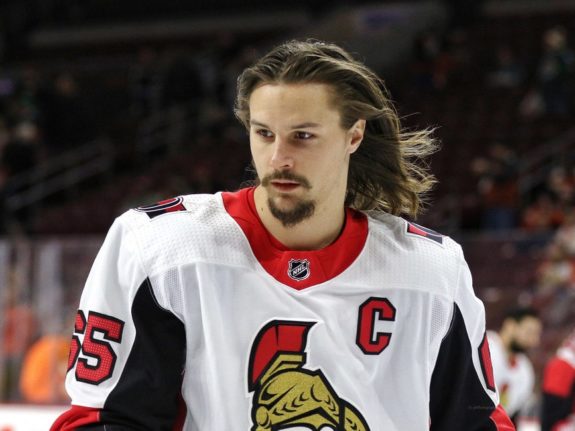 This growing distraction has a negative impact on basically every area of the organization, as fans will have a hard time getting excited about a team that could be on the brink of losing its best player. Even though the Sens supposedly want to build a foundation of sustainable success, they won't be able to properly evaluate the franchise's future until the Karlsson situation is sorted out.
Further complicating things is the team's ownership. Melnyk has reiterated that he has no intention of selling the team, but with him further alienating fans with vague threats of relocation, Sens fans have clearly had enough. Karlsson's contract situation is certainly a major factor in the team's lack of direction, but most of the concerns about the captain's next contract can be traced back to ownership.
While Dorion's three-year extension can be seen as a commitment from Melnyk to keep the team for the next few seasons, the Senators' front office turmoil leaves the entire situation unclear.
A Carleton University journalism graduate, Jacob joined The Hockey Writers in 2017. As an Ottawa native, Jacob has been following the Senators since the days of Radek Bonk. You can also find Jacob at ComicBookMovie.com.