Gustav Nyquist and Tomas Tatar had unfair, albeit natural expectations as they rose to the Detroit Red Wings. Both of them were drafted outside the first round, spent years over-ripening in the minors, and burst onto the scene upon acclimation to the league. When they were called up, the team had a duo nearing the end of their time together that went through a similar experience.
Pavel Datsyuk and Henrik Zetterberg were also low draftees. Both were patiently brought through the system and similarly produced early returns. With them, the franchise's consistent success extended from the dynasty years to the mid-2010's. One more Stanley Cup in 2008 and countless memorable moments followed this pair, famously dubbed the "Euro Twins."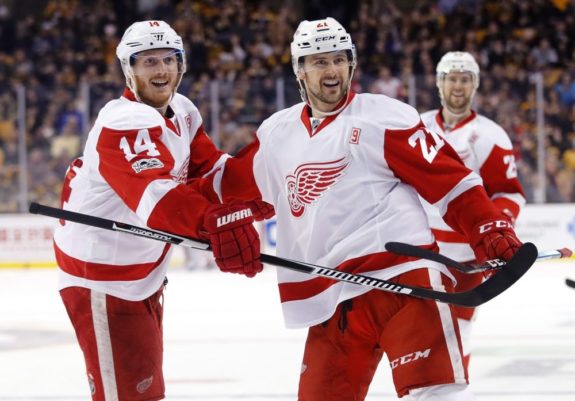 To the average follower of the team, history seemed to be repeating. Nyquist had two 25-goal seasons under his belt before the age of 26. Tatar nearly touched 30 as a 24-year-old. The torch was going to be passed, and this upstart duo would similarly rise together and bring another round of success that Red Wings fans were accustomed to for the past two decades.
Fast forward to the 2017-18 campaign.
The former is now 28 years old, the latter, 27. Neither has scored 30 goals or even 60 points in a season. Detroit hasn't won a playoff series since they both joined the team in 2013-14. In fact, the Wings are on the verge of missing the dance for the second consecutive campaign.
Not to mention, other young players are supplanting them this season.
Potential Stars Have Emerged
Up front, the Wings already have an intriguing new duo lead by Dylan Larkin, playing full-time down the middle for the first time in his career.
Let's just say he's been successful.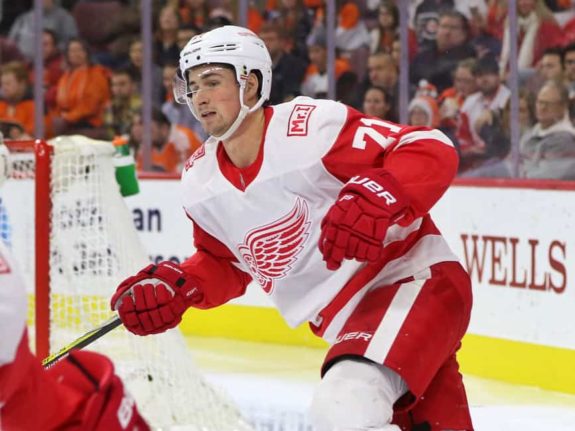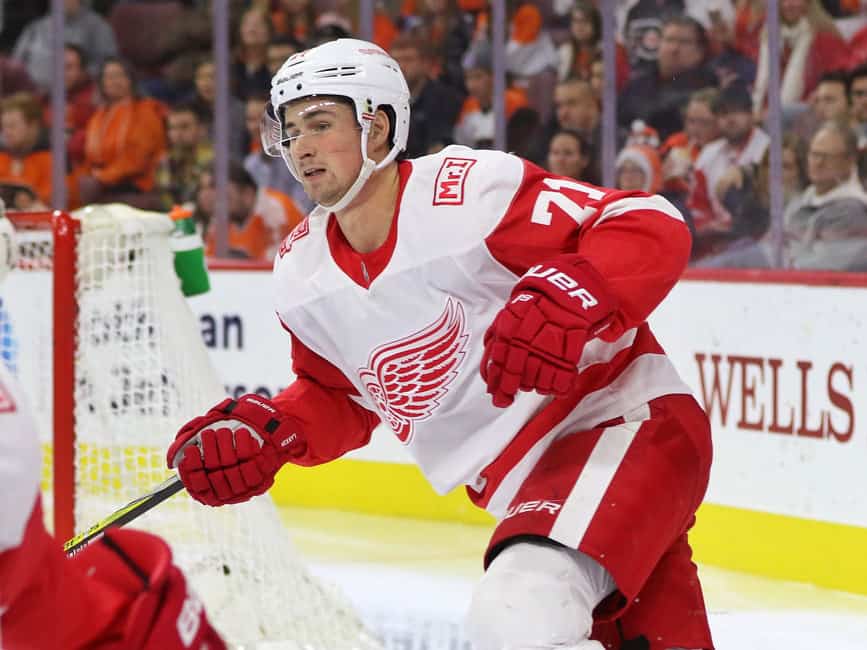 Humbled by his 32-point performance last season, the 21-year-old has taken his game to new heights in 2017-18. Despite poor team success, he has already eclipsed his point total from last campaign with 40 in 53 games. He's already tied that previous mark with assists alone (32) and, as of this writing, leads Jeff Blashill's group in points-per-game. The offensive resurgence has been encouraging, but the Michigan product's overall game down the middle has provided the most hope.
For starters, he's one of three forwards on the team with a Corsi-for percentage over 50 percent, (minimum 20 games played). He's also sixth-best on the team among forwards in Fenwick-against-per-60 minutes. In the face-off circle, the Belle Tire product has posted a solid 50.1% winning percentage.
However, he still has progress to make in his own zone, as his Corsi-against-per-60 is relatively high at 58.53 attempts. Despite this, the Waterford native has more than made up for it thus far with his legs, generating a Corsi-for rate of 60.19 attempts-per-hour.
On the wing, Anthony Mantha and his 6-foot-5, 225-pound frame has given Detroit a glimpse of a 30-to-40-goal scorer, growing pains in all.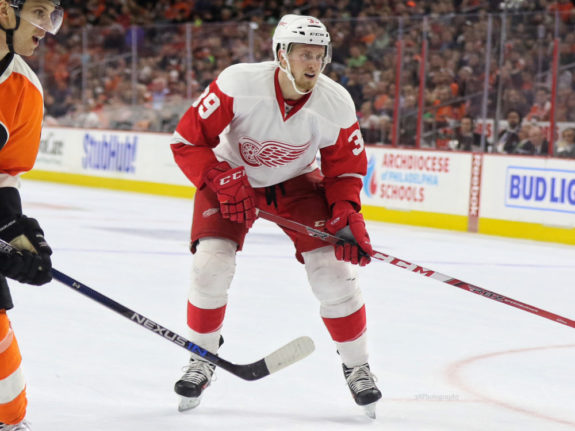 The former Val-d'Or standout has hit a wall since his hot start with just eight markers and 13 points in his last 32 games, but like Larkin, he must go through some adversity to build endurance for the long run. Unlike Tatar or Nyquist, he's only 23 years old and in the middle of his first full season out of training camp. Many forget that he was in Grand Rapids to start the season in 2016-17.
Despite his recent struggles, the Longueuil, Quebec native is still on pace for a 28-goal campaign and has done his share of carrying the play. In fact, since the start of last season, in 111 games he's posted a team-best 52.63% Corsi-for percentage. In 2017-18, he's ranked second among Red Wing forwards in shots-against-per-60. While it would be nice to see him score more often right now, it's definitely encouraging to see him working on a second dimension to his game so early in his career.
Under the potential cornerstones, Detroit has a few more wingers that have provided an abundance of complementary scoring.
Supporting Cast Surplus
The team's top-nine was already bolstered by the return of Andreas Athanasiou and his game-breaking speed. However, two other Grand Rapids Griffins graduates have made the most of their inaugural NHL stints. In the process, they've raised the question of how necessary the Swede and Slovak are to the team's future plans.
Martin Frk made the NHL roster out of camp and has stuck as a power play option up front. Showing off a cannonading drive that's either found the twine or created fat rebounds for assists, the 24-year-old has potted five man-advantage goals and 20 points overall. He's nothing special at even strength and has been sheltered starting 56.68% of his shifts in the offensive zone, but this niche role has provided secondary production that has rivaled Tatar and Nyquist's overall numbers.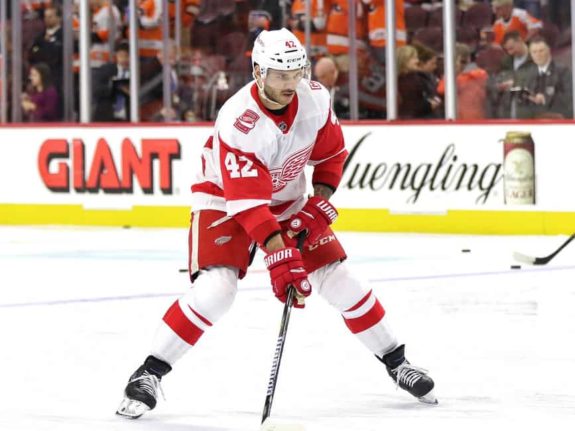 As he matures, he could be an option that nets the team 15-to-20 goals per season. His partner in crime from the 2017 Calder Cup playoffs could be well on his way to that output in his career as well.
Tyler Bertuzzi was thought of as an opening night roster lock before adversity struck. Weeks before the season, a tendon in his wrist became inflamed, causing him to miss the cut. He now has 20 games under his belt this season with 10 points, showing off a tenacious forecheck that earned him Postseason MVP honors last spring for the Griffins.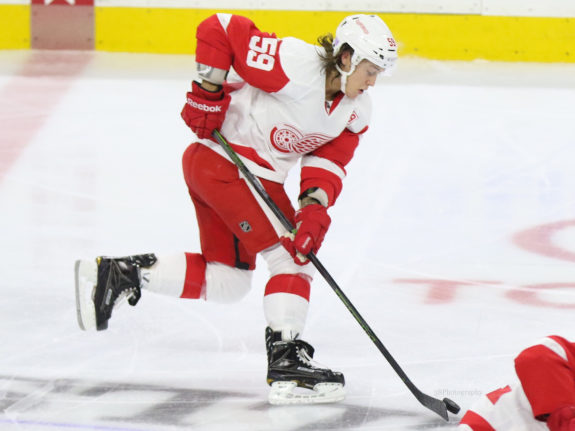 Like Frk, he too is still finding his way defensively, and his numbers are atrocious at even strength. Many could have done without the ill-timed slash at the end of the game against the New York Islanders on Friday as well. However, by the time each player gets acclimated to the league, their respective ceilings are projected to be not far off from what Nyquist and Tatar have receded to. They're not superstars, nor busts, but good complements that would perform at a higher level with elite talent around.
Time to Deal
The answer to how Detroit could acquire some of that dynamic talent they've desperately lacked for the better part of a decade has already been covered. The passivity the organization has shown in trying to expedite that process has been long lamented. However, the writing on the wall has never been clearer regarding their now-aging pair.
The emergence of this new young core has again given the organization a chance to look themselves in the mirror and reset.
Nyquist has one year remaining on his deal after this season with a comparatively attractive $4.75 million price tag. He's currently playing his best hockey in years, on pace for 20 goals for the first time since 2014-15. The team could wait until the draft to deal him away, but contenders would pay top dollar for extra scoring heading into the stretch run. The time is right for him to be dealt.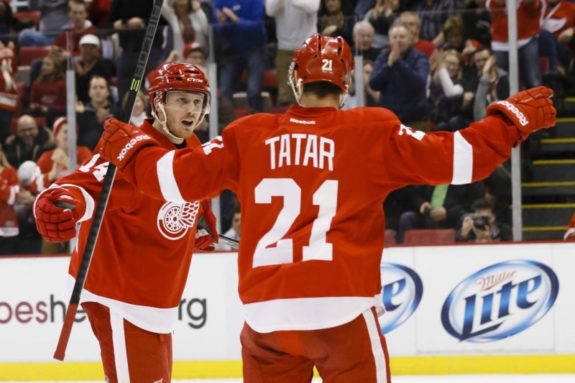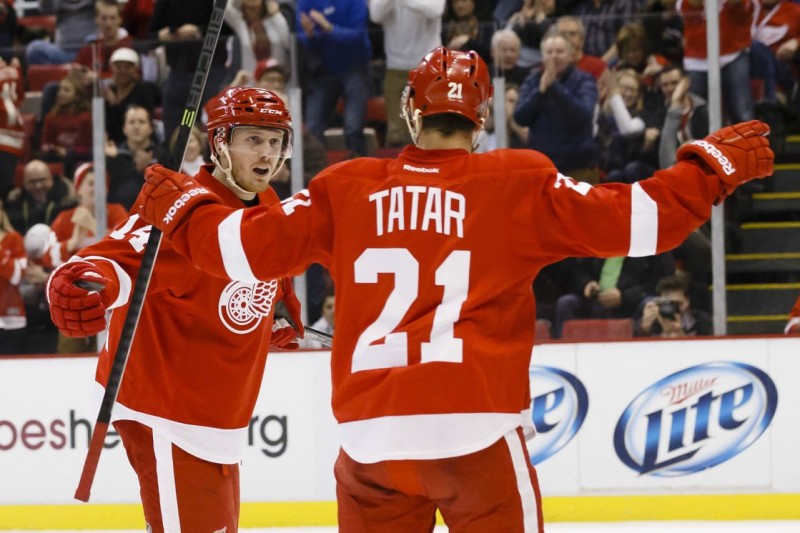 Tatar is a more expensive option at $5.3 million per season, but would be attractive to a team looking for a scoring winger to play with a star. Salary retention would be an interesting aspect to follow on a potential deal, as the Ilava native has three years remaining on his current contract after this season. He's been known to score in bunches and has potted 25-plus goals in a season twice in his career to this point, most recently in 2016-17.
On contenders, these two wouldn't have to be leaned on consistently as leaders, which could lead to an uptick in their numbers. Scorched earth isn't Ken Holland's style, so if one is dealt the other will likely be kept. Tatar is more likely to be an offseason move with his contract status, but Nyquist with a year of control is quite attractive. The Nashville Predators, St. Louis Blues, Dallas Stars, and Pittsburgh Penguins are just a few teams that could use an extra piece front to push them over the top.
More Assets, More Chances
Between the duo, Detroit could nab a multitude of high-round picks to go along with a mid-level prospect or two. In other words, they'd have more tickets in the lottery of prospects that is the entry draft. The more shots one has at the talent pool, the better are their chances of nabbing at least one difference maker among many projected ones. The Wings braintrust has had prior success with fewer picks in the past, and I'd like their chances with more at their disposal in the present.
By the time the team is ready to contend again, the pair will be into their early 30's, with their prime years behind them. The team has more than enough help in the system to compensate for this as Evgeny Svechnikov, Michael Rasmussen, and even David Pope turn heads in their movement up the pipeline.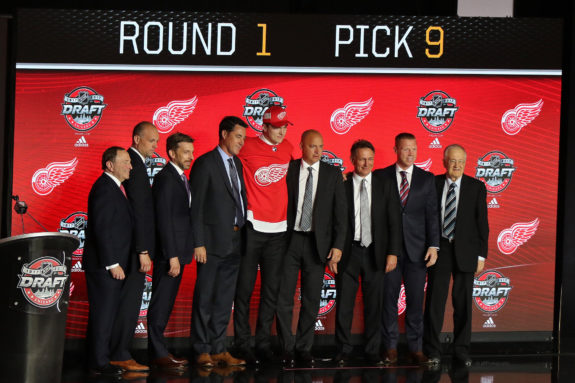 If Detroit doesn't finish low enough (or lucky enough) to nab a Rasmus Dahlin, Adam Boqvist, or Quinn Hughes on the back end, another forward could join the mix, further pushing the duo down the depth chart. Cleaning some bloated contracts off the books could provide some room to nab talent on the free agent horizon as well.
Going from projected leaders to current complements on a team that has many of the latter, Nyquist and Tatar are no longer untouchable. Whether the split is gradual or quickly made, preliminary action must be taken at this point. Dark days are ahead, and there's no need for them to endure the hardship while they're still valuable.