With veteran goaltender Marc-Andre Fleury signing a three-year contract extension with the Vegas Golden Knights on Friday, the team has established short-term stability in net, which is essential for a club in win-now mode. But possibly the most significant outcome of the re-signing is that the memorable career of a former three-time Stanley Cup champion will most likely conclude in the state of Nevada. The Golden Knights locking down one of their cornerstone franchise players is significant, and here are some takeaways from his re-signing..
Goaltending Situation Is Solidified
If Fleury did not receive the extension, then his contract would have been entering a contract season this upcoming campaign. Given that the 33-year old netminder proved he is still a legitimate starter, there is a strong possibility that a bevy of teams would have been ringing Vegas general manager George McPhee's phone to inquire about a trade for Fleury. Furthermore, the native of Sorel, Que. would have been hotly pursued on the free-agent market because of his skill set, veteran leadership, and likely more reasonable price compared to other potential 2019 UFA goalies such as Pekka Rinne of the Nashville Predators and Sergei Bobrovsky of the Columbus Blue Jackets.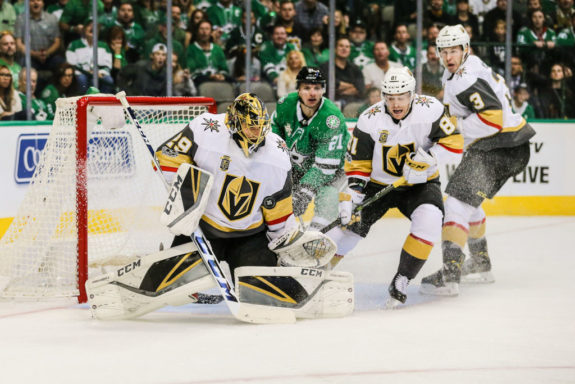 All of those potential concerns evaporated quicker than rain in the Nevada desert heat with Fleury's re-signing. Vegas has the 14-year veteran under contract until the 2020-21 season, meaning the Golden Knights will not have to worry about finding an immediate replacement in the crease. And given the way Fleury played in his debut season as a Golden Knight, it is beneficial. The former Pittsburgh Penguin was 29-13-4 in 46 games played last season, which was coupled with a 2.24 goals-against average. In 20 postseason games, Fleury earned 13 wins and single-handedly won a chunk of games in Vegas's run to the Final.
The stability in net is integral for a team of Vegas' stature. Given the talent all across their roster and their relatively young collective age, the potential championship window for the Golden Knights could last anywhere from three to five years. Having a viable option in the crease with loads of playoff experience for at least three of those years is vital if Vegas to bring Lord Stanley's mug to the southwest U.S. Furthermore, it gives the team a chance to develop another young goaltender that can seamlessly replace Fleury as the starting netminder.
Fleury's Career Likely Ends in Vegas
For any goalie to perform consistently well in year 14 in the NHL is quite admirable. The wear and tear of playing in net for over a decade can take a toll on one's body, but Fleury proved last season he still has some juice left in the tank. However, all good things must come to an end, and at 33 years of age, the conclusion of his career is closing in.
By the time Fleury's new contract expires, he will be 36 and coming off his 17th season in the league. Given that he will be out of his prime once the 2020-21 season draws to a close, hanging up the skates will likely be the wisest choice for Fleury at that point. Is it rare for netminders to play in their late-30s and into their 40s? No, and it is occurring right now with 38-year-old Roberto Luongo of the Florida Panthers, who is set to enter his 20th NHL season.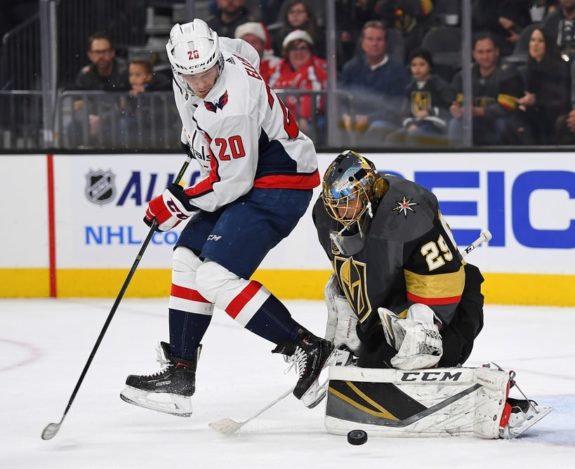 But there is a solid chance Fleury could add another championship ring to his hand by the time his contract expires. If that is the case, it would not be shocking for Fleury to want to retire after hoisting the Stanley Cup for a fourth time. Potentially going out on top should sound very appealing for any player closing in on two decades in the NHL.
His Legacy in Vegas
The concept of Fleury not retiring as a Pittsburgh Penguin would have been seen as dumbfounding a few years ago. The veteran netminder was a mainstay with the black-and-gold from the beginning of his tenure in Pittsburgh in the 2003-04 season. However, Fleury calling it a career in Vegas became a strong possibility with this contract extension.
Although his stint with the Golden Knights will under be five years by 2020-21, Fleury will be seen as a legend in the Vegas area if he decides to retire as a Golden Knight. His performance in the regular season this year was one thing, but the sights of Fleury standing on his head in the 2017-18 postseason will always be engrained in the minds of Golden Knights fanatics. And with the 33-year-old staying in the desert for three more years, it's possible more memorable moments are made by Fleury for Vegas fans to cherish.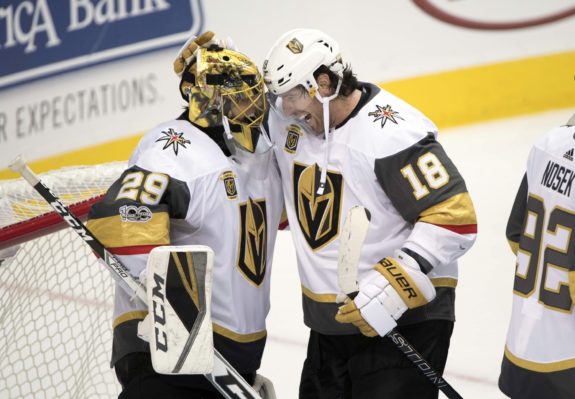 One thing he will always be remembered for in Vegas is that when the expansion roster was chosen, he was the most recognizable name. In a crowd of lesser-known players, Fleury stood out as the star entity and was quickly marketed as the face of the franchise. That will always stick for Golden Knights supporters.
The amount of seasons left in Fleury's career is truly an unknown. What is clear is that Vegas's goaltending situation is secure for the next handful of years.
And if the long-time netminder does retire with Vegas, don't be shocked to see his name physically etched in Golden Knights allure.