The Chicago Blackhawks experienced their first losing season this past year since 2006-07, when they went 31-42-9 under head coaches Trent Yawney and Denis Savard. That team featured only two 20-goal scorers in Martin Havlat and Patrick Sharp. Patrick Kane and Jonathan Toews made their NHL debuts the following season and the fortunes of the franchise took an amazing turn for the good. The team will look for a quick turnaround in order to be back in the Stanley Cup playoffs next spring.
Rocky Wirtz Is Not Used to Losing
A whole new generation of Blackhawks fans only knows the success that Rocky Wirtz has brought to the franchise. They have enjoyed the golden age of the team and know little about the "Dollar" Bill Wirtz era which drove off fans and turned a once-proud franchise into a laughingstock.
Under the control of Bill Wirtz, the Blackhawks did not show home games on local television, they gave up on top talent in their prime, signed plenty of washed-up veterans who had name recognition, and added more years onto a Stanley Cup drought that lasted for 49 seasons. Back in those days, ownership was satisfied with just making the playoffs to earn a couple more gates as opposed to winning championships.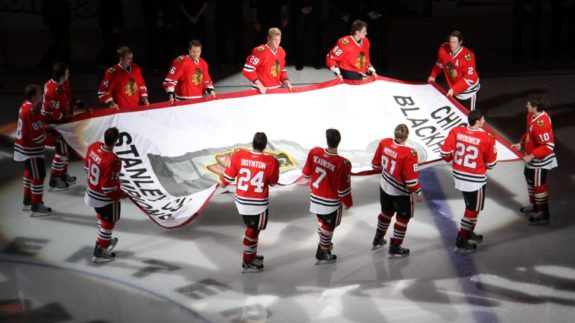 All of that changed when Rocky took over the team following the death of his father in October 2007. Rocky believes in a philosophy of spending money in order to make money, a complete departure from the business practices of his late father. Home games were back on television and fans returned to the seats of the once-empty United Center when the team started winning again. Chicago also became a desired destination for top free agents like Brian Campbell and Marian Hossa because the team was on the rise and ownership was willing to pay top dollar.
The modern-day dynasty began with a Stanley Cup win in 2010, followed by two more titles in 2013 and 2015. The Blackhawks were an unfortunate bounce off Nick Leddy's knee pad from likely winning three straight Cups. Things have been heading in the wrong direction of late, as the Blackhawks have won just three playoff games since Toews handed Lord Stanley's Cup to Kimmo Timonen, and all of those came against the St. Louis Blues in 2016.
Boss Confident but Will Make Changes If Need Be
The 2016-17 regular season was more of what Blackhawks fans had become accustomed to, as the team finished with the most points in the Western Conference. However, they were easily dispatched by the eighth-seeded Nashville Predators in an embarrassing four-game sweep in the opening round of the playoffs.
The disappointing end to a promising season led to general manager Stan Bowman making big changes last summer, including trading away fan favorites Niklas Hjalmarsson and Artemi Panarin trying to avoid future salary cap headaches. The moves did not work out as the Blackhawks missed the playoffs for the first time since 2008.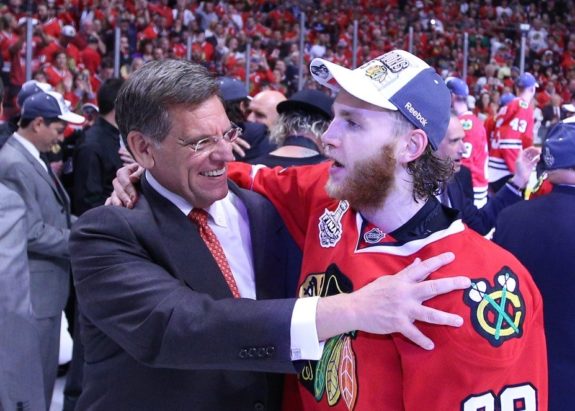 Wirtz has every reason to believe that his team will bounce back next season and return for another deep playoff run, but he will not hesitate to make big changes of the Blackhawks stumble out of the gates in the fall.
"We're not going to have a knee-jerk reaction," Wirtz recently told Crain's Chicago Business. "You can't let your emotions be in control. (Corey) Crawford tells me he's okay. We'll see.
"Overall, I think the team will be fine. But, if things are off at the beginning of the year, that's a different story … Nothing lasts forever."
How Stan & Q Can Keep Their Jobs
The pressure is definitely on heading into the 2018-19 season. Missing the playoffs after Bowman's aggressive offseason was not the way the front office and coaching staff envisioned how last year was going to happen. With just three playoff game wins in three years, the high expectations set by those championship runs are not being met, and it could cost Bowman and head coach Joel Quenneville their jobs.
There are plenty of reasons to believe that the Blackhawks will have a rebound season next year.  The biggest factor in their future success is a healthy Corey Crawford in goal. While his health is still a mystery, there have been some positive signs over the past week. Crawford was added to the guest list for the annual Blackhawks Convention in July, and artist Stephane Bergeron shared a photo of Crawford's new mask. Hopefully, both of these developments mean that Crawford will be back to his old self for the start of the new season.
Sneak peek at Corey Crawford's new mask from longtime mask artist Stéphane Bergeron. #Blackhawks #CrowMG pic.twitter.com/UKQTyQdQDC

— MLP (@Pappy_Hour) June 1, 2018
Brandon Saad had the unluckiest season of his career in his first season back in Chicago. He set career-highs in both shots on goal (237) and total shots attempted (397) but finished the year with a career-low 7.6 shooting percentage (S%). Had he scored at his career average of 11.6 percent heading into the season, Saad would have lit the lamp 27 times as opposed to just 18. Saad's mark of 17 assists was not helped by Jonathan Toews's career-low 9.5 S% either.  If these two can revert to a number closer to their career averages, the Blackhawks will produce more offense.
The young players are another reason to be optimistic.  Alex DeBrincat, John Hayden, Vinnie Hinostroza and Nick Schmaltz are all looking to take the next step in their NHL careers, and if they can continue their collective progression, then the team will be vastly improved.
There is little doubt that Bowman will look to strengthen the defense and the center position this summer either through free agency or the trade market. He is expected to have more salary cap space than he is used to, so he will need to push all the right buttons if he wants to prop open the championship window a little longer. Not doing so could cause him to be on the open job market by the end of the season.