Teams that make it to the Calder Cup Final have already taken a long road to get a shot at the cup. In this year's Final between the Toronto Marlies and Texas Stars, no personal journey can top Texas goalie Mike McKenna. McKenna has appeared in 461 AHL regular season games and currently sits at 63 playoff appearances. Those appearances have come wearing the home sweater of 10 different AHL cities in a 13-year career.
This season, McKenna became the first goalie in nearly 25 years to make back-to-back Calder Cup Finals with two different teams (his Syracuse Crunch lost in the Final last year to the Grand Rapids Griffins). It's a feat McKenna seemed destined to match given his career path.
McKenna Matches Rare Feat With Final Appearance
With his Stars down 2-1 to a Marlies team loaded with talent, McKenna will need a special performance in AHL appearance number 525. Needless to say, he's been here before. Olaf Kolzig was the last netminder to appear in back-to-back finals with two different teams. Kolzig's Rochester Americans fell to the Cape Breton Oilers before he would get redemption in the 1993-94 season with the Portland Pirates.
McKenna is seeking a redemption of his own in this year's Final. McKenna and Kolzig will always be connected, but their career paths have been quite different. Kolzig was 23 at the time of his title in Portland. He would go on to play 719 NHL games, winning a Vezina Trophy in 1999-00 and representing Germany in two Olympic Games. At 35, McKenna is trying to win the ultimate prize in a league where he's made a name for himself.
McKenna started his professional career with the ECHL's Las Vegas Wranglers in 2005-06 after a college career at St. Lawrence University. In that first season, he was called up and sent across the country to the AHL's Norfolk Admirals where he appeared in seven games. It would be representative of his hockey odyssey. McKenna played the following season in Las Vegas and endured two separate call-ups to Milwaukee and Omaha. It was in 2007-08 with the Portland Pirates when he established himself as an AHL goaltender, making 41 appearances in net.
Before @TexasStars goalie Mike McKenna, the last goaltender to reach back-to-back Calder Cup Finals with two different teams was @OlieKolzig37 with Rochester (1993) and Portland (1994) #TBT pic.twitter.com/rAwy0nI8su

— American Hockey League (@TheAHL) May 31, 2018
Although organizations have always come calling for McKenna's services, it would be seven years before he spent back-to-back seasons in the same place. Blame it on bad luck, McKenna did spend two years with the Devils organization in which they moved their AHL affiliate from Lowell, Massachusetts to Albany, New York. McKenna returned to Portland in 2014-15 and had a career year with a 2.24 goals-against average and .926 save percentage in 54 games.
McKenna stayed in Portland the following season and looked set to make it three years in one city. Of course, the franchise moved to Springfield, Massachusetts and became the Thunderbirds. The journey continued. It's a journey that has also included some NHL call-ups – McKenna has appeared in 24 games at the top level with Tampa Bay, New Jersey, Columbus, Arizona, and two this season with Dallas.
McKenna Saving His Best for Last
McKenna hadn't been a part of a deep playoff run before he was traded to Syracuse last season and backstopped the Crunch to the Final. The well-travelled goalie is getting another chance late in his career to win the Calder Cup that has eluded him. His play during this run suggests he realizes its now a race against the clock.
McKenna entered the final with an 11-4 record, a 1.97 goals-against average, and a .940 save percentage. The only netminders close to matching his playoff performance this season are Lehigh Valley's Alex Lyon, who will be remembered for 94 saves in one game, and McKenna's opponent this series, Garret Sparks. Spark's was named the league's top goaltender in the regular season.
McKenna has been playing some of his best hockey at 35. He will need that to continue to match Sparks and the Marlies. After a wild 6-5 loss in Game 1, McKenna responded with a 21-save effort in Game 2. The 2-1 win gave the Stars a split in Toronto. The game could've gone much differently as the Marlies started fast on home ice, looking to put Texas in a 0-2 hole. McKenna weathered the storm in a first period where his team was outshot 13-6, surrendering only the one goal. The rest of the Stars settled in and found a way to contain the Marlies to get the road win.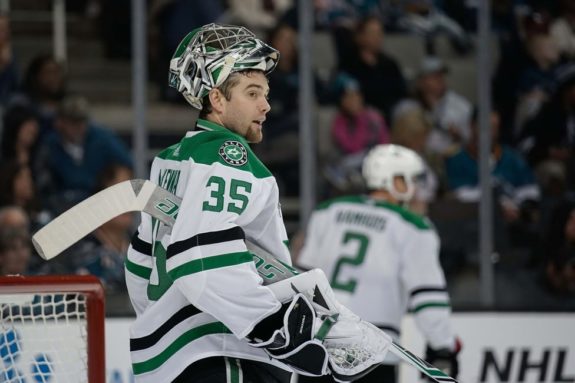 Game 3 was another one-goal game, with Toronto taking the 2-1 win and series lead. Once again, McKenna gave his team a chance to win, making some big saves early in the third period with the Stars trailing. Despite containing the Marlies early momentum in the third, Texas was unable to get the tying goal. Toronto has the quickness and cycling ability to control play for long stretches. The veteran goalie will need to continue his incredible playoff form for the Stars to get back in the series.
McKenna has worn a lot of different AHL jerseys in many cities. He'll hope his current stop just outside of Austin, Texas is the one that delivers the league's top prize.