Since Game 4 of the Stanley Cup Final on Monday, there has been a lot of chatter about puck luck, posts, and missed opportunities. Fingers have been pointed, shoulders have been shrugged, and frustration has abounded in the Vegas Golden Knights' locker room.
But there's no dark magic afoot, no sinister plots from the hockey overlords, no lost mojo. What I'm seeing is something different. Something simpler.
Right now, the Washington Capitals are just a better team.
The Eye Test: Capitals Pass
Saying the Capitals are better is by no means a wild proclamation to make when they are up 3-1 in the series, but with so many cursing the hockey gods, I felt the need to have their back. Someone has to, after all!
And with many citing statistics and using numbers for their "puck luck" argument, it almost seems lazy to the point that they didn't watch the game. I don't think you can look at the result of a 6-2 Game 4 and say Vegas should have won. That's not what I'm seeing.
I'm seeing Alexander Ovechkin blossom into a strong, two-way player alongside a world-class scorer, selling out for his elusive Cup. I'm seeing Capitals centers controlling the middle of the ice (more on that in a minute). I'm seeing T.J. Oshie, Tom Wilson and Devante Smith-Pelly be the big-bodied forces on the wing of a bygone era. And I'm also seeing Matt Niskanen get absolutely no credit for what an outstanding defenseman he is, using positioning and smarts to his advantage rather than the flashy play.
Golden Knights Fail
What am I not seeing? Well, how about the Golden Knights' calling card for the entire season: their ability to roll four lines with speed. The Knights' stifling forecheck has forced even the best defensive teams into uncharacteristic turnovers, which the team's opportunistic forwards have made a habit of pouncing on and putting into the back of the net. However, that hasn't been the case this series.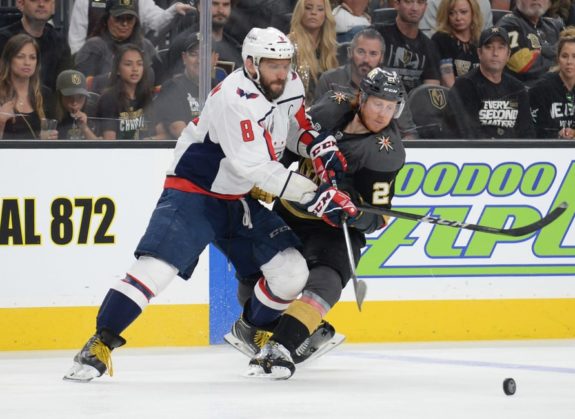 Ever since Game 1, the Capitals have adapted to the Golden Knights' speed, tightening things up and taking their biggest weapon away from them. Yes, the Golden Knights have controlled stretches of play, but they haven't been able to sustain their attack like they normally do. And opportunities they normally, ahem, capitalize on, aren't finding their way to the back of the net. Often, shots aren't getting to the net at all, as waves of Capitals defenders are laying their bodies on the line in front of pucks left and right.
Capitals Dominant Up the Middle
The Capitals' centers are controlling the middle of the ice. Evgeny Kuznetsov, Nicklas Backstrom, and Lars Eller have been downright stubborn with the puck, with the top two being their usual, dominant, puck-possessing, playmaking selves. Kuznetsov and Backstrom, with two goals and 11 assists in the series between them, are looking every bit the part of a couple of centers in Pittsburgh who won the past two championships—Sidney Crosby and Evgeni Malkin. Kuznetsov, in particular, has been impressive, leading the playoffs in scoring with 31 points.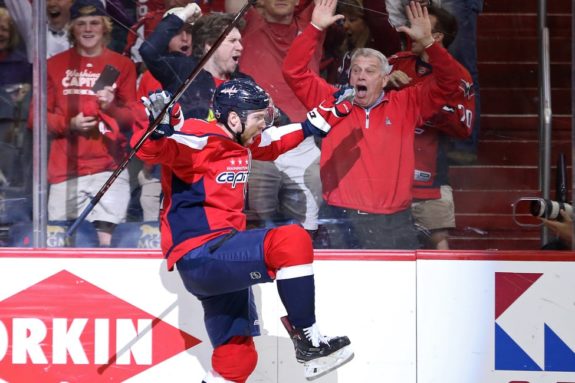 Once cast off by the Montreal Canadiens after never quite living up to his potential, Eller has come into his own with the Caps and stepped up huge for the team throughout the playoffs, continuing his stellar play no matter what line he's on. He's even resumed his "hot lap" duties prior to Game 5. Meanwhile, Jay Beagle has provided the sound defensive play the Capitals have come to rely on him to provide for years.
Stats Only Tell Part of the Story
If you want some statistics to point a finger at, how about going 1-for-11 on the power play in Games 2 through 4? How about Marc-Andre Fleury no longer being in dominant form, seeing his save percentage plummet from .947 in the playoffs up until the series to .845? Or even William Karlsson's extremely high shooting percentage of 23.4 percent in the regular season coming down to a still-respectable-but-more-human 14.3 percent in the playoffs? Those numbers do matter.
Another big one is 86. That's the number of shots the Capitals have blocked in this series. The Golden Knights have still managed to get 125 on net, which means the Capitals' defenders are getting in the way of roughly 41 percent of the Knights' shot attempts. That can get pretty frustrating!
And you can bet that it has something to do with how well goaltender Braden Holtby is playing behind them.
Playing the Blame Game
As many things have been this season, seeking answers in the midst of a losing streak is unfamiliar territory for the Golden Knights. In fact, in dropping Games 2 through 4, the Knights have equaled their longest skid of the season at three, and that happened only once all year. So this is a sort of uncharted territory for the club, and the Stanley Cup Final is a harsh learning environment.
But the Golden Knights must look beyond those missed open nets, cranked posts, and wasted chances. They need to get back to what got them here in the first place. That's maximum effort top to bottom. That's a few goals being chipped in by lines two and three. That's team defense not hanging netminder Fleury out to dry.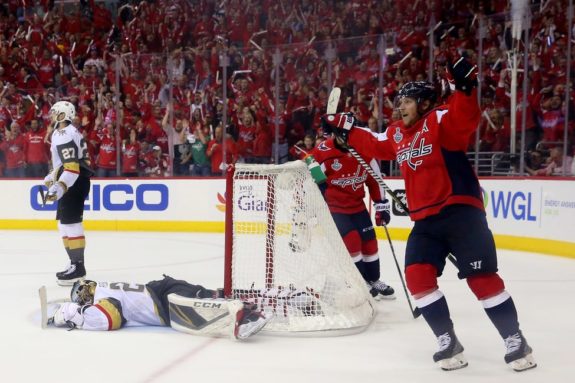 That's being a band of Golden Misfits. Because if there's any team out there that you don't want to bet against down 3-1 in the series, perhaps it's this one, which has defied all possible odds in a city where that's the name of the game.
Odds are pretty good they'll be back to their old ways with their home crowd behind them. But if the Capitals continue to ride their own wave of destiny, then perhaps it's just time for this magical ride to end.
Because that's the thing about luck—it runs out.