Four short years ago Arizona State University's hockey team made the jump from the American Collegiate Hockey Association (ACHA) to the NCAA. Men's hockey alone now has three teams at ASU (ACHA Division I & II, NCAA Division I). Despite having a rather unconventional arena that seats only 747 people on bleachers that sit on only two sides of the rink and being a school in one of the most criticized cities for housing a hockey team, they made it, and have, so far, succeeded.
But down south, only about two hours away, the University of Arizona still sits at the ACHA level, who only gets to play the second-best team at ASU now. The games are still the biggest draw of the season for the Wildcats, but the question is raised of whether or not they should try and bring that rivalry to the NCAA and the impact it would have.
Benefits of Division I in Tucson
Arizona is already host to 18 NCAA teams, so they would be no stranger to the benefits an elite program can bring to campus and the team.
First, NCAA status guarantees an increase in funding and support from the university for the team. Ever since its inception in 1979 to 2010, Arizona's men's hockey team had been a club team that was financially independent. In 2011, the team ownership changed and the university started funding the team under the branch of Campus Recreation–which is good, but not great.
The team is still seen as a "club" sport such as archery, ballroom dancing and synchronized swimming, all of which are funded by Campus Rec, not the athletics department. Because of that, the Wildcat hockey team has somewhere around a $400,000 budget to operate. The entirety of Arizona Athletics has a budget of upwards of $80 million. Surely the team would get more funding if they fell under that branch by becoming an NCAA program.
Warmups ✔️ pic.twitter.com/k8kiDnmJcC

— UA Wildcat Hockey (@UAWildcatHockey) February 18, 2018
More funding then turns into the bonus of being able to provide scholarships. Right now, each player pays out of pocket for tuition; that's a great financial burden that could cause players to look to other programs that provide scholarships instead. Jump to the NCAA and that's no longer a problem. Suddenly, players who might have overlooked the program are willing to play if they don't have to pay. Not to mention, this also encourages bigger name recruits to come since it is the NCAA.
'What college hockey does in general out on the west coast is it gives kids a foreseeable light at the end of their tunnel. Everyone wants to make the NHL, and there's nothing wrong with that, but the odds are really slim,' head coach of ASU's Division I team Greg Powers said in a USA Hockey Magazine article about the Desert Classic.
Recruiting would then be a breeze. With the often sought-after desert climate and highly-regarded Eller College of Management, top recruits will be giving the college town a look. Then, the goal of getting future NHLers on the roster would be on the horizon. Already, six of ASU's current players or commits attended NHL development camps this year. With ASU leading the way right now, Arizona could easily pick up the pace and do the same down the road.
Roadblocks in UA's Way
But of course, it's not all roses, otherwise, Arizona would have already made a great push to go Division I in hockey.
The first problem to address is that the cost of going Division I isn't necessarily going to be solved easily. For ASU it cost $32 million from donors for the program to grow. The money came in an unconventional manner via a student journalist's article.
'Two hours after my story went live, [head coach Greg] Powers received a call from a member of a donor group led by Don Mullett, a Wisconsin-based businessman whose son played hockey at Arizona State. The group was prepared to pledge $32 million to the school for the creation of a Division I hockey program. To my surprise, Powers and [athletic director Ray] Anderson said that my story was the reason why the group wanted to make the donation, ' Justin Emerson wrote about how he helped ASU get funded.
Arizona could find the same luck since they have wealthy alumni, but the coverage of the team from local news outlets is sparse, to say the least. If they don't hit an unbelievable stroke of luck like ASU, their road to funding would be much more difficult.
A reason for the difficulty is their lack of success. ASU won the ACHA National Championship in 2014 before they made the jump. Arizona has yet to win a championship, let alone be able to make the playoffs consistently. It would be hard to put money into a program that's not the cream of the crop on their current level and expect them to succeed on the next level.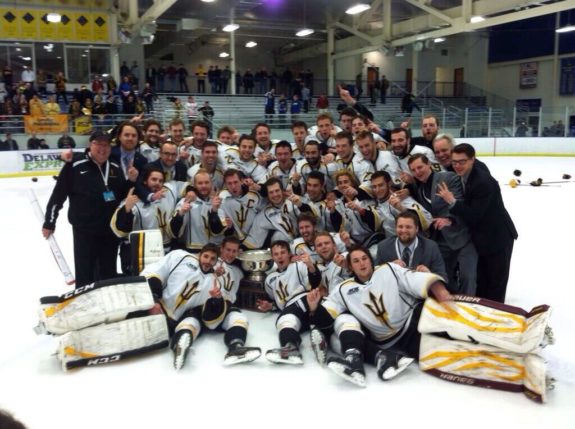 Another large issue is the lack of an arena. They currently play in the same arena as the Tucson Roadrunners of the AHL. Seating is not a problem, but ice time is. Four times last season Arizona had to play at 2 p.m. on a Friday and Saturday to allow the Roadrunners to get prime ice-time at 7:30 later those nights. Needless to say, attendance at those games was dismal. The players were also without ice for two weeks when the annual gem show came to town and took over their arena. They either trained off-ice or traveled north to Phoenix for ice time during that span.
ASU has arena problems that look to be solved soon, but at least in their current arena, they are the highest level of hockey to play there, so they get priority. Even if they go to the NCAA, Arizona still wouldn't get priority, so their only option is a new arena, which is pricey. There have already been talks of building the Roadrunners a practice facility, which could easily double as a rink for the Wildcats. But still, that's a hefty expense.
Regardless of where the arena is (unless they install ice in McKale Center) it will reside off-campus and perpetuate a reoccurring problem of low attendance. Tucson Arena (which is housed in the Tucson Convention Center) is only about a 15-minute drive from campus come game time with several public transportation options. But Arizona students already don't show up to football games that are available right on campus, so what is going to draw them to hockey? Even if the program turns Division I, it'll be a hurdle to get kids to attend a game for a sport most of them aren't familiar with, that is also off-campus.
"We have a hockey team here?' is something that the team's players hear regularly, prompted simply by their wearing of an 'Arizona Hockey' shirt,' UA News wrote in a piece about the team's community efforts.
A Tucson Dynasty
As it is with all business and investments, the Wildcats going Division I is a gamble. The team could wind up being a huge draw for students and the team could make the university thousands (and someday, millions). Or, the team could be a huge project even after making the jump that would eat up money until some day finally turning up a profit. And then there's some in-between, where the program is content, sitting in limbo, winning some and losing some.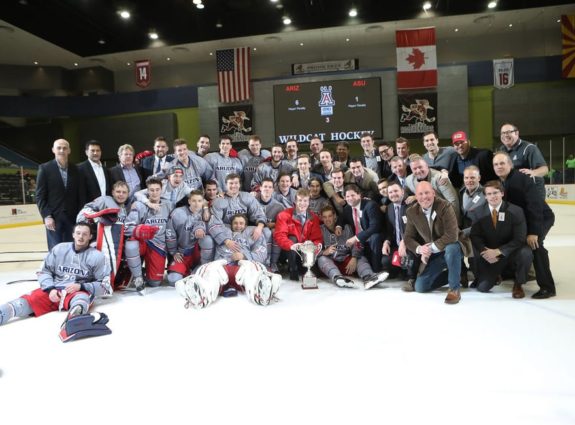 And nothing is for certain whether the team could be ready for a jump. ASU's coach Powers recounts what it was like coming back to the ACHA program in 2010.
"When I got back on campus, the program was worse off than it had been when I left as a player. It had never fully recovered from the '98 DQ. The team was under .500 most of the time after I graduated and missed the national tournament more times than not. It was bad. It was really ragtag. There was no culture. There was no expectation of winning. There was no tradition," Powers said in a Player's Tribune article about his experience with the team thus far.
Four years later when they won the National Tournament, Powers goes on to mention how there were viewing parties in Tempe for the team and how fans were losing their minds over it. Four years prior, that would have never been imaginable.
So years from now, there's really no saying where Arizona could be. If the Roadrunners get their practice facility and Arizona picks up speed and improves off one of their best seasons in years, they could very well be knocking on the door of the NCAA.
But right now, the dream is going to remain a dream for those who want it. The funds aren't there and the city of Tucson isn't ready to support the team as an ACHA squad or an NCAA one.