Dylan Larkin has been a different player in each of his first three NHL seasons, but his promising play this year could spark a breakout the Detroit Red Wings drastically need in 2018-19.
Gone are the days when the Red Wings would find hidden gems late in the draft like Pavel Datsyuk and Henrik Zetterberg. Rebuilds are now being fueled by the top draft picks that carry virtually every team in the NHL. As a rookie in 2015-16, Larkin got off to an impressive start with 18 goals and 38 points through his first 52 games and a plus-26 rating. He was named an Atlantic Division All-Star and set the record for the league's fastest lap at the Skills Competition.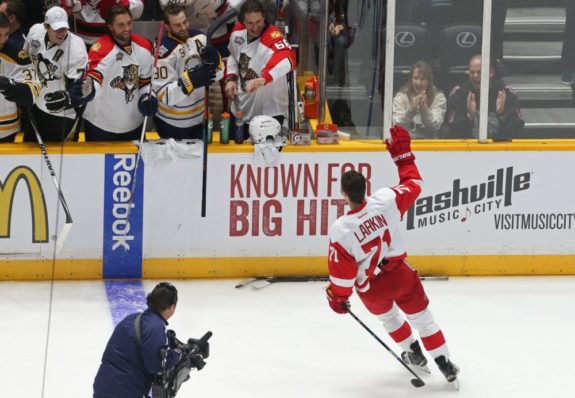 By early February, he seemed to run out of gas, which is common for rookies learning the grind of an 82-game season. Over the final 28 games, he scored just five goals and seven points with a minus-15 rating. An offseason of training was sure to do him well in 2016-17, but predictability, a full-time shift to center and a sophomore slump hindered his offensive output.
Sophomore Slump
Larkin relied heavily on his speed as a rookie, which usually caught opposing defenders flatfooted as he gained the zone and set up the offense. By year two, teams adapted to him and he struggled to add more moves to his repertoire.
A slow start turned into a slow first half. He was handed more responsibility that season, as Jeff Blashill moved him off of Henrik Zetterberg's wing to become the second-line center. Larkin began experimenting more down the stretch and finally started to find some bounces. Over his final 20 contests, he scored five goals and 13 points. It was a nice end to a season where he totaled just 17 goals and 32 points with an ugly minus-28.
As mentioned in this week's Red Wings column, Claude Giroux is a prime example of what a positional change can do to (or for) a player. After three straight seasons of declining offense—even as a premier faceoff winner—Giroux was asked to be a defensive-center on Sean Couturier's wing this season to help him focus on scoring. As a result, Giroux finished second in league scoring while Couturier broke out offensively.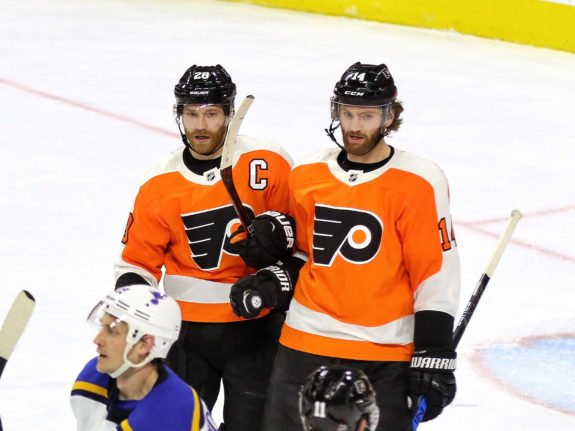 With a minus-28 as a sophomore and 45.4 percent faceoff percentage, Larkin didn't seamlessly adapt to his new role, which is understandable as he was assigned tougher matchups and was still learning the ropes as a 20-year-old. He was also handed less ice time and less quality linemates. Following the season, Larkin joined Team USA and showed what he had to offer as a center at the World Championships.
Larkin's Breakout
The Red Wings missed the postseason for the first time in 25 years in 2016-17, but Larkin's ability to go to the World Championships sparked something in him. He scored points in six of eight games, tallying two goals and eight assists. His ten points were second to Johnny Gaudreau. What was more impressive was that he won 62.3 percent of his 146 faceoffs.
A boost in confidence helped him get off to a nice start in 2017-18, chipping in a goal and eight assists through the team's first eight games. After 20 games, he had four goals and 19 points while winning 51.9 percent of his draws. He consistently found the scoresheet this season, never going more than four games without a point, which came at the end of an eight-game stretch from Feb. 28 to Mar. 15, where he posted just two assists.
Dylan Larkin with an incredible individual effort here. 👏 pic.twitter.com/lj74FOhCKi

— Sportsnet (@Sportsnet) April 6, 2018
Larkin managed to produce even as the Red Wings had the eighth worst power play in the league and he had inconsistent linemates. He showed he could carry his own line by changing it up from shift to shift to help create space and offense and, more importantly, he knows he can still be better.
"As he continues to put in the work and effort, we'll continue to see great things from Dylan," goaltender Jimmy Howard told Ted Kulfan of the Detroit News. "He's working hard to being (sic) great at both ends of the ice, he's taken on a bigger role this year, and he's embraced it."
A 6.9 shooting percentage held him to just 16 goals but his 47 assists and 63 points led the Wings. Had he shot his career norm of 10 percent, he would have finished with roughly 23 goals and would have been a 70-point player. He won a modest 49.9 percent of his draws, had positive possession numbers while starting the majority of his shifts in the defensive zone and saw a fair increase in his defensive rating with a minus-9.
Finding Balance in 2018-19
Larkin turns 22 in July, so there's still a lot of growth to anticipate in his game. He's motivated to get better and will once again join Team USA at the World Championships. Following his return, he'll be in the market for a nice raise as a restricted free agent, too.
With talented players in the system including Evgeny Svechnikov, Michael Rasmussen and a top-eight pick in June's deep draft class, Larkin will soon have more favorable linemates. That's not to mention the surprising play of Tyler Bertuzzi or the flashes from Anthony Mantha, who is eager to be better as well.
Related: 3 Potential Red Wings Draft Strategies
"I was hoping for 30 [goals] and 30 [assists]," Mantha told Helene St, James of the Detroit Free Press. "The way I played last year, I thought I could step up. Playing a full year, also, I was looking forward to having good ice time this season."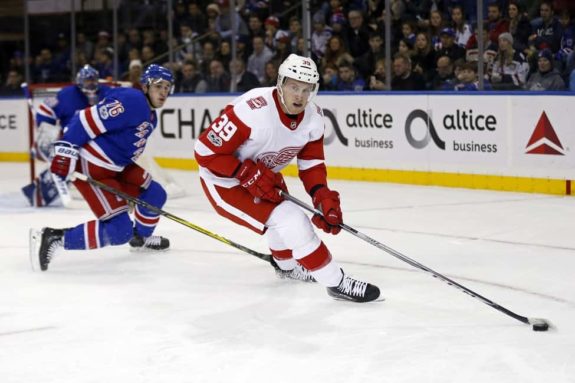 Mantha has the potential to be a 30 and 30 player. He scored 50 goals in consecutive seasons with the Quebec Major Junior Hockey League's (QMJHL) Val-d'Or Foreurs, including 81 goals in 81 games in 2013-14. These potential full-time linemates in 2018-19 could accelerate each player's offensive growth.
Larkin is likely to receive increased ice time from his 19:51 average in 2018-19, especially if he takes over for Zetterberg as the team's top center. A bounce back in shooting percentage, mixed with an offseason of training and another year of experience could help Larkin balance his goals and assists to become the 25-goal and 70-point player he's capable of being.