Another NHL regular season is in the books, and, after a rough start, the Arizona Coyotes will be watching the Stanley Cup playoffs on TV for the sixth consecutive season. Failing to qualify for the postseason means an early start to the offseason, so, without further ado, here's THW's look at the Coyotes' top four prospects entering the 2018-19 campaign.
Dylan Strome
The only holdover from last year's list is 2015 third-overall selection Dylan Strome. After spending most of the last three seasons dominating at the major junior level, Strome started his professional career in 2017-18 and has spent most of his time with the Tucson Roadrunners, where he put up 22 goals and 28 assists in 47 games with the club. He did spend the last few weeks of the season playing with the Coyotes, though, and he experienced his first sustained NHL success during that time.
After recording just two points – a goal and an assist – in his first 18 games in The Show, Strome picked up eight points in 10 contests (three goals and five assists) after he was recalled back on Mar. 20. He appeared to be playing with renewed confidence on the ice – his game was miles ahead of where it was when we last saw him don a Coyotes sweater back in November.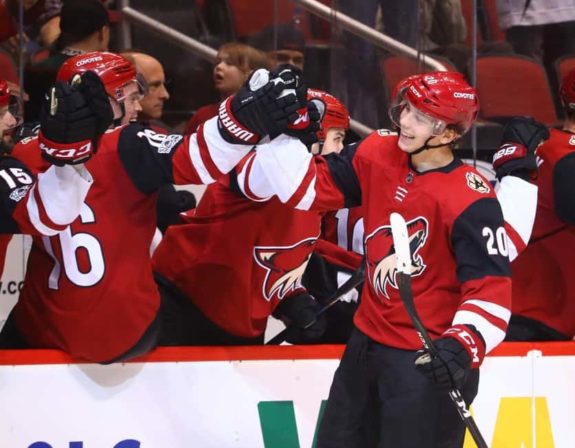 Prior to his run of success in the NHL, doubts were beginning to emerge among both the media and the Coyotes' fanbase about Strome's ability to perform in the NHL. These concerns indeed appeared to be warranted at the time – Strome is the only player selected in the top 10 of the 2015 NHL draft that has yet to play 100 games in the NHL, and the three players selected in front of and behind him (Connor McDavid at No. 1, Jack Eichel at No. 2, and Mitch Marner at No. 4) have already enjoyed a high degree of success in their careers.
However, Strome silenced all of his doubters with his solid play since coming back up from the AHL. He's re-established himself as the No. 1 prospect in the Coyotes' organization and it'll be interesting to see what he can do over the course of a full season in 2018-19. Until then, he'll continue playing for the Roadrunners, and will undoubtedly be counted upon to be an impact player when Tucson begins their quest for the Calder Cup later on in April.
Nick Merkley
Strome is far from the only player that had success in Tucson, though – Nick Merkley also had a stellar campaign in his first full year as a professional. Merkley's season was cut short by injury, but the 20-year-old still managed to put up 39 points in 38 AHL contests before going on the shelf. Merkley even made a brief appearance in the NHL this year, playing 13:30 against the Florida Panthers back on Dec. 19.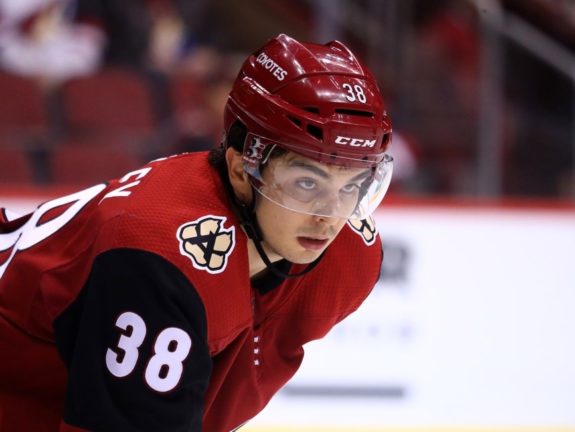 Merkley has the potential to make the Coyotes' opening night roster next season, but his injury issues are a bit concerning. He endured a collarbone injury in training camp in 2015, then suffered a torn ACL during a WHL game on Feb. 5, 2016. After rehabbing his knee, Merkley posted a stellar 2016-17 season with the Kelowna Rockets, recording 63 points in 63 regular season games before adding six goals and 13 assists in 17 postseason games.
Merkley then turned pro and made his Roadrunners debut on Oct. 7, 2017, picking up an assist in a game against the San Diego Gulls. Merkley suffered a variety of ailments throughout the season, though, and was ultimately shut down for the year on Mar. 20. He'll have entire summer to rest and recover, so he should be good to go when training camp begins in September.
Tyler Steenbergen
The first and only junior player on our list is Swift Current Broncos' forward Tyler Steenbergen, who has made quite the name for himself this season. He first gained notoriety thanks to his incredible start – Steenbergen posted 35 goals and 26 assists in the first 27 games of the season in Swift Current, and earned himself a spot on Canada's World Junior Championship squad as a result.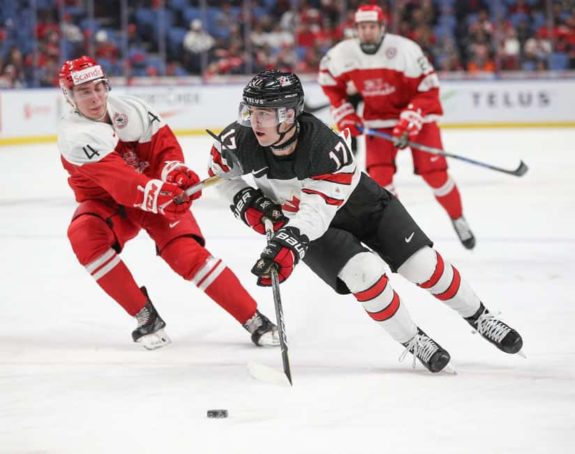 Canada's only blemish in the Group Stage of the WJC was an overtime loss to the United States, and they breezed past Switzerland and the Czech Republic in the Knockout Stage to advance to the gold medal game. Entering their showdown with Sweden, every forward on Canada's roster had scored a goal during the tournament. Everyone, that is, except for Steenbergen. The 20-year-old was in danger of being shut out in the World Juniors, but he came through when it mattered the most:
Steenbergen returned to the WHL after scoring his golden goal and he slowed down a bit from his clearly unsustainable first-half pace, finishing the regular season with 47 goals and 55 assists in 56 games. However, he's turned it back on in the playoffs – he's posted eight goals and six assists during Swift Current's postseason run so far, and will be a player to keep an eye on as the playoffs progress in the WHL.
Merrick Madsen
The fourth and final player on our list is goaltender Merrick Madsen. Madsen was acquired from the Philadelphia Flyers along with Nick Cousins in an offseason trade, and recently signed his entry-level contract with the 'Yotes back on Mar. 20. He previously spent three seasons as the starter at Harvard University, where he racked up a career 56-23-8 record with a .924 SV%, a GAA of 2.12, and 10 shutouts in 91 games played.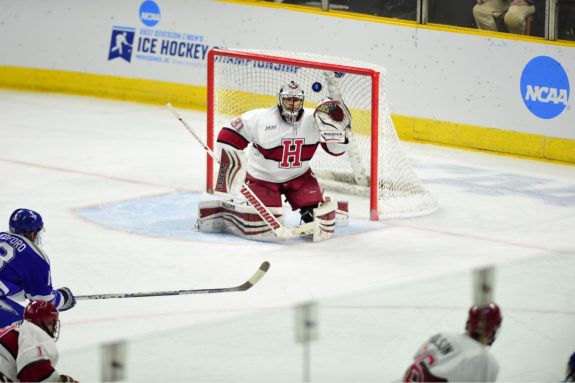 Madsen possesses prototypical NHL size – his 6-foot-5 frame enabled him to have success as the starter at Harvard, but he might have trouble getting on the ice in Arizona. The Coyotes have Darcy Kuemper and Antti Raanta locked up for the next few seasons, and Madsen has Adin Hill, Hunter Miska, and Marek Langhamer ahead of him on the Roadrunners' depth chart. The Coyotes will likely unload one (or more) of their goaltending prospects over the summer, so Madsen should have an opportunity to see the ice in the AHL next season.
Overall, the Coyotes don't have as deep a prospect pool as they boasted a few seasons ago, but there's still some talent in the pipeline. The future is bright in Arizona.