The Arizona Coyotes welcomed two of the league's top teams to Gila River Arena last week, but things didn't go so well, as the 'Yotes had trouble keeping up with the superior competition.
Arizona's Skid Continues
After coming home to Arizona following their 3-1 loss in Chicago on Dec. 10, the Coyotes had a three-day break from game action (during which they helped to construct a school playground) before returning to the ice on Thursday against the Tampa Bay Lightning. The Bolts have been the league's best and highest-scoring team this season, and they were in fine form at Gila River Arena as they fired 48 shots on goal (including 19 in the opening period) in a dominating 4-1 victory over Rick Tocchet's Coyotes.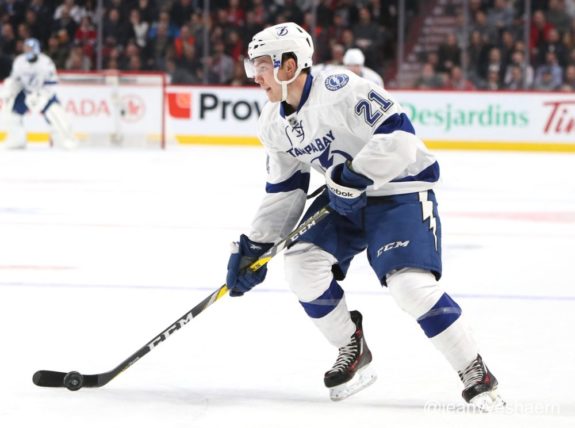 After losing to the league's best team on Thursday, Arizona welcomed the two-time defending Stanley Cup champion Pittsburgh Penguins to Gila River Arena on Saturday. Despite falling behind 2-0 on two quick goals during the second period, the Coyotes made a late charge and tied the game on goals from Nick Cousins and Max Domi. It was looking like the 'Yotes would at least force overtime, but Olli Määttä had other ideas, as he beat goaltender Antti Raanta with just 14.8 seconds remaining in regulation to win the game for Pittsburgh.
😁🚨😁🚨😁🚨😁🚨😁 pic.twitter.com/F6MuNGR3j3

— Pittsburgh Penguins (@penguins) December 17, 2017
Coyotes Home for the Holidays
The Coyotes will attempt to bounce back from their heartbreaking loss to the Penguins on Tuesday night, when they'll welcome the visiting Florida Panthers to the Grand Canyon State. It'll be a homecoming game of sorts for three Panthers skaters, as former Coyotes Keith Yandle, Radim Vrbata, and Jamie McGinn will visit Gila River Arena for the only time this season. Puck drop is scheduled for 7:00 P.M in Glendale.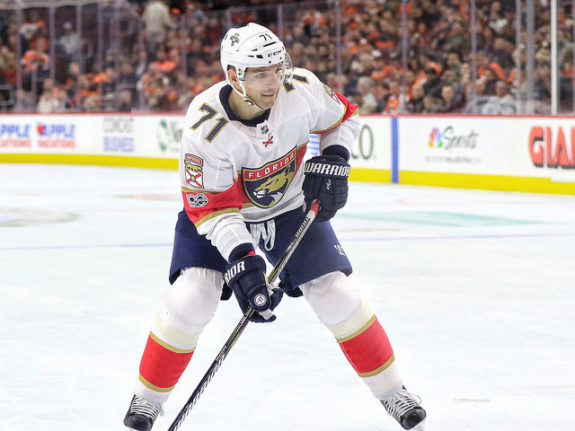 Following their tilt against the Panthers, the Coyotes will host their fourth-consecutive Eastern Conference foe when the Washington Capitals come to town on Friday night. The Caps defeated the 'Yotes 3-2 in overtime in D.C. earlier this season, but Arizona is 5-0-1 in the last six matchups contested between the clubs in Glendale. Puck drop is scheduled for 7:00 P.M. at Gila River Arena.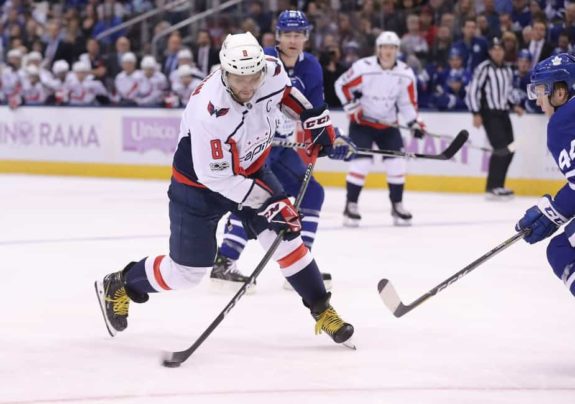 Arizona will then host the Colorado Avalanche on Saturday night in both teams' final games before the holiday break. The 'Yotes won the season series over Colorado last year, but this year's Avs squad is vastly improved after a league-worst 22-win campaign in 2016-17. Puck drop is scheduled for 6:00 P.M. in the Valley of the Sun.
Steenbergen Representing Canada
With most of the team's higher-ranked prospects now in the midst of their professional careers, one might be inclined to believe that the days of the Coyotes boasting one of the league's deepest prospect pools are over. However, there are still a few big names left that are playing in juniors, and one is putting up numbers that haven't been seen in quite some time.
Swift Current Broncos forward Tyler Steenbergen is taking the WHL by storm this season. With 35 goals and 26 assists through 27 games, Steenbergen would be on pace to score 97 goals and 69 assists if he played a full 72-game WHL slate this season. That won't be happening, though, as Steenbergen was named to Hockey Canada's 2018 World Junior Championship roster over the weekend as a result of his dominant start to the season in Swift Current.
This will be the fourth consecutive tournament in which a Coyotes prospect has participated as a member of Team Canada – Max Domi won the gold alongside then-New York Rangers prospect Anthony Duclair in 2015, Dylan Strome and Brendan Perlini played in the 2016 tournament, and Strome returned and captained the Canadians to a silver medal last year.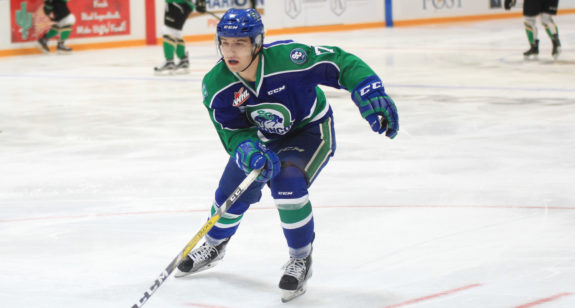 Steenbergen hasn't been alone in putting up tremendous numbers in Swift Current – his linemates, Aleksi Heponiemi (who'll be representing Finland at the WJC) and Glenn Gawdin have contributed 71 and 68 points, respectively. The trio is largely responsible for Swift Current's positioning near the top of the WHL standings, as they've scored 85 of the Broncos' 136 goals this season.
No one in junior hockey has scored 70 or more goals since a 16-year-old John Tavares tickled the twine on 72 occasions for the Oshawa Generals in 2006-07. With 35 goals in 27 games, can Steenbergen continue his unreal offensive production upon his return from the World Juniors?
Pacific Division Roundup
Due to their struggles last week, the Los Angeles Kings have fallen into a tie with the Vegas Golden Knights for first place in the Pacific Division. Here's how Arizona's other division rivals fared last week:
Anaheim Ducks (14-11-8, 36 points)
Last week: 2-0-1 (3-2 W vs CAR, 3-1 W at STL, 3-2 OTL at WSH)
Analysis: The Ducks picked up two victories last week to go with yet another overtime loss, and now have points in seven straight games (3-0-4). They're two points out of a playoff spot and have Ryan Getzlaf back in the lineup with Ryan Kesler on the way. Things are looking up in Anaheim.
Player of the week: John Gibson – 2-0-1 record, 81 saves on 87 shots (.931 SV%, 1.98 GAA)
This week: Mon at NJ, Tue at NYR, Thu at NYI, Sat at PIT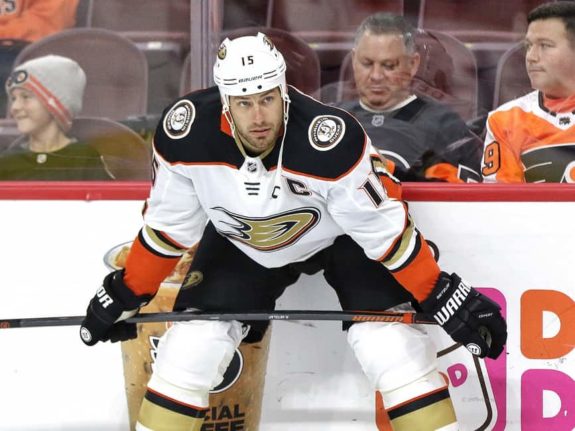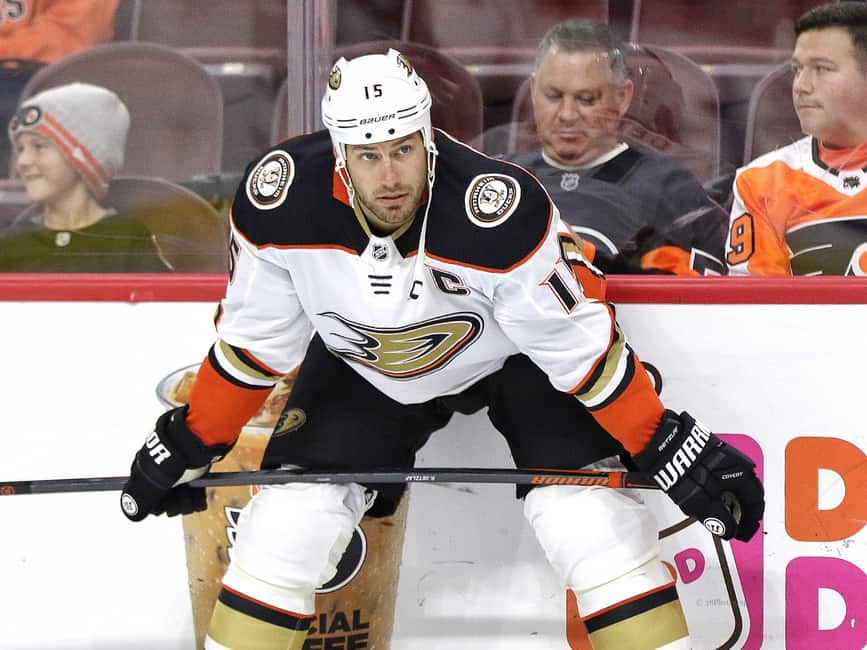 Calgary Flames (17-14-3, 37 points)
Last week: 1-2-1 (2-1 SOL at MIN, 3-2 L vs SJ, 2-0 L vs NSH, 6-1 W at VAN)
Analysis: 'Twas another up-and-down week for the Flames – they won just once in four games and are 3-4-2 in the month of December so far. Calgary is one of the league's few playoff-contending teams with a losing record at home – they'll need to start winning at the Saddledome if they wish to stick around in the postseason conversation this year.
Player of the week: Sam Bennett – Goal, 3 assists, +3
This week: Wed vs STL, Fri vs MTL
Edmonton Oilers (14-17-2, 30 points)
Last week: 2-1-0 (7-2 W at CBJ, 4-0 L vs NSH, 3-2 W at MIN)
Analysis: As we've discussed previously, Edmonton has been the most consistently inconsistent team in the NHL as of late, and this trend continued last week. The Oilers have alternated between regulation wins and losses over their last eight games and will struggle to make up ground in the Western Conference until they can string some wins together.
Player of the week: Connor McDavid – Goal, 4 assists, +3
This week: Mon vs SJ, Thu vs STL, Sat vs MTL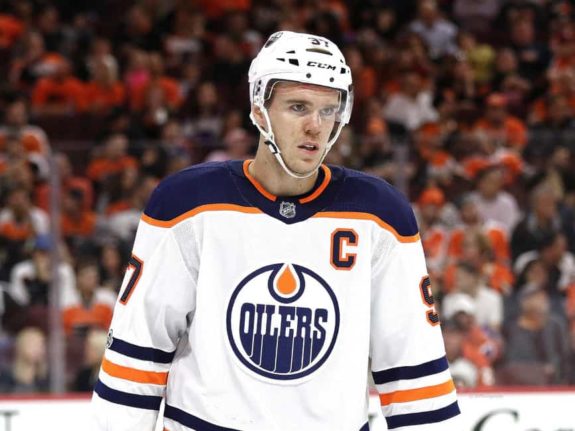 Los Angeles Kings (20-10-4, 44 points)
Last week: 0-2-1 (5-1 L at NJ, 4-2 L at NYR, 4-3 OTL at NYI)
Analysis: The Kings' eight-game win streak rapidly became a thing of the past after three losses in five days in New York. Los Angeles' penalty kill has surrendered a power play goal in each of the last five games – can John Stevens' squad get things going in the right direction again before the holiday break begins?
Player of the week: Marian Gaborik – Goal, assist, 1,000th NHL game
This week: Mon at PHI, Thu vs COL, Sat at SJ
San Jose Sharks (17-10-4, 38 points)
Last week: 1-0-1 (3-2 W at CGY, 4-3 OTL at VAN)
Analysis: The Sharks stayed hot last week, as they picked up three points during a tough Western Canada back-to-back on Thursday and Friday. Since their loss to the Kings on Oct. 7, San Jose boasts a 5-0-3 mark within the Pacific Division – if they can continue to grind out victories in divisional games throughout the season, they'll be a tough team to pass in the standings.
Player of the week: Brent Burns – 2 goals
This week: Mon at EDM, Thu vs VAN, Sat vs LA
Vancouver Canucks (15-15-4, 34 points)
Last week: 1-3-0 (5-1 L at WPG, 7-1 L vs NSH, 4-3 OTW vs SJ, 6-1 L vs CGY)
Analysis: Is it too early to hit the panic button in Vancouver? The Canucks were outscored 21-7 last week and weren't competitive in three blowout losses against Winnipeg, Nashville, and Calgary. They're now 1-5-0 in their last six games and will have to potentially deal with the loss of rookie phenom Brock Boeser, who left Sunday's game after blocking a shot. Injuries are derailing what was once a promising season in British Columbia.
Player of the week: Henrik Sedin – 6 assists
This week: Tue vs MTL, Thu at SJ, Sat vs STL
Vegas Golden Knights (21-9-2, 44 points)
Last week: 2-0-1 (3-2 SOL vs CAR, 2-1 W vs PIT, 5-2 W vs FLA)
Analysis: Stop me if you've heard this before – the Golden Knights just keep winning. They picked up five more points last week and are 6-0-1 in their last seven games. They're tied with Los Angeles for first place in the Pacific and have two games in hand over their division foes. And, with Marc-Andre Fleury healthy and back in net, it doesn't appear as if they'll be slowing down anytime soon. A big test awaits, though, as the Tampa Bay Lightning come to town on Tuesday.
Player of the week: Marc-Andre Fleury – 1-0-1 record, 59 saves on 62 shots (.952 SV%. 1.44 GAA)
This week: Tue vs TB, Sat vs WSH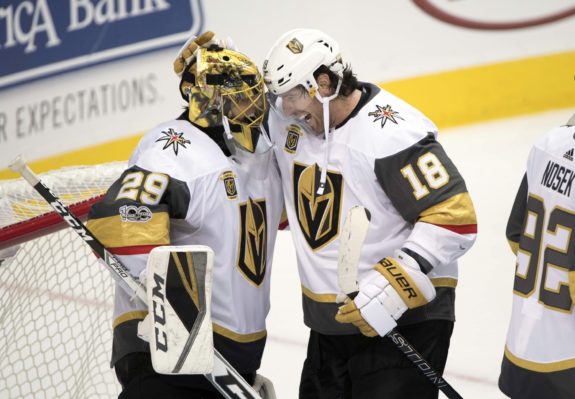 The Coyotes endured another tough week, but things should get easier in the coming days – can they take advantage of a lighter schedule and pick up a few victories on home ice?
A lifelong Phoenix resident, Louis has been following hockey since 2010, has covered the Arizona Coyotes since 2015, and has been playing hockey since 2020. So far, Louis has visited eight NHL cities, and one of his personal goals is to eventually make it to all 31 NHL arenas. For any questions or concerns, contact the writer via Twitter @LouisPannone.