With the amount of veterans they sign, the Detroit Red Wings certainly prefer to have an abundance of leadership. Captain Henrik Zetterberg is among the world's best on- and off-ice commanders, but may not be in Hockeytown for long, per MLive's Ansar Khan:
…Henrik Zetterberg because some in the organization doubt he'll return. But I don't believe anyone knows for certain, maybe not even Zetterberg himself.
Thanks to a balky back and 15-plus years of bumps and bruises, the future of Zetterberg's career—and the Red Wings' captaincy—is unclear. The career-Red Wing will let his health determine whether or not he returns to for a 16th NHL campaign, though he'd like to play if he can stomach back another season.
With that being said, there may be an important letter up for grabs.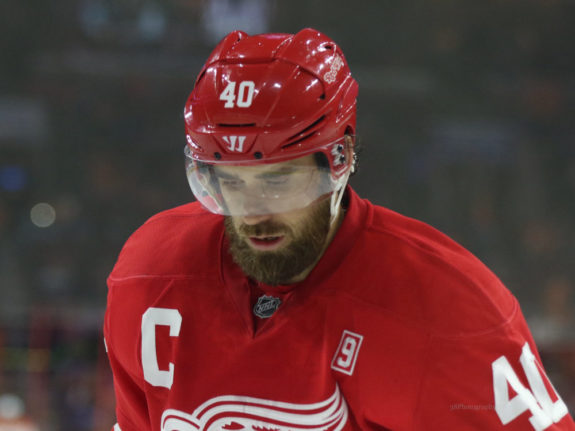 Since 1986, the Red Wings have only named three captains: Steve Yzerman, Nicklas Lidstrom, and Zetterberg. With the latter's career winding down, it's time to begin the search for a fourth player to don the 'C' in what seems like a timespan similar to Toronto's present Stanley Cup drought.
And for Detroit, it's clear who should receive Zetterberg's letter once he's done playing.
Related – The Grind Line: Red Wings Roster Chaos
Dylan Larkin is Detroit's Next Captain
He may still be young, but Dylan Larkin is the heir apparent to become the next captain in Hockeytown.
Larkin hasn't worn the 'C' since bantams, but he possesses everything you'd want in a captain. He gives it his all on every shift, is a supremely talented player, and has a good head on his shoulders. Larkin is already well-respected within the organization and by his teammates and carries himself well for a 21-year-old.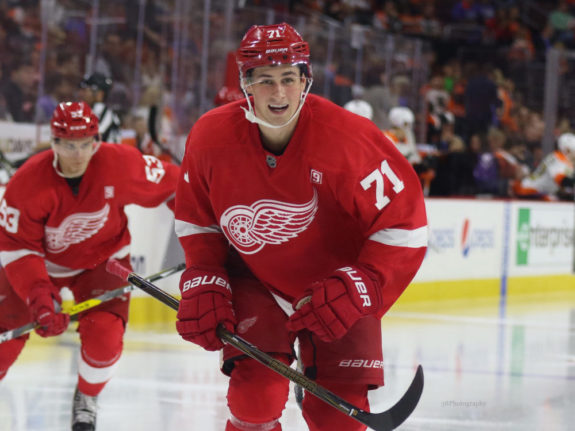 Leadership and work ethic have been a top qualities of Larkin's for some time, even dating back to his draft year:
"His intensity and work rate are also exemplary." –The Hockey News
"He battles every shift and he is relentless." –THW
"He works hard and plays a responsible two-way game." –Hockey's Future
These are exactly the traits you want in a captain. Yzerman, Lidstrom, and Zetterberg were the same way – 100-percent commitment and intensity night after night. Larkin's laser focus will help the younger players commit to the "process" that Jeff Blashill wants to instill.
This is Larkin's team now.
Last Season for Zetterberg Anyway?
Where there's smoke, there's fire. And there's been quite a few smoke signals about the captain's health. The interview regarding the final years of Zetterberg's contract. The Thomas Vanek signing. The shadow of doubt around his health.
My guess would be that we've seen the last of Zetterberg, but we'll wait for his final decision.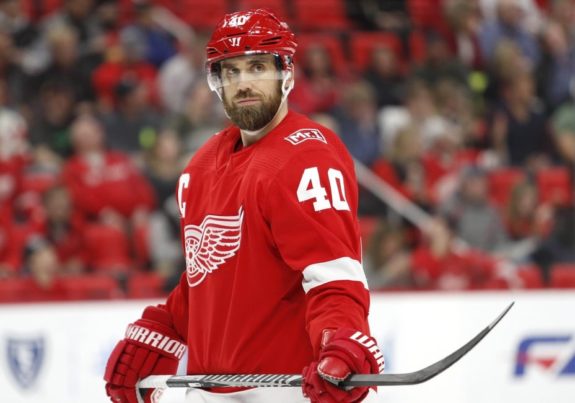 And even if Zetterberg returns for the 2018-19 season, it will likely be his last with the Red Wings.
Already worn down with ailments, there are other factors in play as well. Longtime war buddy Niklas Kronwall will be an unrestricted free agent (UFA) at season's end and has his own chronic injuries to deal with. It's unlikely that the defenseman will be playing in Hockeytown beyond this year.
Fellow countryman Gustav Nyquist may be out the door as well, either via trade at the deadline or as a UFA with his deal expiring as well.
With the Red Wings undergoing a rebuild and so much changing, no one would blame Zetterberg for wanting to kick back and relax, especially with his salary dropping to $1 million for the final two seasons of the contract.
At the very least, Red Wings fans could take solace in knowing that Larkin is ready to step into his mentor's shoes and there's a bright future for Hockeytown's growing prospect pipeline.
Related – Red Wings Prospects: Rankings & Analysis
Final Word
With the impending retirement of Zetterberg and the ascension of Larkin to the captain's role, it'll be a new era for the Red Wings – an organization which prides itself on tradition.
The same could be said when Yzerman took over as Detroit's anointed leader. Like Yzerman in 1986, Larkin is the future of the Red Wings and is the right choice to lead the team forward.
Which Detroit Red Wings player should be their next captain? Comment below with your pick.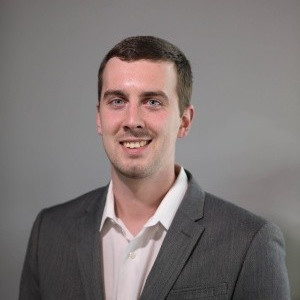 Tony Wolak is based in the Washington D.C. area and covers the Detroit Red Wings for THW. As a former junior and college hockey player, Tony has a unique perspective on Red Wings topics.