As recently as March, it looked like Nic Petan's time with the Winnipeg Jets was going to come to an end. The team had seemingly no room for the ultra-skilled but undersized forward, and he was languishing in the AHL.
Then, summer rolled around and the Jets cleaned house with some of their UFAs. While not all of the house-cleaning was their decision, the fact remains there are suddenly openings up front for the Jets.
Paul Stastny, the Jets prize trade deadline acquisition, is gone. Matt Hendricks, Joel Armia, and Shawn Matthias have all followed suit – Hendricks and Matthias via free agency, Armia via trade to Montreal.
Count this author among those sorry to see Armia go, as there was real untapped potential there, but if we're talking untapped potential we have to talk about Petan. He posted over a point-per-game in the AHL last year, his best statistical season as a pro.
Play of the Year Round 2 is here! Sorry Nic Petan fans, but you're going to have to make a choice. Between the legs pass or diving goal… which moves on to the final?

VOTE >> https://t.co/7XlaWRNm9q pic.twitter.com/iv0VwPVqS8

— Manitoba Moose (@ManitobaMoose) July 3, 2018
Petan is not without competition, but while he is still a young player, he's older than most of those he's up against. He's paid his dues in the American league and looks ready for the jump.
Petan has proven in the past, however, that to be at his best he needs minutes to operate. Despite some misuse in the past, this is not a bottom six hockey player. Petan needs to earn at worst a top-nine spot if he earns one at all.
Petan the Power Play Wizard
Petan has a well-deserved reputation as an ace puck mover. His saucer pass skills are a sight to behold in person as he threads needles most players wouldn't dare attempt. He seems a natural fit on the power play.
Clearly, the Manitoba Moose thought so as well, as Petan had all the power play time he could use in the AHL. Of his 15 goals last year, six came on the man advantage. As you saw above, his power play passing is a sight to behold as well.
Petan was up and down again from the Jets last year, though mostly down. He could have pouted in the AHL, but instead turned on the afterburners and seemed to view his demotion as a tryout. It was exactly the attitude the Jets needed to see from him.
Following the signing of Stastny many observers, including this one, thought Petan's nine lives were up in Winnipeg. Now, with Stastny departing for greener pastures, suddenly an opening appears in the Jets lineup.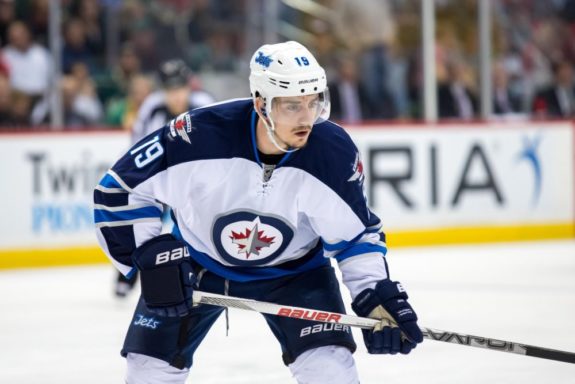 Some might say that opening belongs to Jack Roslovic, but Roslovic had his spot all but locked down while Stastny was still on the team. He may not truly be Petan's competition. If he moves into Stastny's place, that still doesn't fill a hole in the Jets roster.
Others might say Petan has had his chance and been found wanting. While he has played in 95 NHL games, to say he's had a fair chance is ignoring a few key factors. A look at the underlying numbers shows Petan hasn't been given the same opportunities as other similarly skilled prospects.
https://twitter.com/Tony_MBHKY/status/1009081763031703553
There is an opening on the Jets for a skilled puck mover on the power play. Stastny is gone, Bryan Little saw his production decline dramatically last year, and Roslovic is already seeing second-unit minutes. There may be a spot for Petan.
Now if only the Jets had someone who could reliably shoot the puck on the power play. Someone who could use a passing wizard to consistently set him up. Someone who led the league in power play goals last year. Let me know if you think of anyone.
Petan's New Competition
The beauty and the conundrum of a prospect pool as deep as Winnipeg's is they're always producing new competition for spots. Petan seems first in line, but his spot isn't a sure thing.
Mason Appleton is likely the new top contender. Fresh out of college, he stormed through the AHL last year and posted 66 points in 76 games. He's got the size for the NHL too, at 6-foot-2 and about 200 pounds.
The Jets have no need to rush Appleton, however, as their forward core remains deep. They showed last year with Roslovic and Connor they're not afraid to give someone additional AHL seasoning if they're on the cusp of regular NHL minutes.
Petan has the edge in that case as he's already played for the Jets and is at the point where there's not much to gain from sending him back to the AHL. He might spend another year there, but he's reaching the point of diminishing returns in that league.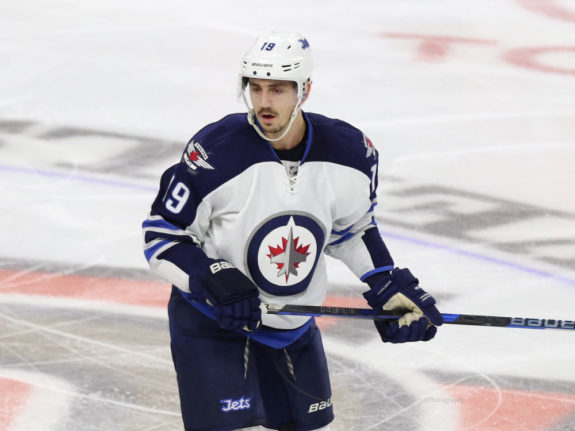 Kristian Vesalainen represents more competition, and I've been in his corner before following a stellar campaign in Finland, but as a 19-year-old he's still at the point where the AHL or even Finland are possibilities.
Then there's Brendan Lemieux. The feistiest player on any team he joins, Lemieux has one edge over Petan in that his style translates to a fourth-line role. If it's a bottom-six spot up for grabs, Lemieux's physical, agitating brand of hockey may earn him the nod.
Petan has Lemieux (and most prospects) cleanly beaten in puck skills, however. As good as Lemieux is, and as impressive as his shot has proven to be, he lags behind Petan in his ability to make those around him better. Which is not a knock on the aggressive Lemieux, more of a boost for the cerebral Petan.
Then too, someone could surprise this training camp as Appleton did with the Moose. The Jets could still sign a new free agent. Any number of things could complicate Petan's transition to full-time NHL duty.
But for the diminutive point producer, a number of obstacles have suddenly melted away. There are openings up front we didn't think the Jets would have in June. Petan has suddenly been given another chance.
One would like to see him pull together a terrific preseason and make the most of that chance. There's too much talent here to waste in the AHL forever. If the Jets don't make use of him, they may regretfully watch someone else do so.