Teemu Selanne's No. 8 seemed a bit lonely up in the rafters of Honda Center. There was at least one number that clearly belonged next to that of the great Finnish Flash.
On Monday, the Anaheim Ducks announced that they will (finally) make good on that and another player's number.
The organization announced that Paul Kariya's No. 9 and Scott Niedermayer's No. 27 will be retired during the 2018-19 season—specifically, on Oct. 21 and Feb. 17, respectively—forever enshrining the two great Ducks players as cornerstones in the franchise's history.
Check out the release for reaction from Paul and Scotty and more information on today's announcement!https://t.co/2mRJ6kr7lr

— Anaheim Ducks (@AnaheimDucks) July 9, 2018
Kariya Finally Joins Selanne
Perhaps the main reason for the slight delay in the Ducks retiring Kariya's number had something to do with some potential lingering hard feelings over his departure from the club in 2003, and/or his frustration with the game's perceived inadequate actions when it comes to preventing and punishing hits to the head.
In any event, Kariya's induction into the Hockey Hall of Fame last year—alongside his longtime partner in crime, Selanne—seemed to be a significant step in healing some of those wounds. Just prior to that, Kariya returned to the organization to take part in the Ducks' playoff victory tradition in May 2017.
Now, any animosity seems to have dissipated, at least enough for Kariya, the Ducks, and their fans to enjoy what is sure to be an emotional jersey retirement ceremony as they all reflect back on a marvelous career.
"This is not something I ever dreamed would happen," Kariya said in a statement following the announcement of his No. 9 being retired. "I am very grateful to the community for their support, and I look forward to celebrating this special evening in October with all Ducks fans."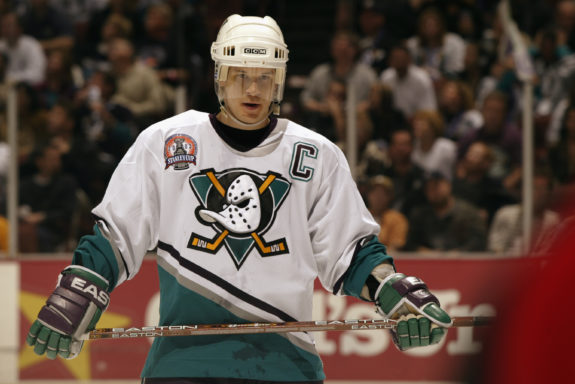 As Ducks owners Henry and Susan Samueli said, Kariya "was the club's first superstar player, helped put Anaheim on the map, and electrified fans with his speed and playmaking ability."
Kariya, the fourth overall pick by Anaheim in the 1993 NHL Entry Draft, seemed destined for stardom early on, amassing 39 points in 47 games during his rookie season in 1994-95 before exploding for 50 goals and 58 assists the following campaign. Over a span of nine years with the then-Mighty Ducks from 1994 through 2003, Kariya had plenty of great moments, including instrumental roles in the club's first taste of postseason success and a run to the Stanley Cup Final in 2003.
In all, Kariya played in 989 NHL regular-season games in his career, scoring 989 points to retire as exactly a point-per-game player. The winger's most prolific years came in Anaheim, as he scored 669 points in 606 contests, plus another 29 points in 35 playoff games with the team.
Kariya helped validate hockey in Anaheim, and now Anaheim will finally validate his place in the franchise's history on Oct. 21.
Niedermayer's No. 27 to Be Retired
Joining Kariya and Selanne in the rafters will be defenseman Scott Niedermayer's No. 27. Niedermayer is perhaps better known for his days with the New Jersey Devils, the team that drafted him third overall in 1991 and with whom he won three Stanley Cups—including one directly at the Ducks' expense in 2003.  In fact, Niedermayer has already had his number retired by the Devils, so he gets the rare distinction of receiving the honor with two different franchises.
Following a Norris Trophy-winning campaign, the elite two-way defenseman left the Devils for the Ducks in free agency. The opportunity to play with his brother, Rob, played a big role. Niedermayer—who at age 32 upon first suiting up for the Ducks, was embarking on the latter stages of his career—was an immediate success in Anaheim. Between leaving the defensively-oriented Devils and beginning his time with the Ducks at the same time that new rules were instituted to open up the game a bit more following the 2004-05 lockout, Niedermayer actually put up the best offensive numbers of his career. He broke the 60-point plateau in each of his first two seasons in Anaheim—something he never did in New Jersey.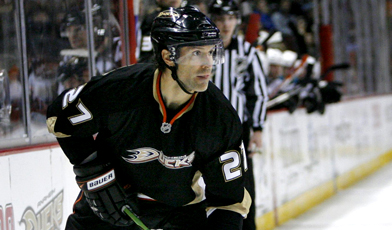 In that second year (2006-07), not only did Niedermayer notch a career-high 69 points in the regular season, but he got to experience a Stanley Cup victory with his brother Rob and took home the Conn Smythe Trophy as playoff MVP in the process. Not a bad year.
The Canadian blueliner, like Kariya in earlier years, served as the team's captain from 2005 to 2007 and again from 2008 to 2010, at which point he retired. In 2007-08, Niedermayer flirted with retirement but ultimately joined the team late in the season; as a result, Chris Pronger was the captain that year before the title was returned to Niedermayer.
Without question, Niedermayer's Conn Smythe-level heroics during Anaheim's 2007 Stanley Cup run—he had 11 points in 21 games while averaging an incredible 29:51 in ice time per game—are principally why he is receiving this honor from the Ducks despite playing only five seasons (albeit, five outstanding seasons) with them.
"What an incredible honor," Niedermayer said in a statement after his jersey retirement was announced. "I'm very grateful to have played for such an incredible organization in front of amazing Ducks fans. I'm also grateful for the amazing teammates, coaches and training staff I was able to work with in Anaheim. Together we achieved great things."
Sunday, Feb. 17, 2019 will be another special night for the Ducks and their fans as Niedermayer's No. 27 will be immortalized, joining Selanne's No. 8 and Kariya's No. 9.
Note: All stats obtained via Hockey Reference.
Tom has been with The Hockey Writers for almost four years. After previously covering the LA Kings and the New York Rangers, Tom now covers the Anaheim Ducks.
While in college at Clemson University, the 2016 college football national champions, Tom wrote game summaries and feature articles for the official team website of the Greenville Drive, a Class-A minor-league baseball team and affiliate of the Boston Red Sox. Tom is happy to be able to continue to fulfill his passions for sports and writing with THW.