The Winnipeg Jets want to keep Paul Stastny. Stastny wants to stay in Winnipeg. Both of those facts are well established. Now the only thing preventing it from becoming reality is money.
Keeping Stastny with the Jets makes sense for both parties. After all, he brought out the best in Nikolaj Ehlers and Patrik Laine. For Stastny, what more could he ask for than to center those two wingers on a Cup contender? The problem is, Stastny is not going to sell himself short on money, nor should he. Players have only so long to play in the NHL, and once John Tavares is off the market, another team could make Stastny exceedingly wealthy on July 1.
The Winnipeg Jets' cap crunch and their avalanche of impending RFAs are well documented. Jacob Trouba deserves and will get a big raise. Ditto for Josh Morrissey and Connor Hellebuyck. What Patrik Laine and Kyle Connor will earn next year is better imagined than described. Blake Wheeler is due for an extension as well.
So can the Jets keep their newly discovered second-line center and the best pickup of the trade deadline this year? A recent report from Sportsnet's Chris Johnston indicates they may have found a way to do it.
Some news from our pal @reporterchris today on @Sportsnet960.
Cam Ward to CHI on 1-year deal, ~$2.5M. Carter Hutton to BUF, details unknown. Jonathan Bernier to DET on a 3-year deal.

Sounds like Paul Statsny is going to remain in WPG but they do need to move a bit of money out.

— Will Nault (@wnault960) June 28, 2018
This is huge news if true. Winnipeg would keep a top-tier center which would allow them to roll three, possibly four scoring lines all season. The other shoe is bound to drop, however. Could Bryan Little be the casualty of signing Stastny?
Losing Little Necessary Evil
When Little signed his extension before the season began, it seemed like a great deal at the time. After all, Little was coming off his most offensively productive season (in terms of points per game) since 2013-14. He has scored 20 goals or more four times as a Jet. But for injuries shortening his 2015-16 season, he might've made it five. He's a reliable offensive threat and a solid veteran presence.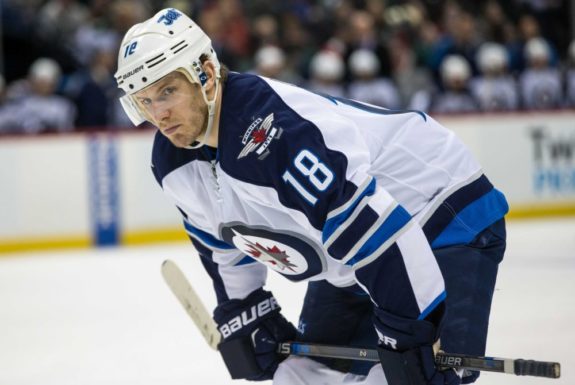 That may be why the Jets move him, however. We discussed it before when the topic of trading Tyler Myers came up. You don't get anything for nothing in the NHL in this day and age. Nobody just takes on salary out of the goodness of their heart. If you're going to offload salary, which, one way or another, the Jets must do eventually, you don't get to just dump your worst contract on a team somewhere. No team is going to take a player they don't see as having value.
While moving Steve Mason or Dmitry Kulikov, last year's ill-fated free agent signings may be tempting, it's unlikely to work. Few teams would pay over $4 million for a backup goalie and third-pair defenseman. The Jets only did so because it was public knowledge they were desperate for help in those spots.
Little's contract is bigger than either of those two players. He's signed for another six years at over $5.2 million. And whatever team trades for him knows they aren't just getting either a rental player or a throwaway. Little is more than useful. Unfortunately, if Stastny returns Little becomes a third line center. That's a lot of money for a third line center, especially on a team soon to be desperate for cap space.
The issue is not Paul Stastny, it's actually Bryan Little. Stastny is better than Little, he fits with other players on the ice better. Basically once he arrived and fans saw what he did for certain players and the team as a whole the mistake was clear Stastny >>>Little

— Pete Tessier – Seal Your Face (@Teddier) June 26, 2018
Look ahead a few years, not just to the Connor, Wheeler, and Laine contracts but beyond and you'll see an even grimmer picture of the Jets' monetary problems. Sami Niku may be a cornerstone piece on defense. Jack Roslovic and Kristian Vesalainen look like future studs up front. These types of players cost money.
None of these players is an immediate concern, but they will be by the time Little's deal is up. Are Jets fans going to be as forgiving of Little's contract in three years when he's 33, making $5.2 million, and eating up even scarcer cap space? Heck, the Jets may need to think about a Dylan Samberg contract by then.
Those readers with good memories may recall this author championing the Little signing at the time. A down year for Little shouldn't be cause for alarm but coupled with Stastny's production it causes a slight backtrack.
Stastny a Better Fit Right Now
Moving Little shouldn't be option number one for the Jets, just to be clear. He's a strong centerman, and while he's coming off a down season he had a stellar campaign the year before. More likely the real Little is somewhere in the middle, at about 20 goals and 50 points.
Yet Little's point totals will decline. Third line minutes, inevitable aging, and reduced power play time will see to that. If the Jets keep Stastny, Little is headed for all of those things.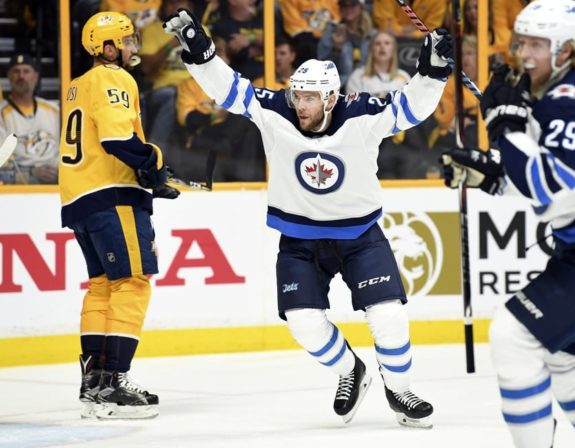 Little has been a warrior for the Jets over the years, but Stastny is the better fit right now. With contention suddenly in reach, the Jets should be most concerned with that right now. They've built themselves on the Chicago Blackhawks model, by their own admission. Anyone who studied Chicago at all in their period of superiority knows that model comes with huge rewards and huge costs.
In a salary cap world, there will always be casualties of success. Teams only have a small window to win and in that window, they need to do everything they can. The Jets' window is open now and Stastny is part of their winning formula.
It's not a guarantee that Little is the odd man out. After all, the Jets still have one more year before they need to re-sign Laine, Wheeler, and Connor and there are plenty of other contracts the Jets could move. That said, Jets fans need to brace themselves for the reality of the salary cap world. Someone is going to get forced out due to money eventually. With another six years on his contract, it will almost certainly be one of the original Jets in Little.