Tyler Myers was one of the biggest pieces of the much-debated Winnipeg Jets/Buffalo Sabres trade in 2015. He's been a reliable foot-soldier on the Jets blueline ever since. Now, however, it might be time for the Jets to trade him.
Myers is not necessarily an ideal trade candidate. He's only got one year remaining on his contract and that year will cost some team $5.5 million. He's only played one full season in the past seven years and his advanced stats aren't exactly awe-inspiring.
Yet despite that, Myers has an awful lot going for him. He's only 28 years old, and he's coming off his best offensive season since his first year in the NHL with 36 points in 82 games. Then there's the whole, "he's 6-foot-8" thing.
Myers is a big, mobile, right-shot defenseman, something almost every NHL team covets. His offensive numbers have been fairly consistent since joining the Jets, and he can eat up minutes. So why should the Jets trade him?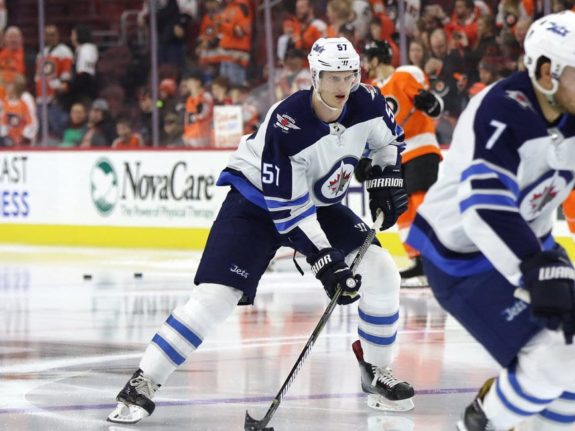 The suggestion to trade Myers is not a knock on his play. Far from it. The Jets Masterton Trophy nominee for 2017-18 has been a key cog in the defensive machine when he's been healthy. He averaged over 20 minutes per game in each of his seasons in Winnipeg.
That, however, is part of the problem. Myers is eating up minutes the Jets need for players like Jacob Trouba. His roster spot could go to a couple of young defensemen and, most importantly, the Jets are going to need the cap space he's currently occupying.
Tyler Myers Still Valuable
The Jets, facing a litany of RFAs to re-sign and an impending cap crunch, need to trade somebody. If they want to get anything of value in return, they need to offer up someone other teams can actually use.
Trading a player like Nic Petan isn't going to solve the problem either, as the Jets need cap space. Winnipeg needs to move someone with real value both on the ice and financially. Myers is the prime candidate.
The Jets have never gone a draft since relocation without a first-round pick. Given the success of their earlier first-round picks, it makes sense they'd pursue one via trade and Myers may be the piece they move to acquire it.
Just throwing this out there: Winnipeg's prospect pool isn't nearly as deep as their drafting record would suggest. It's a good thing – they keep graduating players – but oh boy they could use another pick or two in Dallas next week.

— Murat Ates (@WPGMurat) June 14, 2018
In today's NHL, you have to give a lot to get a lot. Myers on his own won't likely net the Jets a top ten pick, despite numerous Jets fans speculating (hoping might be a better word) they can coerce Edmonton into moving that pick for Myers. He could net a first rounder later in the day, however.
And again we come back to the problem of the Jets cap space. If the Jets do move Myers, it will almost certainly be for a draft pick. Otherwise, they're moving sideways in terms of salary. If the Jets want to do as we've advocated and re-sign Paul Stastny this offseason, more cap space will be critical.
Then again, even if the Jets don't re-sign Stastny, the murderer's row of RFAs that need new deals, and Patrik Laine's impending mega contract, mean cap space is still at a premium. One of those RFAs is the Jets new top defenseman, Jacob Trouba.
Trouba Ready for Myers's Responsibilities
You may recall that during Trouba's contract discussions in summer of 2016, his ice time was a major sticking point. Myers was standing in the way of it, and now he seems to be again.
When Myers suffered through the injury-plagued 2016-17 season, Trouba shined. In just 60 games he posted a career-best 33 points and was moved to the Jets top pairing. He's since stated a desire to remain in Winnipeg.
Winning is an attractive feature for any player, and the Jets will do plenty of that. Trouba has shown in the past, however, that ice-time and usage matter to him. He's earned an increase in both, and Myers may be in the way of that.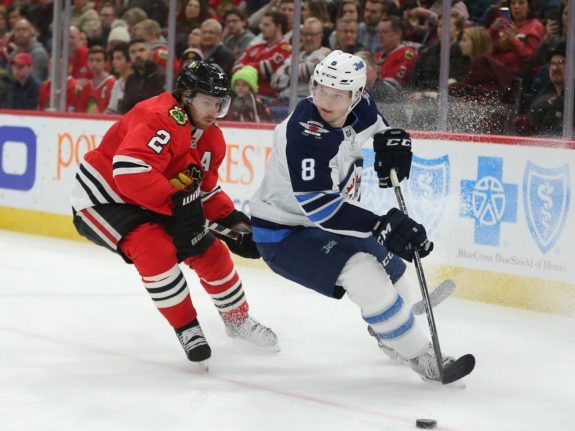 It's well past time the Jets trusted Trouba more. Power play time shouldn't be an issue for him, nor should increased penalty kill time. He and Josh Morrissey have been the Jets top pair for some time now and it's time the Jets treated them like it.
As long as Myers is on board, however, giving Trouba his full slate of ice time is tougher to do. This is no fault of Myers, but with Tucker Poolman champing at the bit for more ice time and Trouba ready for the same, Myers might be the odd man out.
Looking at all the factors, it looks increasingly likely that Myers time as a Jet may be up. Trying to move his next year, when he'd be an even shorter term rental, would be an exercise in futility. His value is comparatively high now.
And the Jets need value. They need the assets Myers could bring in. They need the cap space and ice time he'd leave behind. They need to say a fond farewell to what was once the biggest piece of their biggest trade ever.
It's time for the Winnipeg Jets to sell high on Myers. It won't be easy, and many will be sorry to see him go, but for the good of the future of the franchise, it ultimately needs to happen.
A long time hockey fan and player from Winnipeg, Manitoba. Play-by-play man with the SJHL's Estevan Bruins. Graduate of Red River College's Creative Communications program with a major in journalism. Former PxP man for the University of Manitoba Bisons. Lover of all things Jets and Avs related and always looking for a good hockey debate.