It was a busy year for defenseman Tucker Poolman. His rookie professions season included his first NHL game, getting into some playoff action, his first NHL goal, and far too many stints in the press box for a young player.
Next year, the expectations will be higher now that Poolman has his feet wet at the NHL level. And if the Jets do as many expect them to do and shake things up on defense, he may have no choice but to up his game.
It's been written both here and elsewhere that Toby Enstrom is likely done as a Winnipeg Jet. He wasn't happy being scratched, and the Jets aren't likely to re-sign him. That would open up one spot on the blue line in Winnipeg.
If the Jets want to do as many speculate and re-sign Paul Stastny long-term, however, more players will need to be moved. Popular speculation, or perhaps hope would be a better word, is that one such player is Tyler Myers.
https://twitter.com/Tony_MBHKY/status/1001100585897156608
If the Jets do decide to go that route, Poolman is the obvious replacement. Many Jets fans want to see Poolman and AHL defenseman of the year Sami Niku replace Enstrom and Myers next year. That would put some instant pressure on Poolman.
It's pressure, however, that the native of East Grand Forks is likely ready for. Poolman never stuck in the Jets' lineup for very long, but his underlying numbers were promising. In fact, they were usually better than Myers'.
Sure, Poolman was putting up those numbers in comparatively sheltered minutes, but when Jacob Trouba hit the shelf with injury, it forced the Jets to throw Poolman into the deep end a bit. He never really looked out of place.
The Ceiling on Poolman
Poolman's ultimate offensive upside in the NHL is a matter of some debate. His stats in college and even his first stint in the AHL (nine points in 17 games) indicate a player with more to give offensively than the two points he posted in 24 games in 2017-18.
Watching Poolman at Jets development camps and at the University of North Dakota gave me an up-close look at his low, hard, rebound-generating shot. He also impressed with his ability to get sneaky wrist shots through traffic, en route to 30 points in his final season at UND.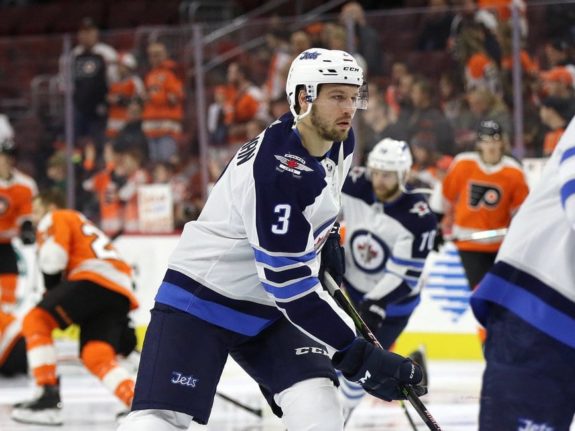 For some, the feeling was this was as offensively productive as Poolman was going to get. The 6-foot-3, 200-pound rearguard was built more in the shutdown mold than that of an offensive catalyst.
His production early on in his AHL career, however, would seem to indicate that's not the case. And remember that his meager NHL point totals came with zero power-play time and limited minutes at 5-on-5. He never played more than 18:04 and averaged just 12:34.
If Myers is indeed traded—and that is no sure thing—Poolman's minutes will have to go up. He's certainly first in line among the Jets' right-shooting defensive prospects. Even if Myers stays, injuries happen and Poolman is sure to be the first call-up.
So, how high can Poolman go? The size and strength to play a physical game are there, and the awareness and puck-moving skills to be more versatile are also present. Whether the offense will arrive is the next question, but if he ticks the first two boxes, that may not matter.
Poolman Already a Success
For a kid who was drafted in the fifth round as an over-ager out of the USHL, Poolman's limited NHL stints already represent a success. You could forgive him for not seeing it that way, however. Poolman has more to accomplish.
Not every player peaks when he's 18 or even when he's 20. Poolman is the first of many Jets prospects to prove that. Mason Appleton and Niku are perhaps the best recent examples, but Poolman is the most NHL-ready.
#NHLJets Tucker Poolman played 8:13 and had a 70.59% CF%. Not a bad playoff debut.

— Michael Remis (@mremis) April 18, 2018
Both the Jets and Poolman have been playing with house money for a long time here. From a scouting perspective, he represents another in a long list of Jets successes. How many fifth-round picks even make it this far?
Now that he's here, however, neither Poolman nor the Jets should be satisfied so far. He's had a taste of NHL action, and the Jets have sampled his abilities at that level. Both will want and will likely get more.
The Jets need to give Poolman the opportunity, of course. Trading Myers would certainly do that, but even keeping him and allowing Poolman to usurp Ben Chiarot as the Jets' seventh defender would go a long way towards kick-starting his career. After all, as we saw all of last season, injuries are part of life in the NHL.
So are roster changes, of course. The next roster change the Jets make should involve finding a way to get Poolman more ice time. He's ready, and so are the Jets. The expectations may be higher, but there's not much doubt now about whether he can meet them.