Montreal Canadiens general manager Marc Bergevin just can't win.
Now, that's of course true literally speaking, with the Habs having just suffered through a season, during which they finished in 28th place. However, it's more in reference to how, no matter what he does, a large portion of the team's fan base will find something wrong with it. It's gotten so bad, you'd have to think if he were to walk on the water, the trending hashtag would be #itsbeendone.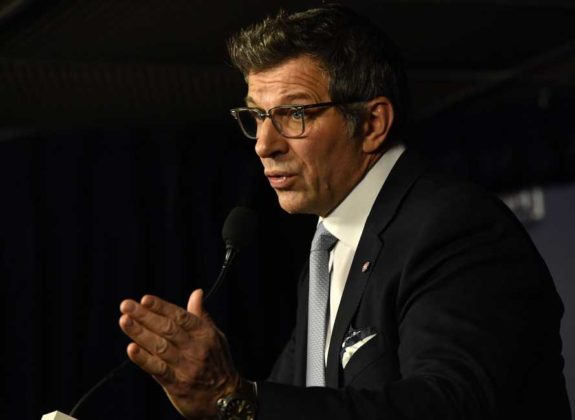 Bergevin Won't Trade Third Pick
Take for example his recent interview with NHL.com's Mike Zeisberger, which was published earlier this week. The first question was pretty simple: "You maintain a reluctance to trade the No. 3 pick for assets. Why?" Bergevin delivered what can objectively be described as a measured response to a loaded question:
[Then-Chicago Blackhawks-GM] Dale Tallon [once] said: 'You know what? You know how much we suffered to get that pick?' And I believe at the time it was third overall and it was Jonathan Toews. And the next year, it was Patrick Kane [who went first overall, again to the Blackhawks]. So, it's not a fun time for our fans to suffer the way they did this year, but we're going to get rewarded in Dallas with a pick we feel will make our team better in the long haul.
There is nothing wrong with that quote. Bergevin acknowledges how painful the season was to Habs fans and says he won't be trading the pick, which is what most would agree is the right thing to do.
Yet, to fans fatigued with Bergevin's soundbytes, of which there have been many of the entertaining variety, it's either not enough or it's eye-roll-worthy material. Bergevin either didn't fall on his sword by failing to admit any wrongdoing and resigning on the spot. Or, as an extreme example, someone may interpret him bringing up Patrick Kane as a sign the team is going to suck next year too.
Fake News?
It's not just the fans either, but the media too. The headline of that same piece was "Canadiens unlikely to trade No. 3 pick at NHL Draft," when nothing Bergevin said suggested he was even considering dealing it… like at all. He didn't even offer up the typical canned response for a situation like this, when the GM says something to the effect of "Never say never," or "It would have to be a pretty huge offer."
What's worse, based on that piece, tsn.ca published an article focusing on an entirely different part of the interview. Gone was what should have been the headline, that "Bergevin won't trade Habs' third-overall pick." In its place was what the network must have thought was much more controversial (for some reason): "Bergevin: Drouin 'can fill a role' at centre".
At that point you're just trying to open a can of worms, aren't you? Because everyone knows Drouin can fill a role at center. After all, he just did for most of last season, however unimpressively. So, what's the story here?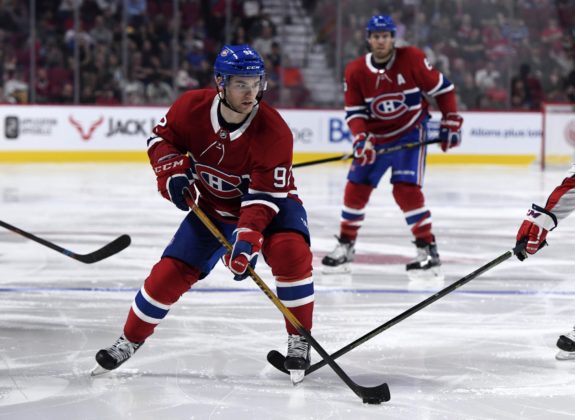 Bergevin's desire to keep winger Jonathan Drouin at center has been well-documented. Him reiterating that same sentiment is a surprise to just about no one. Also of note, Bergevin kept his opinion about as non-incendiary as possible by limiting Drouin in this hypothetical dream world to just a role down the middle. All that means is he'll play there sometimes. Not even necessarily on the first line.
Granted, it's unlikely Drouin plays anywhere but at center on the No. 1 line all the time, but why read words that aren't there? Save the outrage for when it actually happens. You can go back and forth, debating whether or not Alex Galchenyuk or Phillip Danault deserve more of a shot, and a case can be made for either one.
Ultimately though, when Bergevin says "I'm not going to write [Drouin] off there, but we have options we can look at as we speak," it somehow that gets twisted into the Habs pursuing the fool's errand of trying to sign John Tavares. What a rube that Bergevin is for doing his job and putting together a plan to sign the top free agent on the market (if that's in fact what he was saying in the first place). You just know if he were to explicitly state the opposite, that he has no intention of trying to get Tavares under contract, the same fans would be up in arms, suggesting he be fired.
Well, Bergevin should be fired.  Let's not get crazy here. There's little argument to the contrary, as he's run out of excuses. The Habs finished in 28th place, the exact same position they were in back in 2011-12, which prompted owner Geoff Molson to fire the last guy. That's not the point, though.
Related – The Molson Era: Straying From Greatness
To Trust or Not to Trust Bergevin
It's that Bergevin hasn't done anything all that dumb in a while. He's even having a pretty good offseason so far and second-guessing every thing he says isn't doing anyone a bit of good. It's certainly not going to improve the team when everyone's lambasting him for each move he makes, including the good ones.
Obviously, we've come to this point, because Bergevin can't be trusted. He's like the GM who cried wolf, who's been proven to have about as good of a relationship with the truth as he does with P.K. Subban. But, until Bergevin trades that third-overall pick when he says he won't (without leaving any wiggle room to change his mind), maybe we see how this plays out.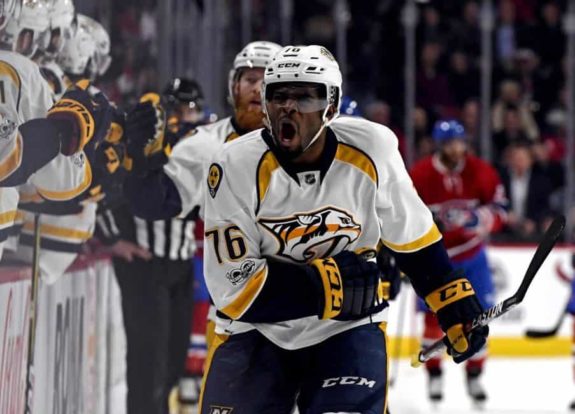 What's the worst-case scenario, here? Does anyone really know? Is it that he does the unthinkable and then finally gets handed his walking papers? Or are people legitimately afraid he'll turn things around and improve the team top to bottom, thereby staying on for another few seasons? Would that be so bad if he's finally able to put his money where his mouth is?
If it's Option B, ask yourself this: What are the odds of that happening, based on his track record up to now? Slim? So, why worry? And on the off chance he's able to pull it off? He and the Habs will at least be winning, right? Well, on the ice, anyway.