The Vancouver Canucks should be sending the University of North Dakota some thank-you cards.
It wasn't like the university pushed Brock Boeser and Troy Stecher to sign in Vancouver, but they have run a top-notch hockey program that has pumped out a number of impact NHL players. Guys like Jonathan Toews, Zach Parise and Travis Zajac remain some of the most current NHLers to represent the school proudly.
In Vancouver, two of North Dakota's alumni hold down roster spots, with both of them playing in prominent roles. There can't be enough good things said about the Canucks' super rookie Boeser. The Burnsville, Minnesota native was a Calder Trophy candidate and was on-pace for 38 goals and 72 points if he made it through the whole season.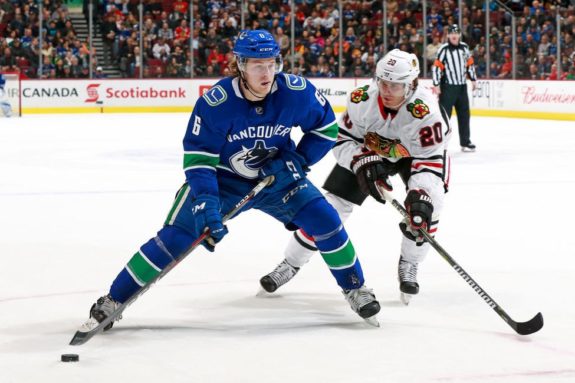 Seeing that he's already the Canucks' most talented player, Boeser is a guy that gets talked about a lot in Vancouver. Stecher is perhaps a little less idolized.
Regardless, Stecher should be applauded for persevering through injuries and limited minutes, before proving himself as one of the Canucks' best defencemen. Although the points haven't been there, Stecher is a diligent and tenacious defender who does possess some underrated creativity with the puck.
When they were on the ice together during the regular season, Boeser and Stecher were dominant in the goals-for department at even strength. Was is a matter of luck, or should Travis Green work on finding the old North Dakota teammates some more ice time together next season?
The Boeser & Stecher Effect
It can be difficult to evaluate since forwards and defence as a combo since their positions are so different, but it's hard to ignore the amount of goals that Boeser and Stecher were on the ice for together at even strength.
The pair was on the ice for 18 goals at even strength while only allowing six against all season long. That 75 per cent goals-for ratio is miles ahead of the Canucks' 45.7 goals-for percentage at even strength.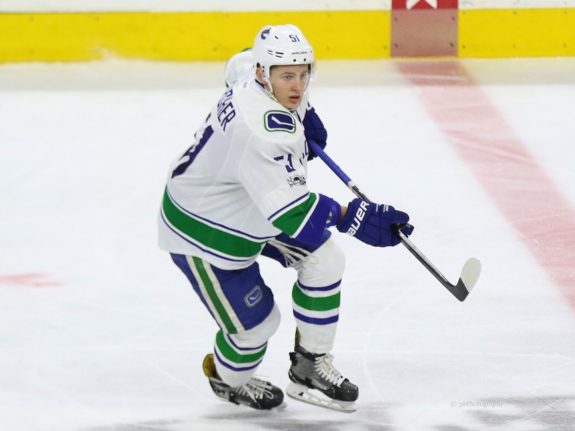 The numbers get even more impressive when you dig deeper. For goals based on scoring chances, the pair was on the ice for 14 tallies for and just three against. For high-danger scoring chances, Boeser and Stecher were perfect. They were on the ice for 11 high-danger markers together, and didn't see a single high-danger goal go in while they were on the ice.
What might be more telling is how pitiful their goals-for percentage is when they are apart. Boeser goals-for percentage was 35 per cent, while Stecher was just a shade above 30 per cent.
Is the Boeser & Stecher Tandem Efficient or Lucky?
Hooray! The Canucks are saved! Boeser and Stecher are leading Vancouver to the Cup!
Keeping Boeser and Stecher on the ice together might seem like a Cup-winning recipe, but their goals-for success is largely skewed. On the ice together, Boeser and Stecher were just above 50 per-cent for Corsi, shots, and scoring chances for. They also had a PDO together of 108.9.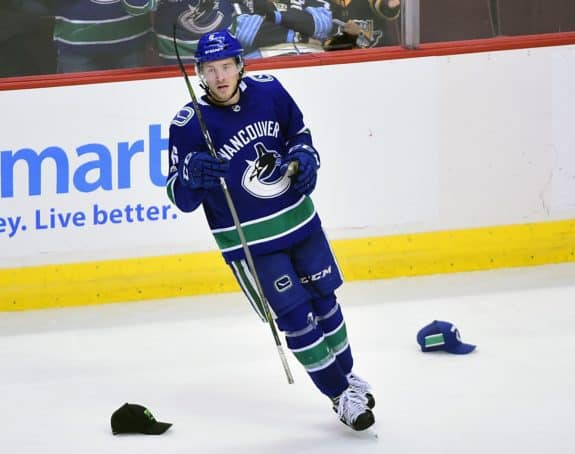 That doesn't mean that their on-ice success is just a fluke. Of all the Canucks to play more than 100 minutes with Boeser this season, only Stecher, Chris Tanev and Daniel Sedin were above 50 per cent in scoring chances for at even strength. In comparison, Michael Del Zotto's scoring chances for with Boeser was 43.2 per cent, while Erik Gudbranson was a putrid 37.5 per cent.
Boeser is certainly not a defensive specialist, so he needs to play with capable guys on defence. It also makes more sense to play him with Stecher over Tanev, since the Richmond native has a little more creativity in his game.
Reasons for Playing Boeser and Stecher Together
Stecher's points aren't reflective of an offensive dynamo from the back-end, but it also took a while for Stecher to get going last season. After he finally started to gain Green's trust, Stecher showed that he had the makings of someone who had more to contribute.
He actually didn't register his second point of the season until Dec. 18 against the Chicago Blackhawks, his 24th game of the season. On that goal, he did make a smart play to shoot the puck intentionally wide, before Boeser made a no-look pass to Thomas Vanek for the goal.
The duo also assisted on another Vanek goal together later in the season. On this goal, it was Stecher who showed more of the offensive creativity. Stecher dangled into the slot and showed some patience by feeding the puck to Vanek on the wing. Vanek caught Andrei Vasilevskiy swimming in his crease before he wrapped the puck around and put it in the open net.
Everyone knows what Boeser can do, but Stecher showed that he has some underrated skill as well. Since the Canucks (at the moment) have Chris Tanev as their shutdown, right-shot defenceman, he should be the one who bears the brunt of the tough matchup minutes.
By doing this, you could allow a pairing with Stecher and Alex Edler to play with Bo Horvat and Boeser at even strength. Having forwards who can create is important, but you're only insulating that by putting them with good defencemen as well. When Boeser was on the ice with someone less skilled like Gudbranson, his productivity plummeted. Boeser has 3.23 points per 60 with Stecher on the ice, compared to only 0.96 points per 60 with Gudbranson.
There was definitely a bit of luck behind their on-ice success, but the logic behind putting Stecher with Boeser does make sense. Stecher's defensive prowess and creativity with the puck allows Boeser to make plays in the offensive zone. Pairing the two together is something Green should look at focusing on next season.