In today's rumor rundown Barry Trotz should have his pick of NHL franchises to coach but there seems to be a lack of openings. The Maple Leafs are making a play for the biggest name to potentially hit free agency and two teams who were talking trade last season might be talking trade again. If they make it work, it will change everything about the NHL Entry Draft and free agency.
* Update: a report has surfaced that the Columbus Blue Jackets might be exploring the idea of trading left-winger Artemi Panarin. Details on that at the bottom of this article. 
What Will Barry Trotz Do?
The biggest news of the weekend in the NHL was Barry Trotz stepping down as coach of the Stanley Cup Champion Washington Capitals after what looks to be a difference in expected compensation. Trotz has earned the right to be one of the highest paid coaches in the league and his contract with the Capitals offered a $300k bump. Not surprisingly, Trotz declined. But, what's next for the most sought after coach in the NHL when all but one NHL team has no vacancies in their coaching department?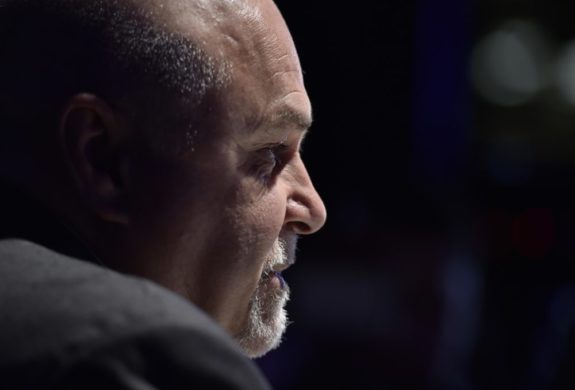 Rory Boylen of Sportsnet suggests that after New York Islanders, there are few, if any, fits. Even if teams would consider an upgrade, what would the price tag be? NHL clubs would not only have to pay Trotz, but pay the coach they're dismissing to hire Trotz. Could a deal be worked out with a team to relocate a current coach, such as Phil Housely in Buffalo? Would a team take the risk that releasing someone to bring in Trotz is like trading a coach? Perhaps Bruce Boudreau is let go only to wind up in Washington?
Boylen doesn't seem to think the new Seattle franchise is likely considering Dave Tippett has already been brought in but in all of this, Trotz is likely looking for immediate work.
Related: NHL Rumors: Hayes, Draisaitl, Marner, More
Leafs Making a Pitch for John Tavares
Bob McKenzie is reporting that if John Tavares gets to free agency on July 1, it's believed the Maple Leafs are creating a promotional video for him that could include sales pitches from current Leafs' players. This is quite interesting considering an area of strength for the Leafs is their center position and they have to find ways to afford their current crop of younger talent like Auston Matthews, Mitch Marner and William Nylander. Toronto also needs a defenseman and if they were to land Tavares, there's really no way they could afford to make all of these things happen.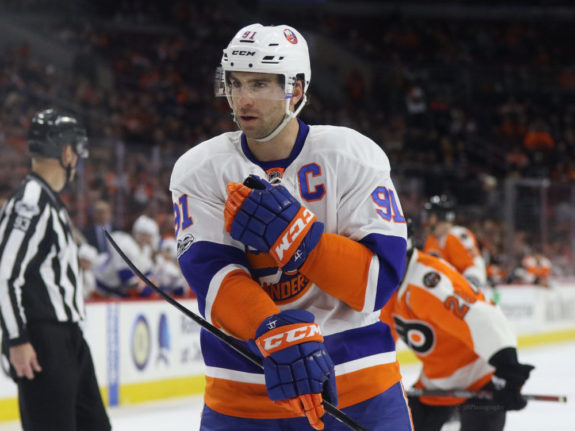 McKenzie was also on TSN 1050 and said, "I'm not saying they get him. I'm not not saying that it's their Plan A. I'm just saying that I don't think they would let that opportunity slide by without trying to get involved." McKenzie did say that the Leafs would be competing with a number of other teams potentially doing the same thing and that this is mostly to gauge interest. It is not Plan A for the Leafs who have other matters to take care of.
Speaking of the Leafs, it looks like the ship has sailed on James van Riemsdyk and Tyler Bozak. Darren Dreger was on TSN 1050 and said he thinks the likelihood of Tyler Bozak re-signing with the Maple Leafs is small. He also believes Van Riemsdyk coming back hasn't been part of the picture for some time. Dreger explains that it's not about the Leafs not being interested, but more that there's simply not enough room for free agents who will be so coveted. The team is trending in a different direction. He added:
"When I look at JVR, I think that ship sailed a while ago – not because they don't appreciate what he brings, it's just he played so darn well and scored so many goals that he's put himself in a place that, even with the cap going up, it's real difficult for the Toronto Maple Leafs to get into that one."
Related: NHL Rumors: Hoffman, Krejci, Talbot, More
Dan Bylsma Coming Back
Stanley Cup-winning head coach Dan Bylsma is rumored to be making his way back to the NHL, this time with the Detroit Red Wings. After being fired by the Buffalo Sabres, Bob McKenzie of TSN tweets that Bylsma could be hired as an assistant coach. The connection makes sense as Bylsma recently coached with Detroit head coach Jeff Blashill at the World Championships.
Vegas and Ottawa Talking
The Ottawa Senators traded Mike Hoffman on Tuesday to San Jose, taking care of Part A of their business moving out a potentially hazardous situation in the organization. People still believe there may be more to come, including Frank Seravalli of TSN who reports that all eyes are now on captain Erik Karlsson. He believes the Senators and Golden Knights have started speaking again about a potential trade that would happen this week.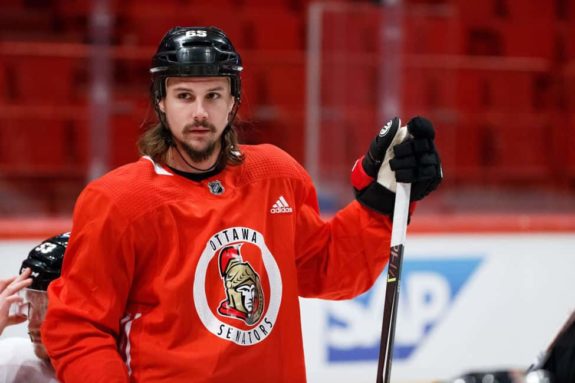 Seravalli says:
The team to watch continues to be the Vegas Golden Knights, the team that went down to the wire with the Ottawa Senators at 2:45pm before the 3pm trade deadline back in February, nearly pulling off a blockbuster deal to bring the two-time Norris trophy winner to the Stanley Cup finalist Golden Knights. It seems like those two teams have revisited those talks, they've heated up. To be sure Pierre Dorion's phone is ringing.
The Senators have the ability to completely change the look of the franchise and their role at this year's NHL Entry Draft if they move Karlsson before Friday.
Artemi Panarin Available?
There has been no confirmation from Panarin's side but the Columbus Blue Jackets didn't deny the idea that they might be exploring the idea of trading their elite left-winger. Elliotte Friedman mentioned Panarin has declined to talk an extension which the organization wanted to try and tackle as early as they could (he is eligible to do so on July 1, 2018). That has led to team to have some concerns even though they can talk extension in the fall. As Pierre LeBrun is reporting, Panarin has put the team in a precarious position.
If Panarin is available, this drastically changes some of the things teams might have been considering heading into this week. Panarin only has one year left on his current deal but he'd still be a huge get that would require a number of assets to attain.