The Vancouver Canucks' blue line has been lacking over the past few seasons, to say the least, and they need Troy Stecher to become a bigger impact player moving forward.
The 24-year-old is a smooth puck-moving d-man who could be a major asset to the Canucks' power play if utilized correctly.
He's coming off of a fairly disappointing season in which he contributed 11 points — 13 fewer than what he put up in his rookie season.
With that being said, he's completely acknowledged the fact that he can do more out there, and he also knows it starts in the offseason.
Troy Stecher in 2018-19
"I'm excited for this offseason; I think there's a lot of opportunities in the organization for a lot of different players. I'm not concerned about any leadership role — I know I can work extremely hard and that's how I'll be a leader," Stecher told Sportsnet-650.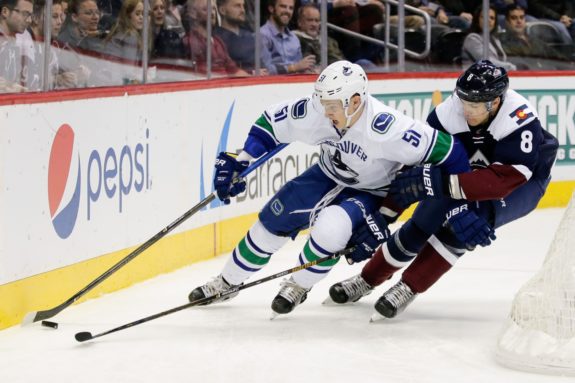 Stecher is excited about the Canucks' bright future, but he also might not be a guaranteed part of it — along with fellow d-man Derrick Pouliot, Stecher is a restricted free agent (RFA) heading into the 2018-19 season.
The Canucks' defensive roster is anything but set in stone for next season, but Pouliot and Stecher display similar games, and much to Stecher's dismay, Pouliot proved to be more offensively productive, etching 22 points — more than his last three (incomplete) seasons combined.
However, he's not letting it get to him and instead, Stech' is going to keep doing Stech'.
"It isn't on my mind — it's out of my control," said Stecher. "I set my goals when I originally signed with Vancouver and I'm content with what I accomplished but I'm obviously motivated to get better."
Assuming he sticks around, Stecher needs to work on his 'nose for the net', as they say — he sticks to the perimeter of the ice far too much and, in turn, his point totals don't accurately represent his talent. To be fair, Stecher isn't the biggest guy on the ice at 5-foot-10 and 190 pounds, and making plays towards the net in the NHL can be challenging for those who don't have size on their side.
But Stech' could take some notes from a guy like Boston Bruins' defenseman Torey Krug — he's one inch shorter and four pounds lighter than Stecher, according to the NHL's website, but he's a consistent 40-to-60-point guy and arguably one of the best power-play quarterbacks in the league.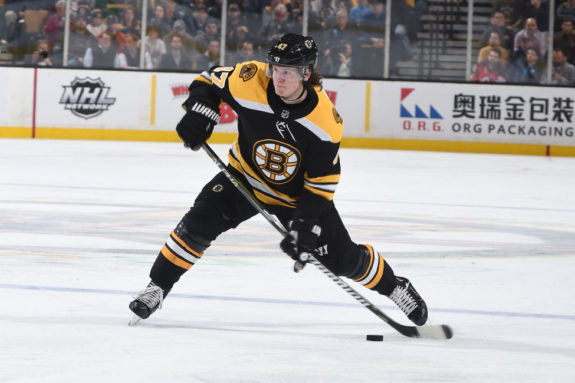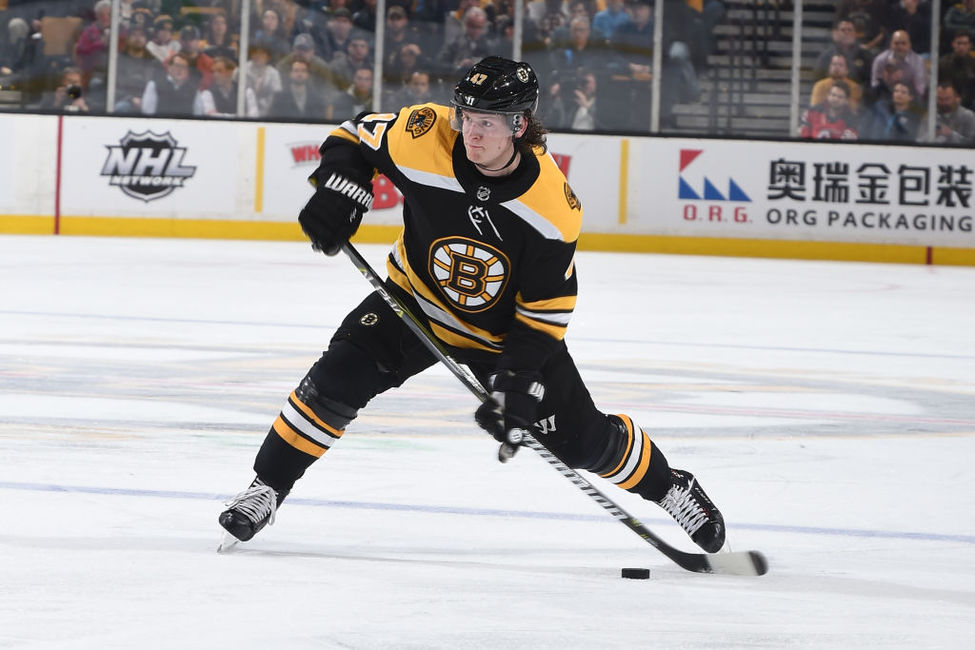 The keys to Krug's game are his inability to see himself at a disadvantage and his ability to use his weapons to his greatest benefit. Krug's a terrific skater, like Stecher, but he also has an absolute cannon of a shot and eyes capable of finding minuscule passing lanes through defending team's penalty kills.
Stecher has the capability to be, for the Canucks, what Krug is for the Bruins. In order to get there, he needs to have a big offseason and work on his shot, his offensive-zone vision and most importantly, his confidence.
Troy Stecher Expectations
The Canucks will likely give Stecher a fairly low-paying qualifying offer because, in their eyes, he really hasn't proved his value in the organization just yet — just under $2 million is probably in the ballpark.
Growing up in Richmond, just 30 minutes away from Vancouver, he's more than happy to stick around.
The Canucks are trending upwards and young players are climbing the ranks with a lot to prove, tacking additional pressure onto Stecher. His window of opportunity to cement himself as an integral part of this defensive core moving forward is shrinking, and he knows it.
Next season, he should bounce back with a productive 30-point season. Depending, and key word depending, on whether or not coach Travis Green gives him more of a green light (pun intended) this season to be more offensively driven — some more power-play looks would be a great idea, and with the offensive firepower on the team's soon-to-be unit, it could give Stech' some of that aforementioned confidence he needs.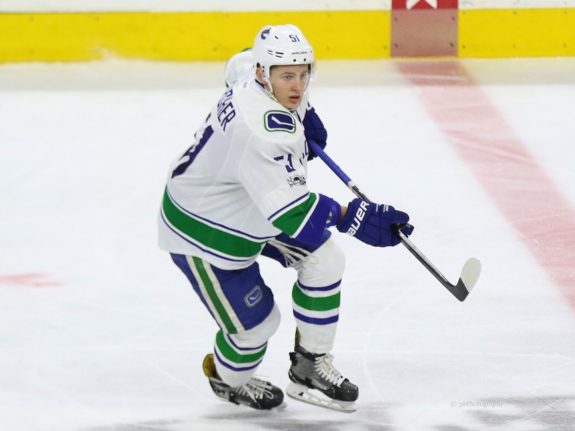 His defensive game could use a little work too, but he's still young. On top of that, Stecher was one of the hardest battlers on the squad night in and night out, even in some of the more lopsided affairs. His compete did not go unnoticed.
"That's something Stech has. He's had it since he was 14. I remember watching Troy Stecher then and he was really competitive," Green told The Province.
Being the right-handed shot that he is on the offensively-lacking right side of the Canucks' blue line, Stecher has some value right off the hop in terms of offence, but he needs the backing of his coach before he can rise to the level that he's clearly able to reach.
Is Stecher the offensive d-man the Canucks need? Should they not even bring him back? Let me know in the comments below!