As a team, the Vancouver Canucks have been inconsistent this season. As individuals, certain players have taken great steps forward, whilst others have failed to gain momentum. 27 games in, we should have a good idea of who dresses when Vancouver is fully fit. However, the Canucks' best team is far from certain. This is most apparent on defence.
This is a novel problem for Vancouver, as they haven't had a complete defensive corps since the start of the season. By late October, the Canucks' 2016-17 top three blueliners, Troy Stecher, Chris Tanev and Alex Edler, were all injured. Erik Gudbranson has also been out for much of the season through suspension and is currently missing in injury. He will return later in December.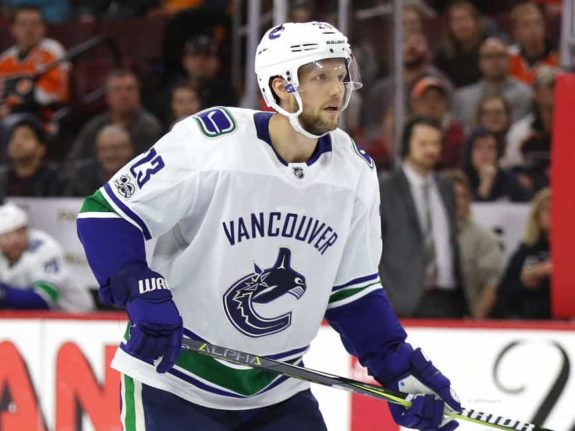 These absences have forced head coach Travis Green to continually tinker with his line-up. Derrick Pouliot, who arrived in Vancouver from Pittsburgh to little fanfare in early October, has played up and down the defensive roster. The same applies for perennial Canucks replacement and all-around bulldog Alex Biega.
All this change has deprived the blue line of consistency and therefore any real chemistry. It's understandable that some players may struggle to adapt their play to a different partner each and every game. This lack of certainty however only makes a set defensive six even more imperative.
Vancouver's Under Achievers
The question marks over the Canucks' best defensive line-up stem from average to poor performances, or perceived average to poor performances by players high up the depth chart. Ben Hutton and Erik Gudbranson are the most common names put forward by pundits and fans.
Ben Hutton is quickly turning into a big point of discussion this season. What do you think? Has he been good or bad this season so far?

— Wyatt Arndt (@TheStanchion) October 21, 2017
For Hutton, this criticism seems unfounded. Despite scoring few points this season, he has good underlying numbers. His Corsi is positive at 50.6, substantially higher than Edler and Michael Del Zotto who are currently playing without much scrutiny. Instead, problems with Hutton come from isolated plays he makes – which are eye-catching for the wrong reason. I take my lead from Daniel Wagner in the Vancouver Courier to summarise this. Wagner remarks in one article:
[miptheme_quote author="Daniel Wagner" style="text-left"]"I think Ben Hutton has been one of the Canucks' better defencemen this season, but it's easy to understand why some Canucks fans don't have a lot of faith in him: when he makes a bad defensive play, it's often really bad."[/miptheme_quote]
In short, Hutton is a solid defender. However, it can be extremely difficult to look past some of his glaring errors.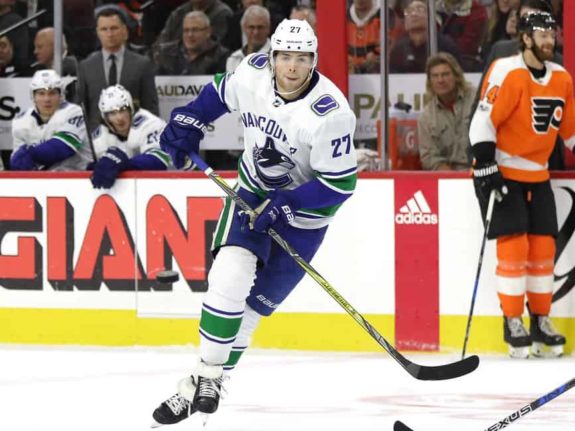 Erik Gudbranson is a different package. Consensus in the analytics community states Gudbranson is a liability, and it's hard to argue with his dreadful advanced stats showing. Sure, it would be unfair to dispute Gudbranson's poor points total, as he has never been an offensive dynamo. However, aside from a few memorable hits, he looks sluggish and poorly coordinated on the backcheck. Currently, Gudbranson is doing little to justify his place in the team, or the cost to acquire him. His poor performance puts his place up for grabs.
A Decision for Travis Green
The fact is Vancouver, and head coach Travis Green have options. Derrick Pouliot has been a surprise package this season. Since his noted good start, Pouliot has kept up momentum and looks to be one of the best offensive defensemen on the team. Right now it's difficult to drop him. No Canucks defender scored more than 24 points last season. Pouliot has an excellent chance of equalling or eclipsing this total.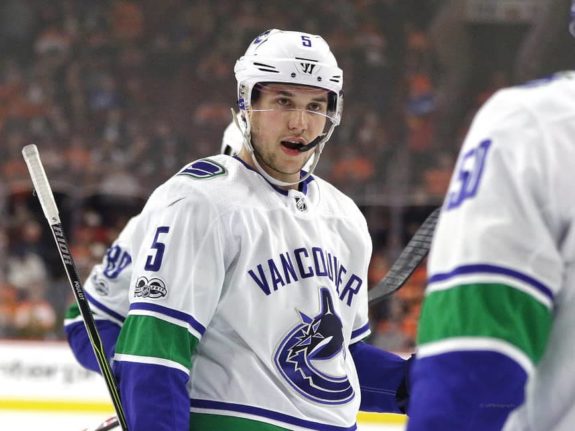 Even if Pouliot stutters, the Canucks should create space in the line-up going into 2018. Number five draft pick Olli Juolevi is slowly becoming a game-changing force in the Finnish SM-Liiga, where he has scored 13 points in 17 games for TPS. This is a top adult league, which shows a massive step forward for Vancouver's best defensive prospect. His ceiling is playing as an NHL regular next season.
So who is expendable? I would suggest Gudbranson. Every Canucks pundit has a take on the 6-foot-4 defenseman and mine is this – Vancouver urgently needs some steel in their line-up, and, with the sad news that Derek Dorsett can no longer play, this is more acute than ever. Yes, Gudbranson can fill this role, but he is just a band-aid. He may be happy to hit, but too often, Gudbranson seems unable to cope with the rapid pace of the modern NHL. Vancouver is a rebuilding team, and short-term flaws are expected. His spot could be better used by Pouliot, who still has room to develop.
Travis Green has some decisions to make, but, for each under-performing player, another defender in the organisation is excelling. Ultimately, his selection headache is a good thing. This organisation needs healthy competition.
Matthew lives in Brighton, UK and covers European Hockey leagues and the Vancouver Canucks. He is a big Canucks fan, and often sets an early alarm to tune into their matches.