Right before the Vancouver Canucks' regular season kicked off, 'Trader Jim' swung a deal for a former top-ten pick.
Jim Benning traded Andrey Pedan and a fourth-round pick to the Pittsburgh Penguins for Derrick Pouliot. Pedan is a player who won't be missed by many in this market. He showed promise for becoming a physical bottom-pairing defender when he first came to Vancouver, but he regressed and struggled mightily with consistency last year.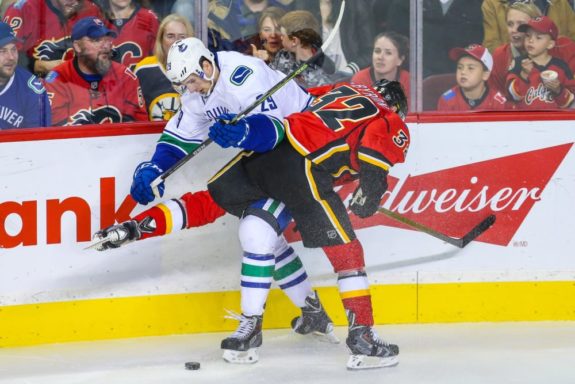 Some Canucks fans were upset to see Benning give up another draft pick. He's had a habit of trading draft picks to acquire riskier players further along the development line. He's been successful in some of those deals, like trading for Sven Baertschi, He's also been unsuccessful in other situations, like when he traded for Emerson Etem.
There shouldn't be much question though that if Pouliot keeps up his strong play, no one is going to care about a measly fourth-round pick.
Pouliot's Promise
When Pouliot came to Vancouver, he came as a mystery player. That idea was summed up well by Daniel Wagner at Pass it to Bulis. The former eighth-overall pick was an offensive standout who could never figure out the defensive side of his game. He played a career-high 34 games with the Penguins back in 2014-15, before only playing in 33 more games over the next two seasons.
It wasn't a very good look for Pouliot, who couldn't crack the Penguins blueline despite a swack of injuries. Perhaps he was just a player who could never get out of Mike Sullivan's doghouse. That led to him seeing minimal ice time under the Pens current head coach.
One coach who does seem to trust Pouliot is his old coach from the Portland Winterhawks, and current Canucks head coach, Travis Green. Pouliot was an absolute junior star under Green's tutelage. His performance in that 2012-13 season led to him being drafted over defencemen such as Jacob Trouba, Cody Ceci, and Olli Maatta. Now, in his fourth season in NHL action, Pouliot is starting to look like a well-rounded defender.
Playing on a bottom pairing with Alex Biega, the two defencemen have some of the lowest Corsi against totals on the Canucks. In fact, both players are in the upper echelon in the league in that category.  That is a factor of them playing sheltered minutes, but they are thriving with the ice time they are getting early on.
so…

Derrick Pouliot is pretty good. #Canucks pic.twitter.com/EcKnzQTD3e

— Hans (@S7Dsn) November 3, 2017
Pouilot was pegged as an offensive defenceman coming out of junior, but he has yet to find that gear with the Canucks. Green is likely telling Pouliot what most coaches will tell young players – offence comes from playing good defence.
Pouliot has seen some power play time with the Canucks. That whole unit has been awful to start the season, but that's not all on Pouliot. At even-strength, Pouilot is helping the Canucks by playing sound defence while moving the puck up the ice.
Related: Canucks Proving It's More Than Just One Game
Healthy Blueline Hurting Pouliot?
Even though Green is feeding him sheltered minutes, Pouilot is thriving. He's doing everything he can to stay in the lineup once Alex Edler and Troy Stecher are healthy. The problem for Pouliot is that he is still number seven on the depth chart. Alex Edler is inching towards being healthy, which spells trouble for Pouliot.
Green has been adamant on playing defencemen on their strong side. When Edler first went down with injury, Michael Del Zotto ended up with all of his minutes. Defencemen on the right side like Stecher received zilch.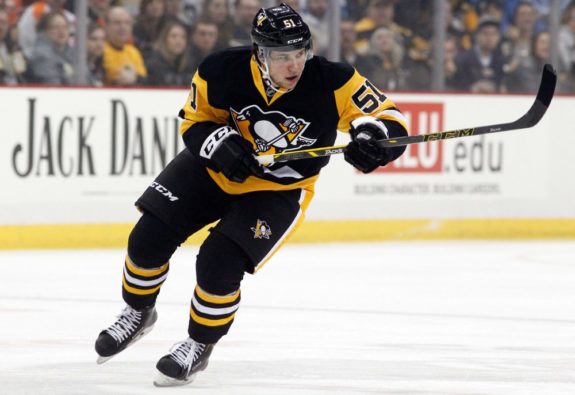 With Edler nearing a return, logic would dictate that Green should keep the young defenceman in the lineup over Biega. Although Biega has played well, Pouliot has more untapped potential. Will Green be comfortable playing one of his lefties on their off side? When Stecher comes back, is there anyone you can bump out?
The short answer is no, unless Pouliot can find a way to elevate his game even further. Unfortunately for him, he needs to be superb instead of great. He either needs to find a way to create offence, or be responsible defensively in tougher matchups.
The month of November will be a tough test for all Canucks, including Pouliot. With 10 out of their next games 12 on the road, this is Pouliot's opportunity to show he belongs in the lineup permanently.
KPU Journalism Graduate. Trevor has been writing for The Hockey Writers since October 2014. He has contributed articles related to the Ottawa Senators, Vancouver Canucks, and other issues/stories regarding the game of hockey. Trevor currently lives in White Rock, B.C.