It was the night before Halloween. This was my first trip to New York City and since I was traveling alone, chose to cross the Brooklyn Bridge and see the upstart Golden Knights take on the Islanders instead of taking in a Broadway show. With a half-full Barclays Center and about 100-150 Vegas fans in attendance, the first two grey, gold, white and red supporters I met were Big Apple locals. I asked what area squads they supported as well and I'll never forget the answer.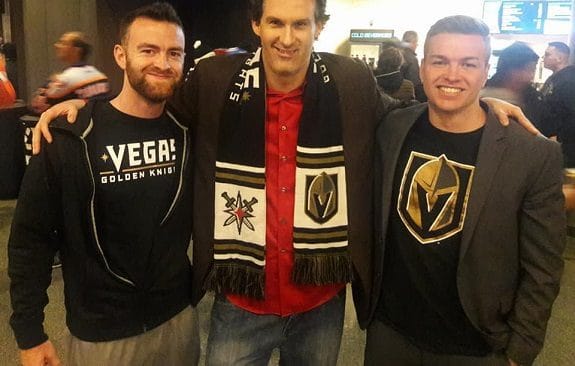 We're tired of the local New York teams here. We decided to follow someone new from the very beginning.
One Month 'All-In' for Golden Knights
We are 31 days through the 2017-18 NHL season for Las Vegas, and here is what we know so far. The Toronto Maple Leafs are going to be good and my home-state San Jose Sharks are going to be bad (minus the last four games). The Pittsburgh Penguins and St. Louis Blues will continue to be good while the Buffalo Sabres and Arizona Coyotes will continue to be bad.
New York's Rangers have some serious defensive problems. Edmonton's Oilers have some serious offensive problems. The Dallas Stars lead all teams on the power play while the LA Kings top the penalty kill percentages. Jaromir Jagr at this moment is a better game host than producing forward for the Flames. And new kids like Jesper Bratt and Clayton Keller are eyeing more hardware than just the Calder at season's end.
And the Vegas Golden Knights at 9-5-1 (tied for 4th best in the NHL) are on pace to win 40 plus games this season. Can you believe it? My best friend's dad who is also a preacher uses an expression.
Just because you don't believe in the Devil doesn't mean he doesn't exist.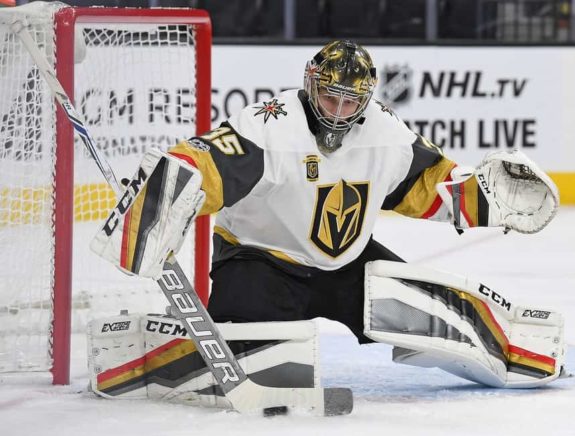 The newest NHL team in 17 years may come from Sin City, but is doing anything but bringing bad tidings to hockey in Southern Nevada. The projected win number of 40+ is telling for a team whose star winger, James Neal, is also on track for as many goals this season after scoring eight in the first 15 games. Going into last night's 3-2 road loss to the Montreal Canadiens, Vegas ranked 11th on the power play (20.7%) and 18th on the penalty kill (80.4%).
The Herb Brooks Approach
The tandem of GM George McPhee and Coach Gerard Gallant are mimicking a Herb Brooks approach with their new squad. The Minnesota coach selected his 1980 team not solely based on talent but for cohesion. Just look at Vegas' fourth line with #28 William Carrier, #41 Pierre-Eduard Bellmare and #92 Tomas Nosek. The "International Line," as radio play-by-play announcer Dan D'Uva calls them, has accounted for 10% of the Golden Knights' goals so far.
Monday night, Team VGK was on hockey's biggest stage in Toronto and proved their place. With netminders Fleury, Subban, and Dansk all still sidelined with injury, Maxim Lagace shook off a poor first period to earn the franchise's first-ever shootout. Vegas used on-the-fly defensive adjustments to salvage a point during the tough road trip while gaining some respect from the Maple Leafs faithful inside Air Canada Centre. Those fans in hockey's epicenter have joined others across North America in praising Vegas' team, including The Hockey News' Ken Campbell.
You watch the Vegas Golden Knights and you can't help but notice how they, in the hockey vernacular, play the game the right way. You watch Reilly Smith and you wonder exactly what the heck the Florida Panthers were thinking when they traded him for a fourth-round pick. You look for their identity and the first word that comes to mind is relentless. You admire how dogged they are on the forecheck and how hard they work down low. You look at the speed in their game and their willingness to use it.
Enjoying the Vegas Ride
It is true, I have been and will continue to be very critical of the team's approach to the Vegas Valley community as a strong "devil's advocate," but there is no denying the success of the on-ice product. The deep list of defensemen and now deep list of goalies for Vegas makes this team hard to scout for opponents. Fellow Golden Knights THW writer Ricky Brown recently expounded on the team's key three letter word:
The Golden Knights are a fun team to watch and Gallant seems to be coaching them to have fun. When Subban took over in net, Fleury's advice to him was to 'have fun.' Even McPhee validated the sentiment when he said that after being in Washington all those years, 'this hockey experience is as much fun as I've ever had in the game.'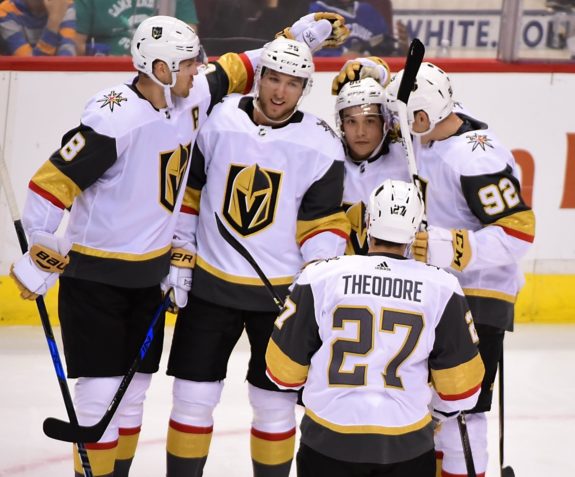 About three weeks ago on a Sunday in a swanky Las Vegas casino, I saw James Neal with a few other large black suits enjoying some beers. As I scanned faces walking past them in the multi-level bar, I caught the Golden Knights winger's eye. I nodded and said "hey boys" while he motioned the same and showed his trademark grin (now a bit altered). The sentiment seemed more than just unwinding after a victory over the Boston Bruins. It looked like a successful expansion team, for the moment, that can cover up some new franchise deficiencies while helping the guys relax.
Will Vegas make the playoffs? Does the loss of Vadim Shipachyov hurt the team in the long run? When will Marc-Andre Fleury return? It is too early for answers, but we'll see more when the team returns to T-Mobile Arena to face the Winnipeg Jets on Friday night. That starts a 14-game stretch of playing only Western Conference teams. Could we see #41 with another fine dangle?
🚨 ALERT 🚨

Insane between-the-legs dangle from @bellsy78. pic.twitter.com/O5wvD5NHwj

— NHL (@NHL) November 8, 2017
California born and Southern raised, JW is a Midwest broadcaster & Vegas Golden Knights contributor for THW. He's an avid golfer & goalie who grew up watching the stylish Leaf Felix Potvin. His favorite assignment (yet) was the 2011 Stanley Cup Final…kissing the Cup inside & fires outside in Van City.