There's no question Mikael Backlund is playing the best hockey of his career right now. He's finally moulded into the centerman the Calgary Flames hoped he'd become when they drafted him back in 2007. He set a career-high in points last season with 53 points (22 goals, 31 assists), surpassing his previous best 47 points from the 2015-16 season, and was even a legitimate contender for the Selke Trophy last season. There's no doubt the Flames would like to keep him around, but it's easier said than done.
Money Talks
Backlund's current contract is set to expire at the end of the 2017-18 season, a contract paying him $3.575 million annually. Given his surge in production over the last two seasons, he's likely going to be seeking a raise, and deservedly so.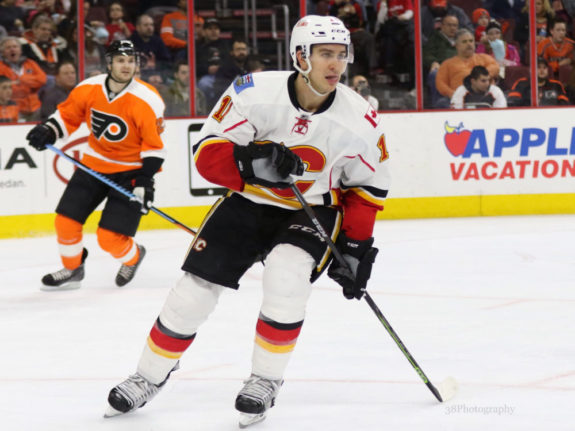 With his value likely now being around the $5 million mark, the problem for the Flames becomes extending his contract. Sure, it's only $1.5 million more than he's making now, but don't forget about Matthew Tkachuk, whose contract is set to expire at the end of next season. Tkachuk is set to receive a sizeable raise as he's currently playing on an entry-level contract, and is likely to receive an extension worth at least $4 million annually.
Backlund has developed into a reliable two-way centerman who's become a big part of the success of the Flames, making him all the more valuable to keep in Calgary.
"He's strong on pucks. He battles. And with his skating, he's able to get everywhere," said Flames assistant general manager Craig Conroy in a Calgary Herald article. "He's not going to run you over physically. He's not going to fight you. But he's going to battle in the face-off circle. He'll bump you. He finishes checks. He'll block shots. He'll do all those other things."
Related: Patience Pays off for Backlund
How to Swing a Backlund Deal
So, where will the money come from? Obviously, the easy fix would be finding a team willing to take on Troy Brouwer's hefty contract via trade, but that remains unlikely. Matt Stajan is currently in the final year of his contract, which equals a salary cap hit of $3.125 million. Given his age, 33, and the depth the Flames have at the center position, it's highly unlikely he will be re-signed, which opens up a large chunk of salary cap space.
https://twitter.com/SteveBurtch/status/915780358444142592
Kris Versteeg and Jaromir Jagr both have contracts expiring at the end of this season, with salary cap hits of $1.75 million and $1 million respectively. There's a chance the Flames decide to keep Versteeg for another year with Tkachuk still having another year left on his entry-level contract, but it's hard to imagine any longer than that. The departures of Stajan, Versteeg, and Jagr would free up $5.875 million in cap space, enough to offer Backlund the extension and raise he deserves, while also locking up Tkachuk.
Related: Flames Need to Swap These Three
The End Result
If everything works out, the Flames will sign Backlund to a long-term, front-loaded extension that could see him play out his career in Calgary. He has become a rock for head coach Glen Gulutzan. He can be relied on in any situation on the ice, at any time of the game, and can be counted on for at least 40 points in all seasons going forward. He's the centerpiece of the "3M line" (Tkachuk, Backlund, Frolik), a line that is being used regularly to shut down the opposition's top line.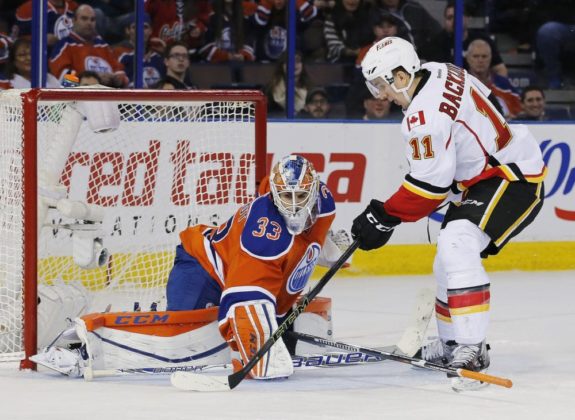 If his growth and progression over the last few seasons is any indication, he's only going to continue getting better, which makes it all the more important for the Flames to keep him around. He's not going to put up 70-point campaigns, nor is he expected to. But what he does on the other end of the ice is difficult to match. It's that play which may very well earn him a Selke Trophy (awarded to the NHL's best defensive forward) in the near future, and what makes him one of the key components to a contending Flames club.
"He was always a good two-way player, but when he was younger and there was a little bit of a push, you didn't get the push-back from him," said Flames assistant coach Martin Gelinas in a Globe and Mail article. "Now, you're getting that push-back. Now, when the game is on the line, he rises up – and that just comes with time and maturity. Right now he's playing with confidence and, when the game's on the line, he wants to be the guy. That's why he's one of the best right now."
I've been writing for over three years and have work published by the Calgary Herald, National Lacrosse League, Hard Knocks Fighting and The Weal at SAIT. Although I've covered many different topics as a journalist, sports writing remains my main passion and strength.