Being traded in the NHL – or any sport for that matter – is never easy. But surely the sting wears off a bit when you realize that you've been traded to the St. Louis Blues and get to play on a line alongside Vladimir Tarasenko and Jaden Schwartz. That's where Brayden Schenn finds himself these days after a draft day trade in June sent him from Philadelphia to St. Louis.
"Whoever I was going to play with (in the Blues lineup), you come in here and you feel welcome right away," said the 26-year-old Schenn when asked about joining a new team this offseason. "The coaching staff has presented me with a great opportunity and a great line of communication of what they wanted from me. I've played with Schwartz pretty much from day one and then you add Vladdy to our line…whoever I'm playing with on any given night, or on special teams. I've come in here and I feel like I'm a big piece (of this team); when you're a part of a winning hockey team that's playing pretty well right now, it just makes this a lot more fun."
This is actually the second time Schenn has been traded since he was drafted fifth overall in the 2009 NHL Draft by the Los Angeles Kings. But with the Kings, he only played nine games over two seasons before he was shipped off to Philadelphia with Wayne Simmonds and a second-round pick in a swap for Mike Richards and Rob Bordson.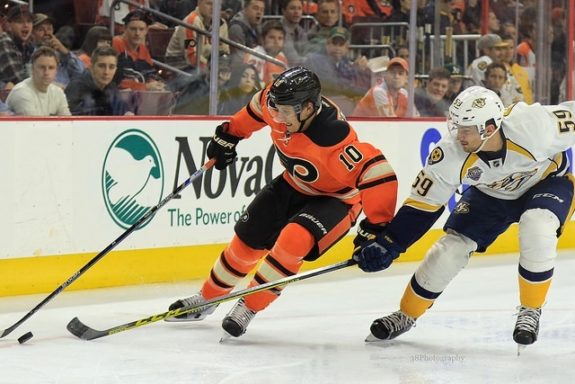 "The first time was different," he said, "I barely lived in LA. I was there for three months and living in a hotel. You don't make as many friendships or relationships in that time. Six years in Philadelphia, you have your condo there and have to pack up and move everything. It was weird playing those guys the other night (a Flyers 2-0 win in St. Louis on November 2) and got to talk to them after the game. Obviously, you miss them as friends but that's the nature of the business. You come here and the guys have been so welcoming and open. It's a great locker room and this is a fun team to be a part of."
Hot Start
So far so good for the boys of the Blues as the trio has amassed 16 points over their past two games – consecutive wins at home over Toronto and on the road in New Jersey. In fact, Schenn's seven points (1g-6a) over that time is just two less than Tarasenko (2g-3a) and Schwartz (1g-3a) combined. In his first 16 games with St. Louis, he's recorded 18 points (4g-14a) and has looked like a perfect fit for what is currently the best team in the West, and atop the NHL standings.
"It's been fun," Schenn told The Hockey Writers when asked about playing alongside 91 and 17. "Those are two guys with tons of skill. I think if we work for one another we can be a good line, and maybe tonight it took a little while for us to get going but I think each guy on the line brings something different."
Schenn on playing with Tarasenko & Schwartz: "It's been fun. Two guys with tons of skill. Each guy on the line brings something different." pic.twitter.com/78Jk9e1WoR

— St. Louis Blues (@StLouisBlues) November 8, 2017
In the road win Schenn and Tarasenko had a goal and two helpers each and Schwartz potted the game-winning power-play goal. "Obviously Vladdy is a shooter and can score pretty much at any given time. Schwartz is so good on the forecheck and at seeing the ice and taking away pucks. I feel like the three of us complement each other, but at the same time we're 12-3 or whatever (12-3-1, 25 points) and it's just not our line that is getting the job done. Each night it's someone or a line that is getting the job done for us. We're working in five-man units, working as a team, and that results in winning hockey."
Giving Opponents the Blues
After pounding the Maple Leafs the Blues got off to a slow start against a revamped Devils roster, but once they re-calibrated themselves it was smooth sailing ahead as their top line took over the game. "I don't think we had a great start to the game but I thought we picked it up in the second," Schenn said after his second consecutive game with at least three points.
"That's a team (the Devils) that works hard over there; we were able to match it and get some opportunities. Scoring with 40 seconds left in the period (to tie the game) or whatever it was, it was huge for us going into the third period with some momentum and we were able to get the go-ahead goal on the power play."
Once they got the lead, the Blues didn't sit back and instead they kept coming at the Devils in waves. The final shots on goal for the third period were 19-4 in St. Louis' favor and 40-22 for the game. "It's definitely important, especially on the road," Schenn said of the Blues shot barrage over the final twenty minutes. "You still want to forecheck hard, try to hang on to the puck down low and make plays. Also obviously limit turnovers, but at the same time still generate chances. I think we did a good job of that tonight."
Schenn-sational
It was Schenn who also did a good job in nabbing the primary assist on his team's first two goals and it was his second helper that was full of razzle-dazzle. While the first one he just basically handed the puck off to Tarasenko, the second assist was a backhand beauty pass across the slot, through a defenseman and onto the tape of Schwartz's stick.
Have we mentioned lately how good Jaden Schwartz is? #stlblues pic.twitter.com/RLrJbIKDXk

— St. Louis Blues (@StLouisBlues) November 8, 2017
"They're playing well," said Blues goalie Jake Allen. "They had a lot of chances tonight and Schenn made a great pass to Schwartz. I think they're all just connecting well, Schwartzy and Schenn are working so hard down low and Vladdy is scoring on his chances. They're a tough line to contain and they're playing well for us."
Schenn laughed a bit when a media member asked if he shot for the empty net goal at the end of the game in New Jersey because he was 'tired of getting assists'. "Oh no, never tired of that," the 26-year-old said while grinning. "It was just an empty net, you take those I guess."
The Blues are glad they took a chance in adding Schenn to their group a few months ago because if they stay healthy – and together – the Schwartz-Schenn-Tarasenko line could become one of, if not the top line in the league. Through 16 games this season Schwartz is third in the NHL scoring race (21 points), Tarasenko is sixth (19 points) and Schenn is fifteenth (18 points).