If Montreal Canadiens forward Andrew Shaw keeps it up, he may very well end up being worth his price tag.
Shaw Effective in Offensive Zone
With his first two-goal effort as a Hab in the bank (against the Winnipeg Jets), Shaw now has six points in his last six games (eight overall). In short, he is developing into a valuable forward, playing primarily alongside Phillip Danault and Max Pacioretty.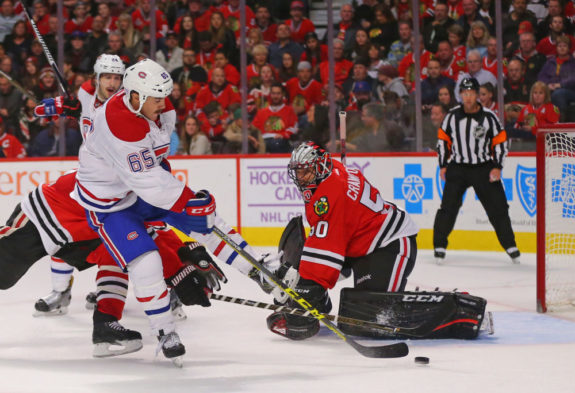 In fact, that line has been the one head coach Claude Julien has most commonly used likely due to how the three players complement each other's styles. In Pacioretty, you've got a sniper (who, himself, is starting to come around with a six-game point streak). In Danault, you've got the defensively responsible grinder, who allows Pacioretty to focus more on offense. In Shaw, you've got a guy who's more than willing to go to the net, pissing off everyone in the process.
It's that mentality that more often than not tripped Shaw up leading into this latest successful stretch. Last season, he led the Canadiens with 100 penalties in minutes, earning 10 or more on four separate occasions by doing things like the following:
This is honestly not the first time Habs fans have seen all the good Shaw can do, if he's not getting in his own way. He started last season even more slowly than he did this one, with three points in his first 14 games. He then proceeded to get going offensively, with 12 points in the next 14, before a concussion put him on the sidelines for over a month.
Shaw Against the World
In his first game back, maybe eager to do too much, that's when he earned his season-high 22 minutes in penalties against the New York Rangers (see above). Incidents like that shine a red light on the six-year, $23.4 million contract he signed after getting traded to the Canadiens two summers ago.
Heavily weighing his cap hit above all other factors, players like Sean Couturier, Nazem Kadri and Rickard Rakell come up near the top as Shaw's closest comparables. Objectively speaking, each of those players brings much more to their respective clubs than Shaw. Granted, there's more to a player's worth than his offense, but part of Shaw's allure was the 20-goal season he put together back in 2013-14.
The point is, if Shaw can't contribute at the other end of the ice, it just makes him a poor man's Brendan Gallagher, just with a richer contract. That has always been the biggest hang-up with the deal Marc Bergevin signed Shaw to, how the general manager seemed to conveniently forget everything Gallagher had been accomplishing for the team as a legitimate top-six forward before inking Shaw to a deal worth $150,000 more on average per year.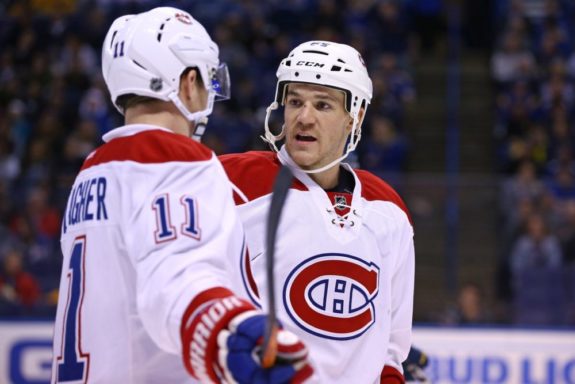 It's not a huge difference, but it is enough to question where Bergevin's head was at, at the time, when Gallagher had just scored 40 points in 53 games that past season (2015-16). Gallagher's 19 goals in those 53 games put him on pace for nearly 30 over a full schedule.
Shaw or Gallagher?
Of course, Gallagher's struggles last season (just 10 goals) have been well documented. Now that he leads the Canadiens in scoring with 12 points, performing as the team's most consistent force up front, the comparison is more apt than ever before.
It made no sense to give a potential 20-goal guy in Shaw more money than a player on the cusp of hitting 30, regardless of how team-friendly of a deal the latter had signed. Now? If Shaw is able to keep his spot in the line-up on what is arguably the team's top line, it's not nearly as much of a head-scratcher.
It's commonly accepted that, where Pacioretty's game goes, so too does the team's offense. In that sense, whichever line he's on becomes the Habs' top unit by default. It's why Danault should be considered the team's actual No. 1 center. There's no good reason why Shaw cannot turn into a legitimate top-liner in his own right.
It's just a matter of him continuing to do what he's proven more than capable of recently: walk the line without going over it.