The Columbus Blue Jackets knew what they were getting when they acquired forward Artemi Panarin from the Chicago Blackhawks in the offseason. They knew the young Russian would be an offensive spark plug for an already potent offense the Blue Jackets possessed coming into the 2017-18 season. His ability to create chances out of nothing and his one-on-one expertise are just two assets that make "The Bread Man" such a dynamic offensive threat.
Right now, he is the team leader in points with 12 on the year. That's not all that surprising. What is surprising is that goal-scoring hasn't been the major factor in his point total. I decided to dive into a variety of Panarin's statistics so far this year mostly out of curiosity but also to see how he ranks among the league's best in certain statistical categories.
2 – Panarin's Goal Count This Season
Panarin just picked up his second goal of the season Monday night vs the New York Rangers after a 10-game goal drought. Interestingly, the Blueshirts are the same opponent against whom he scored his first goal of the season.
Blue Jackets open the scoring on Panarin's 2nd of season 1-0 pic.twitter.com/lOgbkqoFdi

— Right Wing, Shoots Left 🏒🥅🌈😷 🇨🇦 (@HILITINGHOCKEY) November 7, 2017
I think a lot of people are confused by his lack of scoring thus far. Didn't the Jackets pick up Panarin primarily to put the puck in the net? Well yes, but I had thought coming into the season that his overall playmaking ability was underrated. Everybody wanted to talk about his lethal wrist shot and how he can score from just about anywhere on the ice. But he also owns tremendous vision, offensive awareness and a willingness to distribute the puck to his teammates.
4.1 Percent – Panarin's Shooting Percentage
This kind of goes hand in hand with his one goal this season, but I wanted to dwell on this to prove that his goal total will eventually elevate. He has fired 49 shots on goal this year and obviously, only two have gone in. In his previous two seasons with Chicago, he scored 61 goals and owned a shooting percentage of 15.35 percent over those two seasons. This year's 4.1 percent is a huge outlier, so don't expect this goal slump to continue.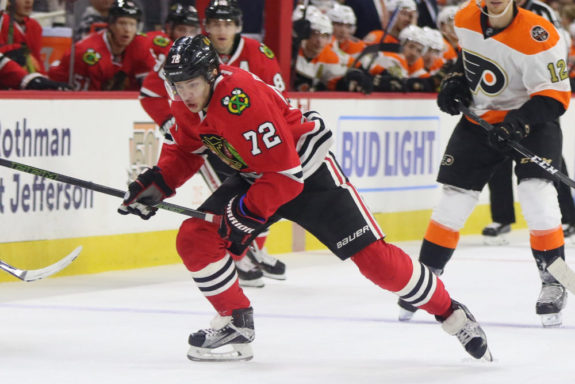 Another reason to be encouraged the goals will start coming around is the fact that he has hit the post three times – yes, this stat is tracked – which is tied for the second most in the NHL thus far this season. On top of that, he leads all forwards in 5-0n-5 shot attempts with 94. There's no way he can keep shooting this much without tickling the twine more than twice every 15 games.
Related – Blue Jackets 3 Takeaways: Dubois, Adding Atkinson & Korpisalo
100 – Career Assist Total for Panarin
On Nov. 2 in Florida, Panarin reached a milestone in his young career. He picked up assist number 100, a tremendous mark to reach considering this is only his third NHL season. This was also his 10th helper of the year, which extended his team lead in that category. This goes back to my point that his playmaking ability can be overlooked at times. The kid can shoot the puck like no other but he's far from selfish. He wants to help others score goals as well, and that was surely on display in the season opener when he had three assists in his first game as a Blue Jacket.
21 – Panarin's Number of Takeaways
No other player in the NHL has more takeaways this season than Artemi Panarin. Another underrated piece in Panarin's game is his "sneakiness." I don't think that is an advanced stat category that can be measured, but takeaways are probably the best way to quantify the actions of a sneaky player. Panarin won't beat you with his physicality but he's so crafty with his stick and strong on his stick that he can beat a player off the puck and force turnovers because of it.
I've seen Panarin multiple times get into one-on-one battles for the puck in which he basically gets involved in a fencing match of hockey sticks, and he is the one that comes away with the puck. His speed also helps in creating turnovers because he can swoop in quickly to steal pucks away from opponents. Whether it be sneakiness, quickness, arm strength or something else, Panarin possesses an uncanny ability to out-duel opponents for the puck. Thus, his high quantity of takeaways.
Related – Blue Jackets 3 Takeaways: Penalty Kill, Power Play & New Lines
20:36 – Average Time on Ice for Panarin
There are not many forwards in the league that consistently play over 20 minutes a night. In fact, as of Nov. 8, there are only 22 and Panarin is one of them. 20:36 of time on ice per game leads the Jackets' forward group and currently sits 10th among all NHL forwards. Head coach John Tortorella knows he has a special offensive talent on his bench that can create scoring chances on almost every shift. It's only logical to give that guy as much ice time as possible.
Panarin a Multi-Talented Player
You don't need to navigate through all the stat pages to understand Artemi Panarin is a one-of-a-kind player. He is a unique offensive weapon that can kill you in different ways. The Blue Jackets' coaching staff and front office would tell you that he's been the most dangerous player on the team to this point.
If there was one takeaway from this tiny research project, it's that the goals will come. He may not have Patrick Kane anymore to feed him the puck and make it easier for him to score. However, Panarin has the skill to create by himself and he certainly has the offensive talent around him on this Blue Jackets team to help get his scoring up a bit. He's also extremely ambitious to be the best player in the league. I still expect Panarin to score 25 goals. He's way too good to be stopped short of that.
(All stats courtesy of NHL.com)