This season, The Hockey Writers will have a recurring "Three Takeaways" feature after every Columbus Blue Jackets matchup, meant to serve as postgame quick hits.
1) Dubois Breaks Out
Pierre-Luc Dubois had not scored a goal in 14 games. That changed with an impressive play to strip the puck from Nashville Predators defenseman P.K. Subban and a top-shelf breakaway goal on goaltender Pekka Rinne.
That is an impressive cast of characters to beat handily, especially as a 19-year-old rookie.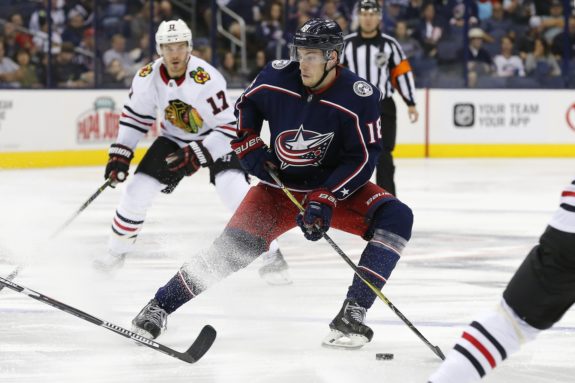 Dubois's goal was a step in the right direction after being relegated to fourth-line minutes for a stretch toward the end of October.
His linemate Nick Foligno said that Dubois is starting to turn the corner at a great time and he enjoys playing with "the kid."
"He's understanding his abilities and obviously it's still a work in progress as a young guy," Foligno said after Tuesday's 3-1 loss to the Predators. "But, when he moves his feet, he creates so much, and has great vision and playmaking abilities. That steal he takes from Subban, takes it up the ice and makes an unbelievable move on a good goalie… that shows what kind of player he is. I think he's enjoying the extra responsibility [head coach John Tortorella] is giving him and we're having a lot of fun playing together."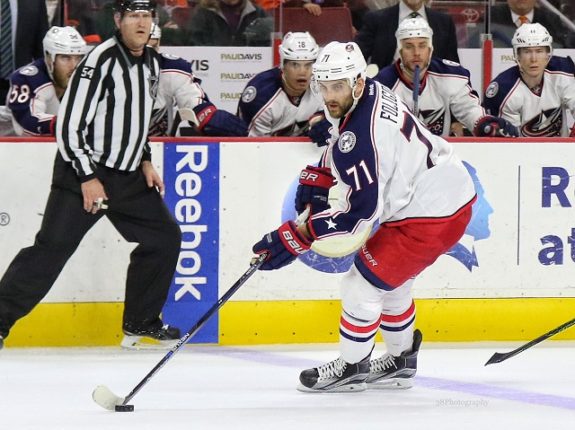 Cam Atkinson agreed with Foligno's feedback.
"[Dubois's] game has come a long, long way from the start until now," Atkinson said. "He's starting to use his big frame to his advantage. When he plays like he did tonight, where he plays with the puck and plays hard down low, he's going to be a hell of a player for many, many years. To finish like he did [on that goal]… that's a primetime player right there."
Dubois said he knew he has had the skills and physical aspect of his game down, but it was more of the mental and confidence-building side that needed some work.
"I'm getting more and more confident every game," Dubois said. "Skating with Foligno and [forward Josh] Anderson helps a lot."
So what specifically are those two doing to help?
"They talk a lot out there, which makes it easier for me; calling plays, or in practice or in the room, they tell me to relax and have fun, and that we'll do it together out there."
Considering Dubois is trending up, maybe this is one line that Tortorella will keep intact for at least another game or two.
2) Atkinson Addition
Atkinson missed the last four games with a lower-body injury and the flu. He was sorely missed on Monday's penalty-killing units and injected much-needed energy into the lineup in his return on Tuesday.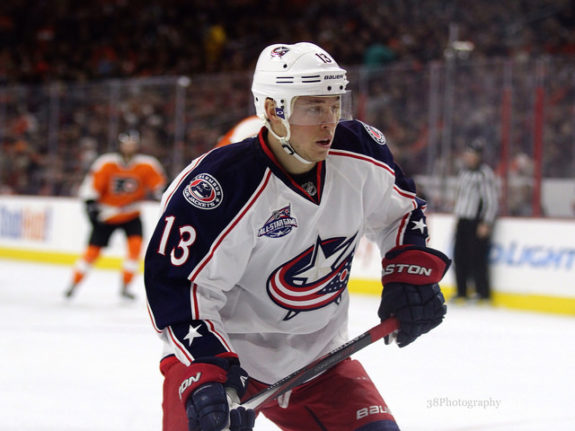 Even though it was not enough to give the Blue Jackets a much-needed win, Atkinson played nearly 24 minutes in Tuesday's game. That is not easy, especially for a forward.
However, Atkinson rose to the occasion, generating six shot attempts (four on net), winning a key faceoff and blocking a seeing-eye shot on the penalty kill to keep Tuesday's game tied.
Expect Atkinson to spend more time on the penalty kill with Matt Calvert and Lukas Sedlak both out for a few weeks, and for Tortorella to utilize Atkinson in a variety of situations moving forward.
Related – Blue Jackets 3 Takeaways: Penalty Kill & New Lines
3) Korpisalo's Record
After four games played, backup goaltender Joonas Korpisalo has a concerning 1-3-0 record. That is the same number of losses in one-third of the game total as starter Sergei Bobrovsky.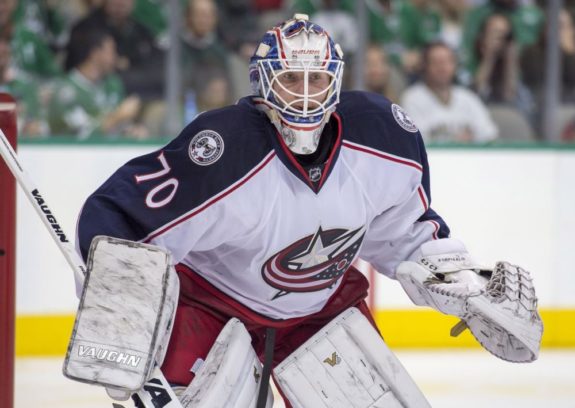 Korpisalo has not played horribly. He has had several bright spots in the early season. Plus, Korpisalo faced extremely talented squads in the Predators, Chicago Blackhawks and St. Louis Blues.
However, at what point does the Blue Jackets' brass become concerned with his individual play coupled with the performance of the skaters in front of him? The team carries themselves with a different swagger and energy in front of Bobrovsky—understandably so, when they know they can rely on a Vezina-winning goaltender to back them up.
There are bigger issues with the skaters in front of Korpisalo than the man himself, but Korpisalo's situation is something to potentially keep an eye on moving forward, especially with the goaltending depth within the Blue Jackets' pipeline.