Elite goaltenders are seemingly impossible to possess at the NHL-level.
When it comes to drafting and developing goalies virtually nothing is certain, as they are very difficult to project and follow developmental curves which are much different than the typical forward or defenceman. While position players tend to grow in a straight line, goaltenders meander in their maturation and, as a result, can burst onto the NHL scene in the blink of an eye.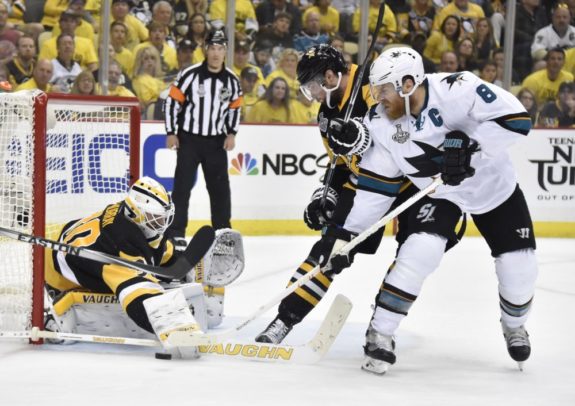 Looking for a specific example? Well, search no further than Matt Murray who, despite his third-round selection in the 2012 NHL Draft, led the Pittsburgh Penguins to two consecutive Stanley Cup championships as a rookie.
So, with the 2018 NHL Draft cresting on the horizon, what better time than the present to examine a flourishing netminder whose determination and raw skill has drawn the awe of many.
Swimming Upstream
Chances are you've yet to hear the name Jacob Ingham.
Now, if you don't recall Ingham's name don't be overly concerned, as the native of Barrie, Ontario only exploded onto the Ontario Hockey League scene a mere year ago. Yet, in just over one season of play with the Mississauga Steelheads, Ingham has established himself as one of the OHL's most talented and promising netminders in resounding fashion.
For Ingham, his road to recognition began during the 2015-16 campaign when he tended the crease with the Barrie Colts of the Eastern Triple-A Minor Midget Hockey League. A reliable goaltender who also saw time with the Orangeville Flyers of the Ontario Junior Hockey League, Ingham was nabbed by the Steelheads with the 26th overall choice in the 2016 OHL Priority Selection.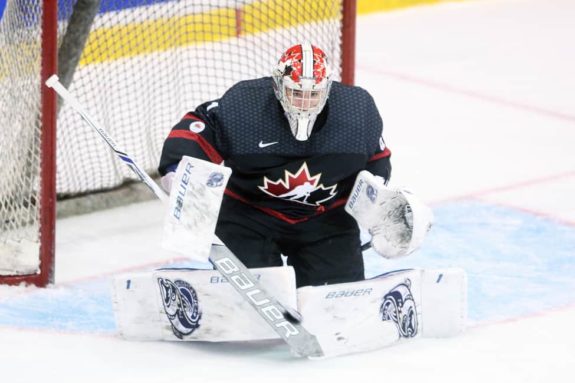 Following his selection, Ingham wasted little time proving Mississauga right in their choice, as he made the team's 2016-17 opening night roster out of training camp. Although he would begin the campaign in the Steelheads' backup role, Ingham quickly stole the spotlight and wound up playing in 31 regular season games as well as six playoff contests.
Despite being forced back to the bench during Mississauga's run to the OHL Finals, Ingham's rookie season record of 17-6-6 alongside a 2.69 GAA and .907% SVP solidified him as one of the league's premier young talents.
A Bright Future for Jacob Ingham
Following his immensely successful rookie campaign, Ingham entered the 2017-18 OHL season with heightened expectations.
In an OHL media poll conducted prior to the beginning of the year, 25% of respondents selected Ingham as their choice to become the league's best goaltender – an outcome which placed him second to only Michael DiPietro of the Windsor Spitfires. As a towering young netminder of incredible potential, Ingham's admiration throughout the OHL served as a glaring indication of his expected play and growth in 2017-18.
So, what separates Ingham from the competition, you ask?
The Scouting Report
Ingham is a truly unique talent, and for a number of reasons.
First and foremost is his driven and competitive nature. Infuriated by losing yet always looking for positives to take away from every performance, Ingham is compelled to become the best goaltender amongst his peers and will stop at nothing to achieve his sky-high potential.
How does Jacob Ingham not win @OHLHockey player of the week????? 3 wins in 3 consecutive days. Only 4 Goals against?

— Todd McNaught (@McNaughtTodd) October 30, 2017
In addition to his competitive nature, Ingham boasts incredible reflexes and excellent physical abilities. Never truly out of a play and capable of making incredible desperation saves, Ingham consistently puts his body on the line in order to make high-lite reel saves. Now, this isn't to say that Ingham finds himself out of position frequently, as his willingness to challenge shooters and read plays as they develop has become second to none in the OHL.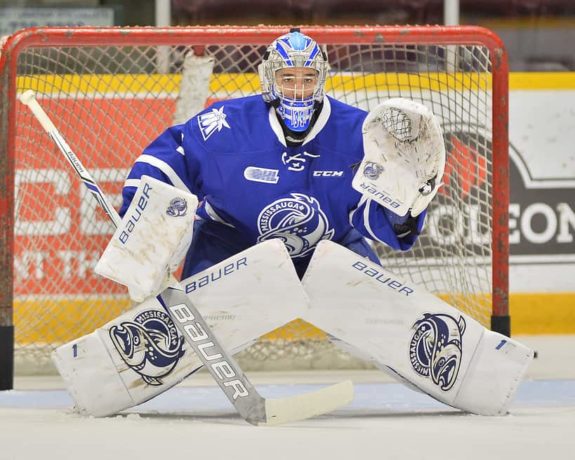 Perhaps the most impressive ability within Ingham's arsenal is his lightning-quick glove. While shooters seem to target the top-right corner of the net more often than not, Ingham is equal to the task and can snare pucks out of the air with ease. What's more is Ingham's lower-body strength, as he can kick out pad saves with a startling frequency as well as move laterally from post to post to deny plays devised by the opposition during odd-man rushes.
Ingham and the 2018 NHL Draft
Born on Jun. 10th, 2000, Ingham is eligible for the coming 2018 NHL Draft and stands poised to become one of the first few netminders chosen in the annual event.
While his selection in the Draft will revolve largely around his play with the Steelheads this season, Ingham's incredible skill-set and drive will combine to make him a prospect of significant value for the NHL franchise which most desires his services.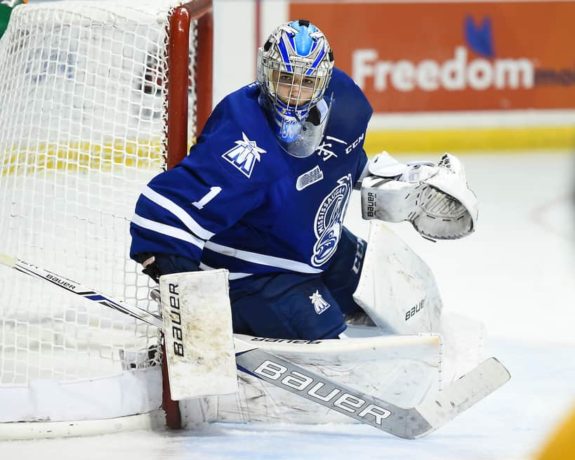 Perhaps the most frightening aspect of Ingham and his development, however, is the rate at which he continues to improve. Shocking as an OHL rookie and even stronger in his sophomore campaign, Ingham has the potential to soar through the professional ranks given his impressive skill-set. So, although it is far too soon to compare Ingham to Murray of the Penguins, we could be looking at a similar situation in the near future if the youngster continues to follow his current development curve.
In short, don't expect Ingham to remain on the NHL Draft board for very long during the 2018 event, and especially so if he helps lead Mississauga on a long playoff run. Of incredible skill and ability, Ingham has the potential to become a sensational professional goaltender if he can become as consistent as he is impenetrable.