With the recent resurgence of the Montreal Canadiens, fans don't need to worry about Carey Price or Shea Weber being traded anytime soon.
In fact, fans can count on them not being traded at all. In spite of calls to the contrary, that would have also been true as the sky was falling down on the team. Even then, any suggestion that either star would be traded would have been ludicrous at best.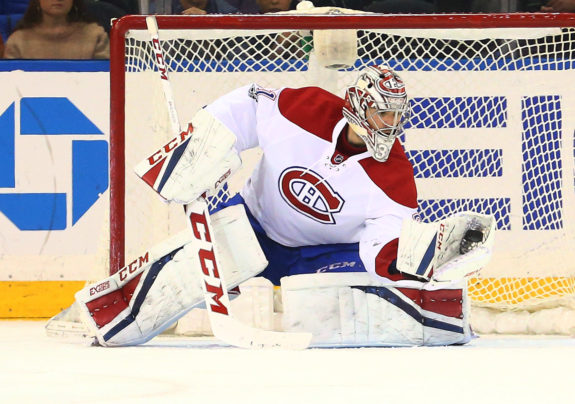 Canadiens Back to .500
With five straight wins, not only are the Canadiens back to above .500 (13-12-3), but they're also back in a playoff spot. Such a fact was unimaginable just a few weeks ago. Granted, every one of the five Atlantic Division teams beneath them have games in hand on them, with the Boston Bruins (four) and Ottawa Senators (four) being able to catch them, being one and five points back respectively, but the point remains: The Canadiens are in the thick of a playoff race right now.
As such, general manager Marc Bergevin knows better than to shop two of his most-prized assets, especially when his job on the line. He's not going to trade either one and start a rebuild now, let alone both of them. That's just logical.
What weren't logical were rumors that they would be traded in the first place, again especially with Bergevin's job on the line. At this campaign's lowest point (you can take your pick as to when), in spite of a historical precedent, logic dictated owner Geoff Molson would not shake up the front office before the end of the season, no matter how badly the team was playing.
Habs Rebuild on Hold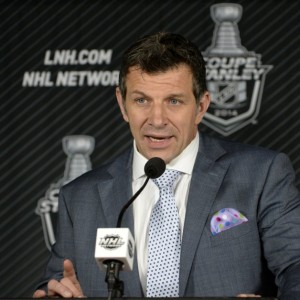 Admittedly, giving Bergevin free reign with his job on the line is not the smartest thing to do as trades born out of desperation and conflict of interest can cripple a franchise. Nevertheless, one can assume under the circumstances that any huge trade would have to get Molson's blessing.
The point is firing Bergevin will not magically turn the season around. What exactly is his hypothetical replacement going to do in the middle of the season anyway? Plus, any such distraction would just amount to needless bad press.
You save the firings for when there's hell to pay, i.e., after the team has officially failed to make the playoffs, even if just to satisfy the public's desire to see someone pay. If you fire someone pre-emptively and then you still end up failing, you have to go through another media cycle of intense criticism calling for heads to roll.
The rebuild is on hold in other words, because the only way whoever's in charge even thinks about trading those two marquee players is if the person in charge isn't Bergevin. If Bergevin so much as floats the idea of a Price or Weber trade with another team, he may as well hand in his resignation letter before hanging up the receiver.
Price and Weber Deals Revisited
The Weber deal is what will define his tenure here, especially with P.K. Subban's Nashville Predators reaching the Stanley Cup Final last season. Any attempt to trade Weber amounts to an admission that Bergevin was wrong.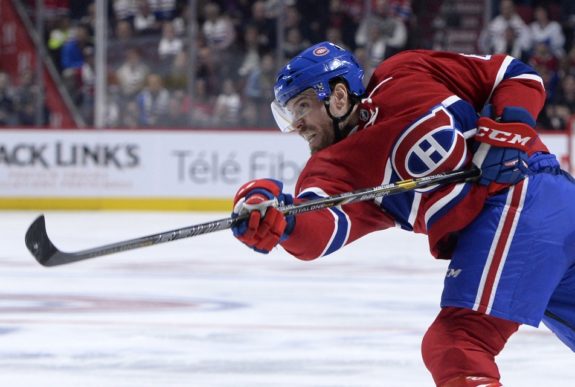 Meanwhile, Bergevin has the unfortunate distinction of being the first GM to give a goalie as much money as he did Price. More significantly, he has the distinction of being the first GM to a give a goalie exiting his prime as much money as he did Price. He probably couldn't trade Price even if he wanted to. And he doesn't want to, because he is all in on both players.
It isn't just Price's contract though, even though his was looking especially bad earlier this season and has not even come into effect yet. That's with notable exception to his no-movement clause, which, again, gets conveniently ignored when any talk of a potential trade comes up. He may not want to stick around for a rebuild in Montreal, but he sure as hell won't want to stick around for whatever is going on in Arizona, where the Coyotes are in a state of perpetual chaos and mediocrity… if that.
It's important to mention the Coyotes here, because they're one of the few teams who may have the space for either deal. They still likely wouldn't touch one or the other. The Coyotes may have the perfect spot in their line-up for Weber, beside Oliver Ekman-Larsson, but is that a deal you make as the worst team in the league, which hasn't reached the playoffs since 2011-12?
There may come a time when the Coyotes have to stop rebuilding, but it isn't at 7-18-4. It certainly won't be when Weber is a few years older and noticeably slowing down, unless it's for contract-dump purposes, at which point the return won't be much to write home about.
The bottom line is there are very few teams out there who would trade for a $10.5 million-per-year goalie or a defenseman who will be under a monstrous contract until he's going on 41. There are fewer still that have the cap space to even consider it.
Cap-Space Catastrophe
Much has been of the Canadiens' embarrassing cap situation, how they currently have literally millions more in space than they should as projected contenders entering the season. Legitimate contenders have far less.
So, for example, with regard to the Toronto Maple Leafs, who can use a No. 1 defenseman and whose head coach Mike Babcock has publicly fawned over Weber? Sure, they might be interested, but they don't have the room now. They definitely won't in a few years when they have to re-sign Auston Matthews. That's even taking into account the Habs taking back one of their other young guns up for a massive raise in the hypothetical swap.
Babcock, to a Montreal reporter asking about Shea Weber: 'If you guys don't want him, we'll take him.'

— Kevin McGran (@kevin_mcgran) October 14, 2017
That's saying nothing of the undeniable fact that these two division and longtime rivals would not make a trade that significant involving a player of Weber's caliber. It's just not going to happen.
As for the struggling Edmonton Oilers, who were forced into dealing Jordan Eberle for Ryan Strome to accommodate Leon Draisaitl's freshly inked $8.5 million-per-year contract and will have to keep room for Connor McDavid's $12.5 million cap hit? General manager Peter Chiarelli has his issues. He doesn't need any others, and I'm pretty sure mental instability isn't one of ones he does have.
They might be lacking elite goaltending, but that doesn't necessarily mean that they need it. They did just fine with Cam Talbot last regular season and playoffs and, whatever's ailing them, it's likely nothing that the arguably best player in the game entering his best years won't cure eventually. It's likely not a matter of bringing in Price, but losing Chiarelli.
A High Price for Success Right Now
Price is meanwhile on the wrong side of 30. He may have rebounded following an absolutely horrible start to the season, but teams have already gotten a peak into what's to come and what a goalie on the decline with a $6.5 million cap hit looks like. Ignoring that it goes up by an extra $4 million next season? It's not pretty. Even with his five consecutive, impressive wins after returning from injury, his goals-against average is just below 3.00 and his save percentage just over .900.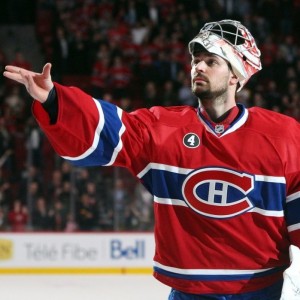 The undeniable reality points to him putting together a decent season from here on out, but Price has already peaked. The contract he just signed? It's important to look at it as a reward for what he accomplished over the last few years, not what he'll accomplish over the next eight after this one.
There's still 2017-18 though, and it's thankfully looking increasingly salvageable. In spite of their division rivals' games in hand, the Habs for all intents and purposes have their collective fates in their own hands again. That's nothing at which to scoff. It also means the horrible 1-6-1 start to the season is in the rearview mirror. It can no longer be used as an excuse for not making the playoffs.
If that's the goal at this point, and it should be, the Habs need Price and Weber. So, no, they're not going anywhere. For now at least, that's perfectly all right.