Much has been made of Sidney Crosby turning 30, but another elite talent in Montreal Canadiens goalie Carey Price has the same birthday in his crosshairs too. It may even be more of a significant milestone for the Habs netminder, and not in a good way.
Spotlight on Carey Price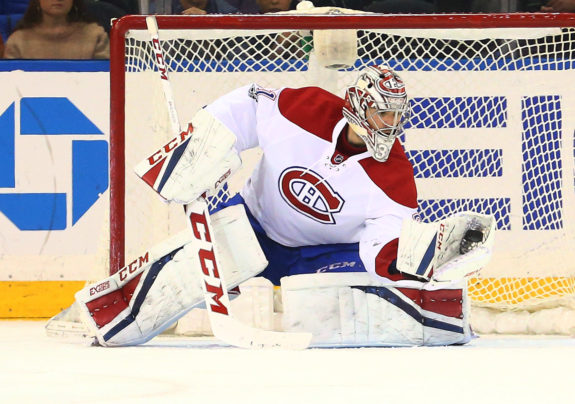 That's of course due in part to how, in Crosby's case, he has an entire forward group to make up for any deficiencies in his game. When Price makes a mistake or has a bad game, the entire spotlight shines squarely on his shoulders. Mistakes get amplified, as entire games can depend on a bad goal. Bad goals become more common when your reflexes begin to go.
As written by Clare Austin of InGoal Magazine, "everyone accepts that goalies will tend to show decreased performance starting around the age of 30." She goes on to qualify the statement by conceding the jury is not quite in with regard to how that decline takes shape.
Each goalie is unique, so it's hard and damn-near impossible to predict cover-all performance curves. As such, take the following unscientific breakdown with a grain of salt.
It helps that Price finds himself in pretty good company as a Vezina (and Hart Memorial) Trophy winner back in 2014-15. It's unfortunately not as elite of a club as most might think. Looking at Vezina winners and nominees since the 2005-06 season, there's been drastic year-over-year turnover among the top goalies in the game. For example, it may surprise a great deal of fans to know a total of 20 different goalies have been top-three vote getters (of 36 possible names).
Cause for Canadiens Concern?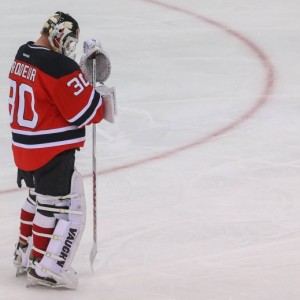 That's staggering in and of itself, but what's perhaps more cause for concern for Habs fans is the following: Only three times have there been repeat winners (Tim Thomas, Martin Brodeur and Sergei Bobrovsky, with the latter only earning his first during the lockout-shortened season). Only seven times has a winner gone on to at least be nominated in a subsequent season.
Of course, after receiving the third-most amount of votes for the 2016-17 season, Price is one of those seven. What's most alarming though is that no goalie has been among the top three vote-getters more than once since last claiming the trophy altogether.
Of those seven, the decline is most prominent in the likes of Martin Brodeur, Miikka Kiprusoff, and Henrik Lundqvist. This should be of particular interest to Habs fans, because, of those three, Kiprusoff was the youngest when he won his Vezina. He was months away from turning 30 to start the following season, just like Price is currently.
Carey Price vs. Some All-Time Greats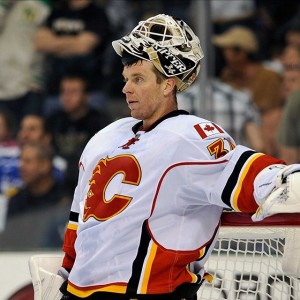 Kiprusoff earned a .923 save percentage when he won his in 2005-06 (that's what Price earned this past season). In 2006-07, when he still got nominated, his dropped to a more-pedestrian .917. The season after that? .906. It cratered in 2008-09 at .903.
Brodeur, who captured the fourth and fifth Vezinas of his career in consecutive years from 2006-08, boasted save percentages of .922 and .920 during those two campaigns. Then came two straight seasons of .916, with Brodeur getting his final nomination during the latter of those two in 2009-10.
Evgeni Nabokov seemed like a more logical choice for the second runner-up position that season with a .922 rating, but voters maybe gave it to Brodeur based on his reputation. Thirty-eight at that point, Brodeur's play then understandably fell off a cliff statistically.
Fans are seeing Lundqvist's decline in real time, but, up to this season anyway, it has been relatively graceful. Altogether, Lundqvist has four appearances on the list of winners and nominees, but because two of his three second or third-place finishes came prior to his victory in 2011-12, he does little to buck the overall trend.
During that season, he posted a .929 save percentage. He followed that up with a .926 rating, which earned him a second-place finish. From that point on he's been mostly above-average with two .920 seasons sandwiching one of .922. That was up to 2016-17, when he fell back down to Earth hard. His .910 save percentage led to more scrutiny than normal and the chinks in his armor were more visible than ever before as a result. Is this what the future holds for Price and the Canadiens?
A Few Saving Graces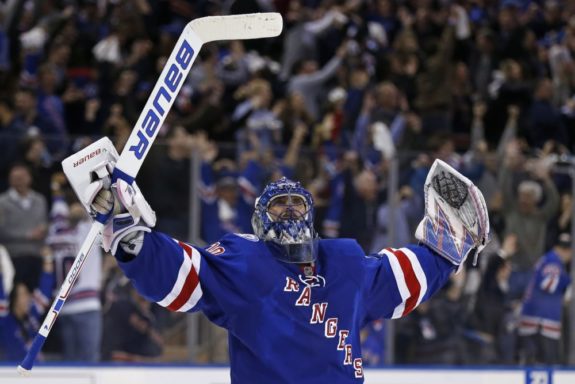 Yes, probably, because no goalie is immune to time, but, looking at those three, there are a few saving graces that could calm the nerves of Habs fans. For starters, Lundqvist may have been downright mediocre this past season (excluding during the playoffs of course, much to the Canadiens' chagrin), but, as alluded to earlier, he still maintained a high level of play for four straight seasons following his Vezina victory.
In Brodeur's case, while his drop-off was arguably more pronounced, one has to remember that he won his last Vezina when he was 36. Even if you take away that gimme season two years later when he probably didn't deserve as many votes as he got, that's still downright impressive. While Brodeur will maybe go down as the best goalie of all time (and had the benefit of a better defense), there's little reason Price can't come close to replicating that longevity.
Finally, in the case of Kiprusoff, his save percentage may have cratered as a starter at .903 in 2008-09, but he still won 45 games that season. The next year, he enjoyed somewhat of a renaissance with his first of two remaining .920 seasons (with one of .906 in between). While Price's play this season left something to be desired at times (in spite of the nomination), he can theoretically adapt to a game that's only going to get faster as he gets slower. There is hope, especially for a goalie many consider the best in the world. He may have peaked already, but the descent down can be slow in its own right.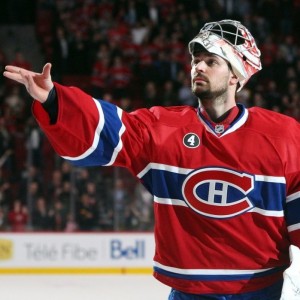 Since he was nominated for the Vezina this past season (thereby meeting the criteria of being up for the award once after having won it), he would essentially have to set a new precedent to get nominated again. History is against him and his chances of remaining among the game's upper-echelon goalies in other words.
There's no denying Price's new $84 million deal, which kicks in, in 2018-19, will cut into the salaries of other Canadiens players moving forward. As it does, it will also likely cut into their chances to win. That's just simple math. It's still somewhat comforting to know not all is lost as a result. Price will likely stay the team's highest-paid player for a big chunk if not all of his deal's term. It's not completely out of the question that he continues to play like it.