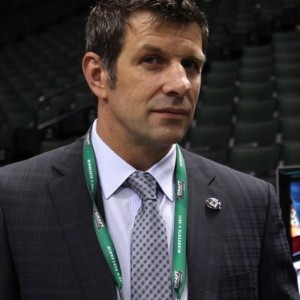 Montreal Canadiens general manager Marc Bergevin has to have something up his sleeves, right? What else could be his excuse, entering 2017-18 with an estimated $8.5 million in cap space?
Canadiens vs. Oilers
It's not that teams need to spend up to the $75 million cap, because, as the Arizona Coyotes spent the better part of the last few decades proving, you obviously don't.
It's not even that teams need to spend up to the cap in order to compete. The Edmonton Oilers have pretty much their entire team locked up and are at under $60 million, thanks to the beauty of the entry-level contract.
Granted, that may soon change with Leon Draisaitl yet to be re-signed, but, even after that inevitability comes to fruition, you have to think the Oilers will only be up to where the Habs are currently: with a healthy chunk of free cap space. Only in their case, they'll be entering the new season with much the same team that came within a few goals of the Western Conference Final.
In other words, they'll be one year older, wiser, closer to their collective peaks and ready to move further into the Stanley Cup Playoffs. No such luck for the Canadiens, who came within several games of moving past the New York Rangers into the second round.
Supposedly the Canadiens' Year?
Needless to say, it wasn't this specific group's shining moment. It was, more succinctly put, disappointing through and through. That's for several reasons. The least of which is rarely before was the path out of the Eastern conference so clear, with a banged-up Pittsburgh Penguins squad making it through past the underdog Ottawa Senators. The most of which? This Habs team is running out of chances.
A great deal had fallen into place. Alexander Radulov was on a relatively team-friendly deal (but destined to move on at season's end). Shea Weber was still only 31 and an effective No. 1 defenseman (but for how long?). And Alex Galchenyuk, Nathan Beaulieu and Carey Price were all still on cheap contracts that enabled Bergevin to build around a solid foundation.
One year later, the team's on shaky ground. Beaulieu's gone altogether for nothing of immediate value (if any at all). Galchenyuk may have re-signed at a reasonable clip, but, if fans are to place any level of trust in what this current administration says or does, he's not its savior down the middle.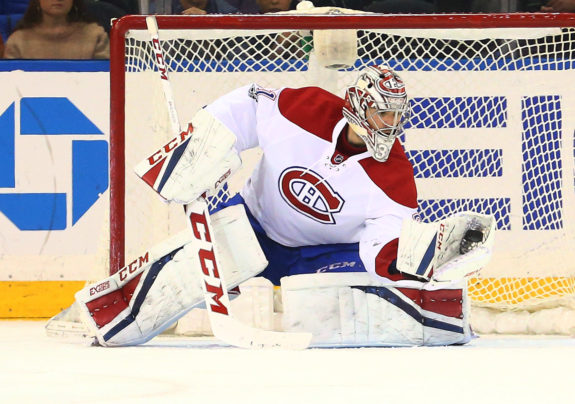 Price may be as close as they come in net, but, unlike with the Oilers and Connor McDavid, whose own massive extension kicks in next season, Price will be on the wrong side of 30. McDavid will be 21 and, based on recent history, worth just about every cent of his $100 million deal up until the point it runs out in 2025-2026.
Best Chance at a Canadiens Championship
Obviously, Bergevin had little choice in signing Price to his eight-year, $84 million extension. He essentially had to pay Price whatever he wanted, because he's the Canadiens' best chance at a championship. The big caveat is relying primarily on a goalie is a risky proposition. Price can't score (and neither can the Canadiens, based on the first-round defeat). And it's been proven goalies can't stand on their heads over the course of four straight series. Price has maybe done it over two or three series in his career overall.
Had Bergevin been thinking about the team's long-term future, he probably would have considered dealing Price when his value was still really high, coming off a season when he was up for the Vezina Trophy. Instead, he continued down this precarious path he first set this team on when he traded P.K. Subban for a defenseman who's four years older in Weber.
Now the urgency is all too real, because Price's cap-space-sucking extension kicks in after this coming season. So, realistically speaking, 2017-18 is the team's final kick at the can for a long while, and, yet, Bergevin has failed to translate that urgency into tangible signings.
Holes in the Habs Line-Up
The aforementioned hole on the No. 1 line is complemented by an arguably larger one on the first pairing beside Weber. Without any legitimate options to fill it available via free agency, Bergevin could have done the sensible thing and pursued a stop-gap option. Then he went and let arguably the best one of those walk away, reportedly telling Andrei Markov he could only realistically consider signing him right before the season starts in October.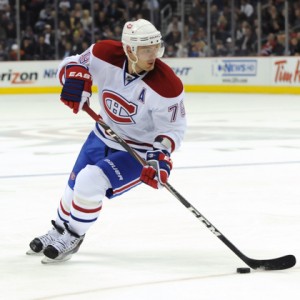 Markov's reported demands (two years at $6 million per) would have eaten up a decent chunk of the cap space. So, it stands to reason the only way Bergevin gives him that oh, so, sweet Plan B of a deal is if the general manager has something else (big) in mind. If Bergevin comes through, great, but he risks it all blowing up in his face and him taking the team with him.
And, based on recent history, namely the deadline deals he made this past season with this team's window starting to close, how realistic is it that he does come through? I mean, obviously Andreas Martinsen is a keeper, but they can't all be 27-year-old enforcers with just over 200 NHL games to their names, right? Nope, there's just the one. Thankfully Bergevin signed him while he still could instead of letting him hit free agency.
Room for Improvement
Now, no one is suggesting Bergevin throw money at the problem and hope it goes away… except him anyway. The Price extension and the lack of a bridge deal to Jonathan Drouin are all signs of Bergevin being content to spend right now. The Karl Alzner contract is meanwhile a sign of fiscal irresponsibility to the nth degree.
What is being proposed instead is that the Canadiens are not good enough right now. While a team should be able to win through shrewd management from the top down, the Pittsburgh Penguins, Chicago Blackhawks, Los Angeles Kings, Boston Bruins and Detroit Red Wings make up the last 10 Stanley Cup winners. None of them really scream small-market team. So, shrewd management is unlikely in this scenario.
How about just decent management, then? Because Bergevin entering what amounts to a make-or-break season with so much cap space and many glaring holes on his roster left all at once speaks to just the opposite.
If he can't work any kind of magic by the same October deadline he gave Markov, he deserves to get the hook before the show even begins, because no one's laughing at the joker he seems to be reaching for as we speak. No one in the audience picked it and he seems to have run out of cards.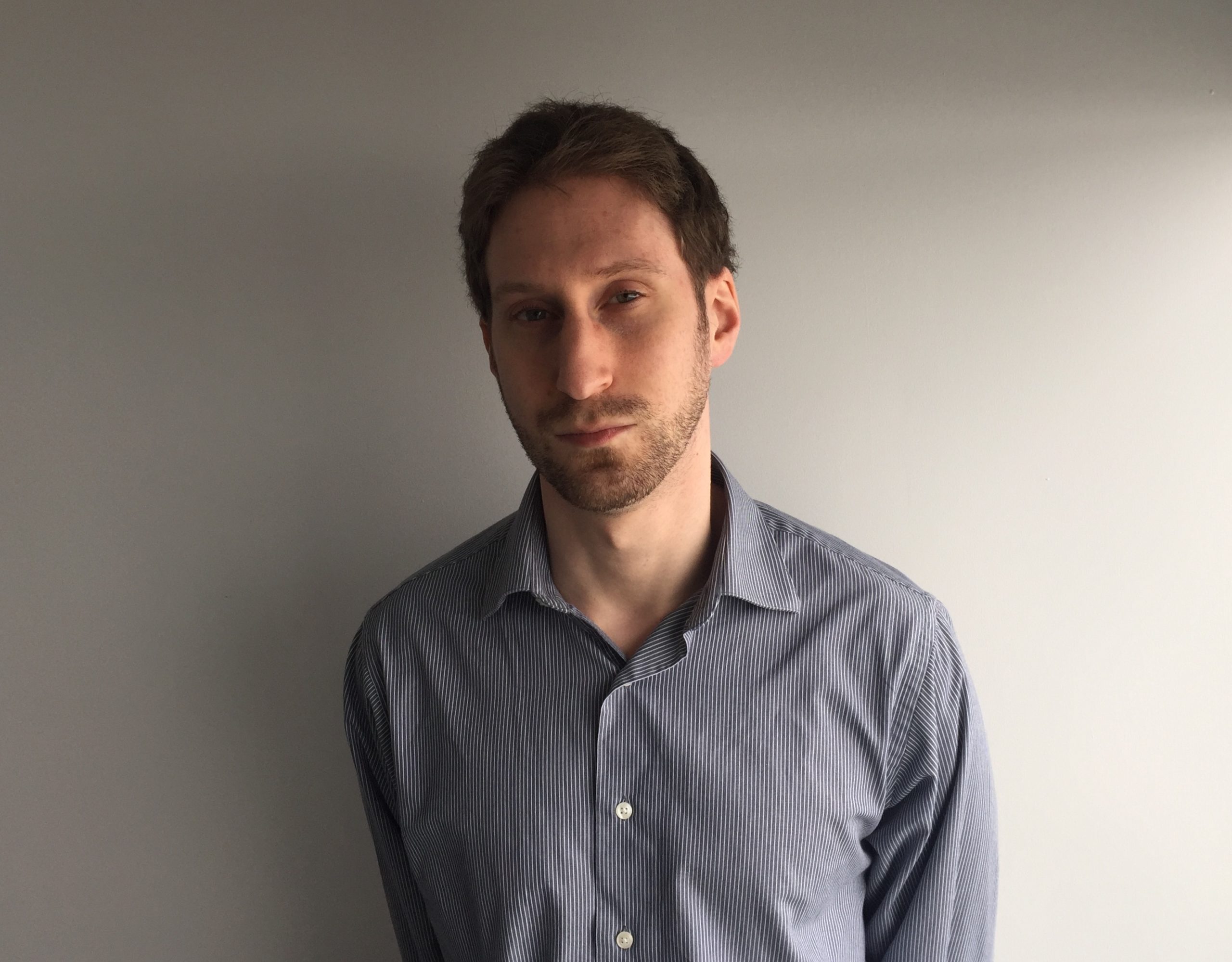 After 10 years of writing hockey, Ryan decided it was as good a time as any to actually join The Hockey Writers for the 2014-15 season. Having appeared as a guest on such programs as CBC Radio One's Daybreak, Ryan has also written for the Montreal Gazette and Bleacher Report and worked for the NHL itself and his hometown Montreal Canadiens. He currently writes about all things Habs for THW, with it being a career highlight for him to have covered the 2021 Stanley Cup Final as a credentialed member of the press.