The March 1 NHL trade deadline came and went and the Montreal Canadiens failed to address their scoring issues. During the month of February, the Canadiens failed to win a game in regulation, something that hadn't been done since 1940. Also during the month of February, only four Hab forwards, Max Pacioretty, Alexander Radulov, Alex Galchenyuk and Andrew Shaw, scored a goal.
Based on those statistics it was puzzling that Marc Bergevin chose to turn his attention elsewhere on deadline day, but should we be surprised? The Canadiens general manager stood in front of the media on February 16 and said he wouldn't trade long-term assets for a short-term fix. He insisted that his team was good enough to win and in the end, Bergevin kept his word.
With 17 games left on the schedule, the Canadiens must find a way to score before the playoffs begin. If they don't, it's going to be awfully difficult to expect four players to carry the offensive output for a deep run at the Stanley Cup.
Deadline Day Review
Instead of focusing on the top-six group, the Canadiens decided to silence the narrative that they're a soft, small and an easy team to play against. Bergevin traded for defensemen Jordie Benn and Brandon Davidson and forwards, Steve Ott, Dwight King and Andreas Martinsen.
Love it. @JBernierJDM just said to me the Habs have added 9 goals and are net 467 pounds heavier than they were last week.

— Eric Engels (@EricEngels) March 1, 2017
None of these players is going to make a significant impact alone, they're all role players that will help the Habs grind out games. Speaking of grinding out games, that's a phrase the Canadiens general manager has used quite often. He's firm in his belief that once the playoffs come around, winning games 2-1 will be the norm.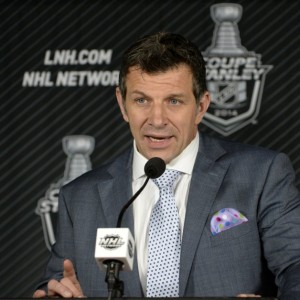 The only problem with that is with four forwards scoring goals, it's a stretch to even say they'll be able to light the lamp twice in a 60-minute game. If the Canadiens miraculously make it to the third round of the playoffs and have to go against the Washington Capitals, how are they going to limit Alex Ovechkin and company to roughly one goal a game? It's a tall task but it's the route he's chosen to go.
That mindset has many Habs fans up in arms. With a player like Radim Vrbata staying put in Arizona, it begs the question as to how Bergevin couldn't get him or another scoring forward in a Canadiens uniform. Coyotes general manager John Chayka was asking for a second-round pick and the Canadiens have five of them between the 2017-2018 NHL-Entry Drafts. Bergevin had the ammo for a deal and chose not to pull the trigger.
No, Vrbata wouldn't have solved all the Canadiens problems but he would have been a step in the right direction. So what's the reason for the constant refusal to help the Habs scoring? Bergevin has a theory and fans resent him for it.
Method to His Madness
It really is remarkable how little the top-six has changed since Bergevin took over the Canadiens. The only major change has been the recent acquisition of Radulov. In five seasons he's only managed to bring in one high-end forward, which is laughable. He depends on third and fourth line players to handle the secondary scoring duties.
The past two seasons, the Canadiens got off to record-breaking starts. During those impressive runs, all four lines were scoring and scoring regularly. Despite Paul Byron, Torrey Mitchell and Brian Flynn's early season hot streaks, no general manager can realistically expect that to continue. No bottom-six group in the NHL does that and the Habs shouldn't expect it from theirs, however, that's exactly what they're doing.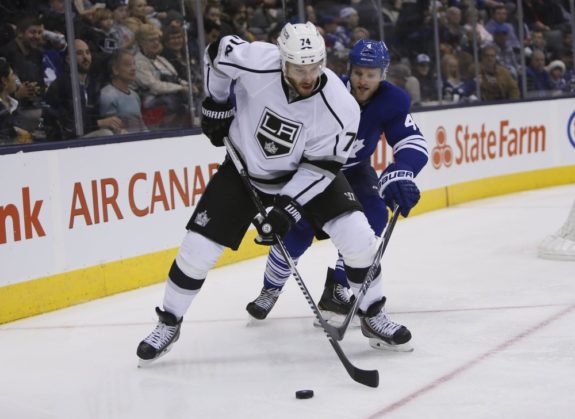 It would be great if the Canadiens could have consistent scoring from all four lines, but that's not how they're built. Instead of acquiring skill the Habs traded for size, grit and "sandpaper" to fill their last two lines. There's nothing wrong with that if you have solid scoring up front, which the Canadiens don't have and it seems to be something Bergevin just doesn't understand.
The window of opportunity that he admits he doesn't believe in will begin to close if it hasn't already. Price is due for a massive raise at the end of next season and Shea Weber isn't going to be a top-tier defender forever. The Habs are running out of time to surround Pacioretty, Radulov and Galchenyuk with more scoring help.
Gambling Man
With how much Bergevin has invested in the team by trading popular player P.K. Subban, it was shocking how little he did on deadline day. It's also very well possible that he doesn't think the Canadiens can compete with Washington and Pittsburgh this season and trading draft picks and prospects would do more harm than good.
Asked about the window to win, Marc Bergevin barked back: "I don't believe in that."

— Eric Engels (@EricEngels) March 1, 2017
Unfortunately, Bergevin signaled that he would try his best to get the Habs to an elite level sooner than later with the acquisition of Weber and it just hasn't happened. It's going to be difficult to appease the fans and media much longer and it's becoming clearer that he has to make a strong run this season and put the Canadiens in a position to be dominant next year.
I'm not being dramatic, nor am I being unreasonable, but Marc Bergevin needs to pony up and get on board with the win-now mentality he's instilled in his franchise. If he doesn't, this could have been his last trade deadline in Brossard, Quebec.