During NHL development camps attention is generally focused on the early draftees and for good reason, but there are several unheralded players who are intriguing as well. In most cases, the top picks represent the future of their franchise and their NHL debuts – likely a few years away – are eagerly anticipated. For the Toronto Maple Leafs, prospects Rasmus Sandin, Sean Durzi and Semyon Der Arguchintsev, their top three picks in the 2018 Draft, will draw a lot of attention.
However, each camp has several free agent invitees who have flown under the radar but could earn a contract and play in the minor leagues at least. Recent examples include Trevor Moore and Mason Marchment, both of whom attended development camp a couple of years ago, signed with the Toronto Marlies and played important roles in helping them win the Calder Cup a few weeks ago.
Here are five free agent camp invitees who could find themselves in similar shoes one day.
David Levin
Three years ago, Levin was the first-overall pick in the OHL Draft and was the subject of many stories because of his unique upbringing. Growing up in Israel, he played inline hockey because the closest ice rink was a four-hour drive away. He eventually went live with relatives in the GTA as a 12-year-old in order to pursue his hockey dreams.
While he has shown flashes of his skillset with the Sudbury Wolves, he has struggled with injuries this year and went undrafted, becoming just the second first-overall OHL pick to be passed over in the NHL Draft.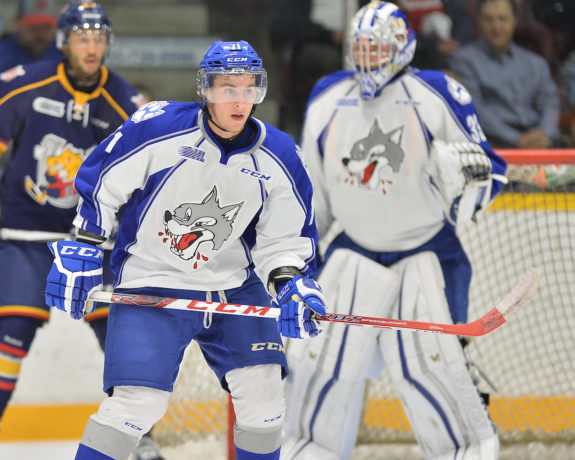 Still, the Leafs are giving him the benefit of the doubt and want to get a good look at him this week.
One thing that's of concern is his status with the Israeli military. All Israelis are required to serve three years in the military once they turn 18. Levin turned 18 on Sept. 16 but was given an exemption for his NHL Draft year. He says his agent and family are working on getting another exemption.
Rodrigo Abols
The Latvian forward has been on the NHL's radar before. In 2016, he was drafted by the Vancouver Canucks in the seventh round as a 20-year-old. He never signed with the team and is now considered a free agent. Standing at 6-foot-4 and slightly over 200 pounds, Abols has the size to play professionally but needs to work on his physicality. He's set to return to Örebro in Sweden's top league to continue honing his craft.
He's looked impressive so far in his short stint alongside young Leafs hopefuls. In their opening scrimmage, he scored two goals, an empty-netter and this gem:
From Latvia with some sweet moves comes Rodrigo Ābols. #LeafsDevCamp pic.twitter.com/Ya3PjJLkan

— Toronto Maple Leafs (@MapleLeafs) June 28, 2018
Side note: Matt Bradley, another Leafs camp invite, was drafted by the Montreal Canadiens in 2015 but never signed. He's now at camp, shortly after signing with the Toronto Marlies.
Chris Van Os-Shaw
The incoming Minnesota State University freshman initially drew some attention based on the road he took through the junior A loops across the Prairies. He was a Humboldt Bronco for parts of two seasons until he moved on to the Spruce Grove Saints in Alberta. Even though he wasn't part of the Broncos this year, he is still thinking of them after his former teammates were involved in the horrific bus crash in April.
Van Os-Shaw earned his camp invite after tearing up the Alberta Junior Hockey League with a league-best 97 points in 59 games, earning him Canadian Junior Hockey League player of the year honours. Since joining the Broncos midway through the 2015-16 season, he's been averaging more than a point-per-game.
Ryan Moore
He's one of the smallest players you'll find at camp, but the 21-year-old may be one of the fastest too. Attending camp a month after competing with the Hamilton Bulldogs for the Memorial Cup, Moore is still looking for a place to play next season. Perhaps he could earn his way into the Leafs' farm system, starting off with the Marlies or the ECHL's Newfoundland Growlers.
He has some familiarity with Toronto's farm system, having spent six playoff games with the ECHL's Orlando Solar Bears in 2017.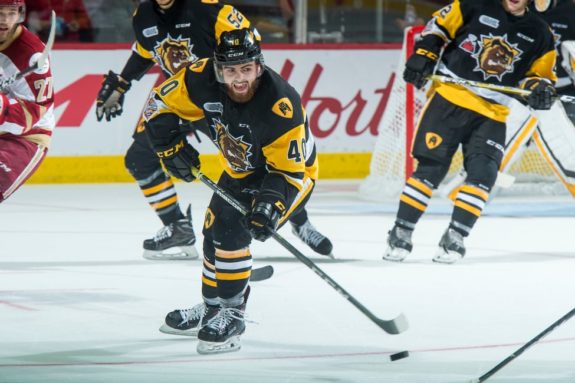 Last season, Moore was one of the key pieces the Bulldogs added in pursuit of the OHL championship. He fell just shy of the point-per-game mark during the regular season and was the team's second-leading scorer through the playoffs.
Adam Holwell
Like Moore, Holwell completed his final junior season and played in the Memorial Cup. He was a key part of the Memorial Cup-champion Acadie-Bathurst Titan as the team's second-leading scorer among defencemen. For most of the season, he was paired with Noah Dobson, the 12th overall pick by the New York Islanders in this year's draft.
Holwell was an assistant captain with the Titan and registered a 50-point season to help them win the QMJHL championship, followed by the Memorial Cup. Although he's a Newfoundland native and would be an intriguing player to watch in a Newfoundland Growlers jersey, Holwell has indicated he's aiming higher than the ECHL.