With NHL free agency less than 48 hours away and players actively engaged in talks that could find them playing for new teams this coming 2018-19 NHL season, we felt it was time to take a look at the top 40 names on the free agent market and try to predict what might happen on July 1, or shortly thereafter.
Your definition of Top 40 may vary from ours, but for the most part, these names are generally considered the most watched in this summer's free agent class.
For the Top 10, we'll try to predict what the team and the money might look like. For the final 30, we'll stick with just the players and their new locations.
1. John Tavares – San Jose Sharks – 7 years, $80.5MM
It's been the John Tavares show for a week or so in the NHL. All eyes are on the, what could be, former New York Islanders' star who has narrowed down his choice to six teams.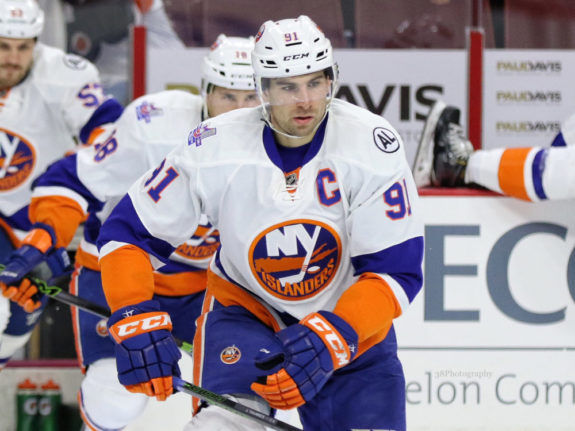 Tavares is guaranteed to get overpaid by someone and it's just a matter of guessing which team he's decided makes the most sense.  Toronto can offer a one-year max deal and Tavares could take out some insurance to secure his future earnings in the event of an injury but it's more likely he either stays with the Islanders or joins a team like San Jose who has a ton of cap room. San Jose also employs Logan Couture who is great friends with Tavares and the Sharks will announce Couture has extended for eight years right around the same time they announce Tavares is coming.
2. Paul Stastny – Dallas Stars – 5 years, $30.0MM
Paul Stastny will be the next big item that gets checked off the free agency board. It might happen minutes after Tavares makes his decision. The Stars were one of the six teams in the mix for Tavares but outside of the fact Tavares seems to like Dallas as an organization and city, they were considered a long-shot to land him.
The Stars are a team that will likely make noise but also has some contracts they want to get rid of. Rumblings are,  Tyler Seguin might be available in trade over the course of this season.
Stastny would be a good backup plan if Seguin is leaving. If not Dallas, the Jets are trying to find a way to keep Stastny in Winnipeg but with the money being paid out to certain stars over the next couple years, there might not be room for him. They would have to move Bryan Little to keep him.
Related: NHL Rumors: Rangers, Oilers, Tavares, More
3. James van Riemsdyk – New Jersey Devils – 7 years, $42.0MM
James van Riemsdyk will be an interesting name to watch because he's arguably the best goal scorer among the free agent class but has sort of been pushed to the background as free agency approaches. In landing van Riemsdyk, some team is going to spend a lot of money on a long-term deal that will hopefully add 25-35 goals to their lineup each season.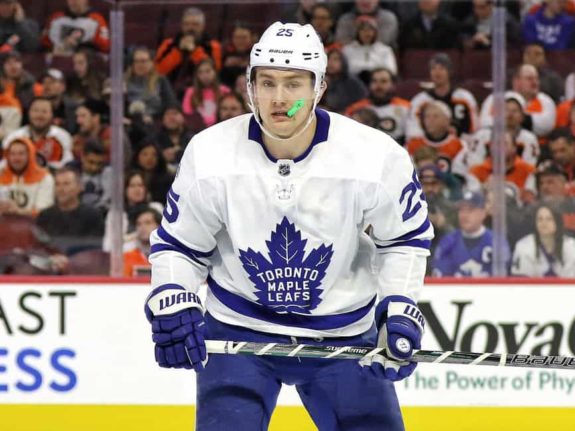 Word is the Boston Bruins and New Jersey Devils have expressed interest and he may land with a team right after Tavares is announced. A cap casualty in Toronto, van Riemsdyk might turn out to be one of the most impactful signings of the summer.
4. Mike Green – Detroit Red Wings – 2 years, $10.0MM
The crop of free agent defensemen isn't great this summer and Mike Green is this high up on the list because he's one of the few big name offensive-defensemen available with John Carlson now off the list. Ultimately, it is believed Green will stay with Detroit on a two-year deal.
There are other teams likely willing to give Green a three-year term but he'll probably stay in a location he's familiar with and a team he knows well. If he leaves Detroit, it will be because he's looking for one extra year on a deal and the Red Wings have said they won't budge on that third year.
5. James Neal – Calgary Flames – 6 years, $33.0MM
It was rumored James Neal wanted to stay in Vegas but the two sides couldn't come to an agreement on money and term. It has been speculated he turned down a five-year, $25-million offer from the Vegas Golden Knights at the trade deadline.
The aging but steady winger is waiting for a team to pay him what could be his last big-money deal in the NHL and he'll likely go to the highest bidder. The Calgary Flames may not have been discussed much and perhaps we're throwing darts at a dartboard here but they could be a team that overpays for some proven offense. There's always one deal and one team that surprises everyone. Maybe this is that one deal.
6. Rick Nash – Columbus Blue Jackets – 2 years, $9.0MM
With the news that Rick Nash is considering retiring, he probably should be moved down this list but there's a chance he decides to continue playing and there have been rumblings Columbus is looking to bring him back.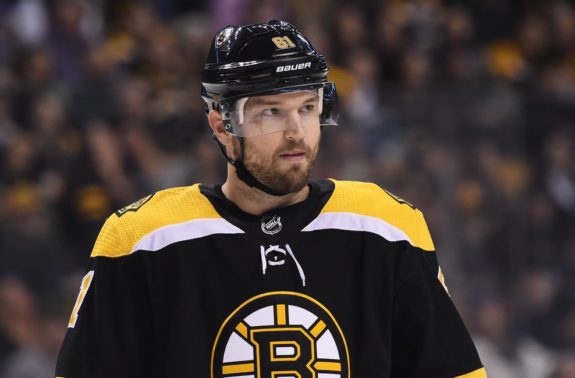 Nash isn't quite the player he once was but he's still got some goal-scoring left in him and he might want to finish his career where he started it, especially considering how improved the Blue Jackets are. The two-year term is probably not a sticking point.
7. Tyler Bozak – Philadelphia Flyers – 4 years, $20.0MM
Another player who is leaving Toronto due to salary cap issues (we're still amazed the Leafs are in on Tavares considering their salary situation). Bozak could be a great get for a team looking to pick up a player who is starting fresh. Bozak has played for the Leafs the past nine years and quietly had 43 points in 2017-18. He's also great on faceoffs and can help on the power play. There was interest by Vancouver but it sounds like he might be out of the price range as his numbers continue to go up.
Related: NHL Rumors: Nash, Bernier, Lucic, More
8. David Perron – Montreal Canadiens – 6 years, $34.5MM
There may not be a player in this free agent class who gets overpaid more than David Perron is about to. Coming off a fantastic season in Vegas, Perron is about to hit the jackpot on a deal with a team looking for the type of goal scoring he may never again offer.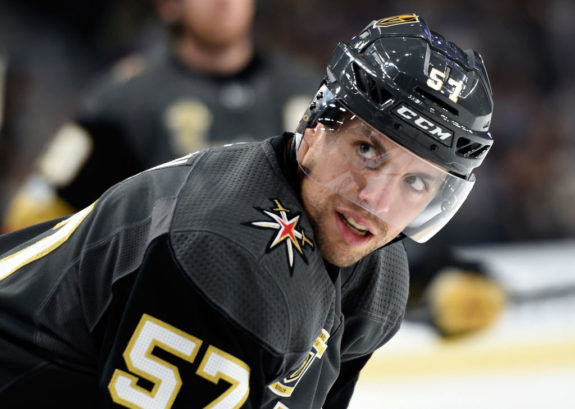 He's always been a strong player, but this summer, he's about to get a deal reflective of a top-line guy. Most teams, if they are being realistic, should know he'll not produce the same way he did, but that won't matter. The Montreal Canadiens seem to be a team people think will make the strangest choices. This would fit in line with what people might expect.
9. Joe Thornton – San Jose Sharks – 1 year, $6.0MM
Expect Joe Thornton to be back with the San Jose Sharks regardless of what Tavares decides. And, don't expect it to be a long-term deal that keeps him there. The odds Thornton signs more than a one-year contract is slim and it should be a mix of salary plus performance bonuses.
Thornton is winding down his career but he's still useful.
10. Carter Hutton – Buffalo Sabres – 3 years, $8.25MM
A number of teams were talking to Carter Hutton but the Buffalo Sabres were the most aggressive and rumors were they were willing to go three years on a deal to get him to sign. Pierre LeBrun tweeted last week, "No surprise given his season (.931 SP in 32 GP) but UFA goalie Carter Hutton's camp has heard from 8 teams today as the UFA speaking period opens." Buffalo likely caught wind of that and offered up something Hutton was unlikely to refuse.
No surprise given his season (.931 SP in 32 GP) but UFA goalie Carter Hutton's camp has heard from 8 teams today as the UFA speaking period opens. Obviously need to cut that list down and expand discussions over the next few days.

— Pierre LeBrun (@PierreVLeBrun) June 24, 2018
11. Calvin de Haan – Colorado Avalanche
Even though de Haan has injury concerns, in a weak class of blue line free agents he's still garnering a ton of interest. He's a great shot blocker, a reliable checker and can play consistent minutes when healthy. He's a top-four defenseman in this year's class and as such, he'll get a good deal from someone. The Avs need help on their blue line so he makes sense there. But don't be shocked if there are rumors of a number of teams being in on him.
12. Patrick Maroon – St. Louis Blues
There is a ton of interest in Patrick Maroon this summer but it looks like two teams have the edge. One is his former team, the Edmonton Oilers. The other, his hometown St. Louis Blues. The issue for Edmonton is trying to find the money to squeeze him in.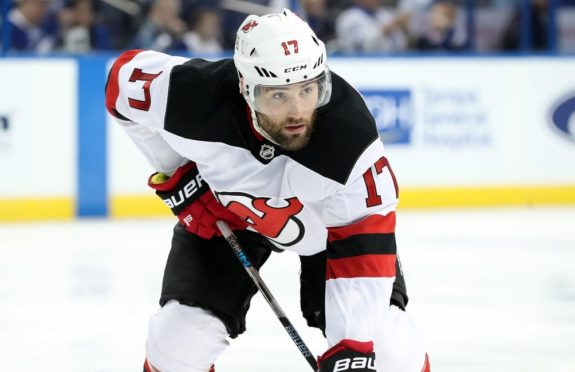 Edmonton neglected to pay him what he wanted when they traded him to New Jersey at last year's trade deadline and with the way free agency works, it seems unlikely they would pay him over $3.5 million for more than three years. It will be that fourth year that gives St. Louis the edge.
Related: NHL Rumors: Maroon, Rieder, Grabner and Much More
13. Jack Johnson – Pittsburgh Penguins
There is a lot of speculated interest on the part of the Pittsburgh Penguins in free agent defenseman Jack Johnson. That he's close friends with Sidney Crosby is only adding fuel to the fire.
The Penguins cleared cap space when they traded Connor Sheary and Matt Hunwick a couple days ago and many believe it was so they could find room for Johnson. That rumor has been met with mixed reactions by fans.
Report: Penguins to sign Jack Johnson to a 5-year deal. https://t.co/u4yWgLOR1g pic.twitter.com/CJPHGbeHb0

— theScore (@theScore) June 27, 2018
14. Michael Grabner – Boston Bruins
The Boston Bruins are rumored to be making moves while they wait for John Tavares to decide his future and one of the players they've kicked tires on is Michael Grabner. There was also speculation Grabner might return to the Rangers where he saw the most success but Boston is going to be a good team and they could use someone like Grabner for depth.
Grabner has been getting a lot of attention and the Arizona Coyotes are also rumored to be sniffing around.
15. Thomas Vanek – Detroit Red Wings
Thomas Vanek might yet find another team to play with this season but it could be a familiar face that lands him. The Detroit Red Wings need scoring help and they know Vanek well. They were disappointed when he chose not to return last summer and instead went to Vancouver.
16. Jonathan Bernier – Detroit Red Wings
From the sounds of multiple reports, Jonathan Bernier is pretty much a lock to land in Detroit. They're actively seeking goaltending help and have talked to Robin Lehner as well. Bernier had a pretty good season last year and should provide a solid option for Detroit.
17. Leo Komarov – New York Rangers
Komarov won't be returning to the Maple Leafs this season after putting up just 19 points but that doesn't mean another team believes he's washed up. He'll get a chance somewhere to continue his NHL career.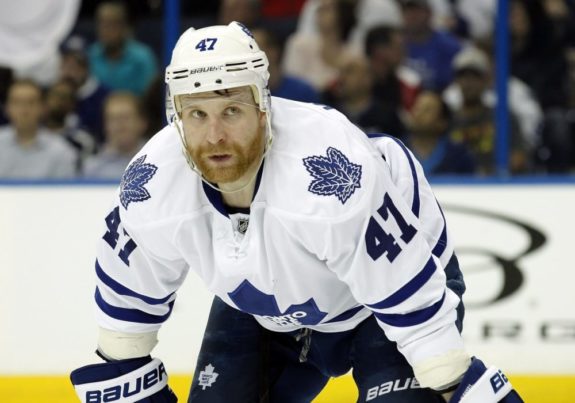 Komarov can be a good option in a team's bottom six. His poor season may cost him some money so he may look at having to take a one-year deal to get those numbers back up before looking for a deal that pays a bit better. The Rangers are said to be interested and they're not shy about taking on someone who has been around the league a while. If he can't he'll try and get a couple years if the money is the same.
18. Chris Kunitz – Pittsburgh Penguins
After a forgettable season in Tampa, Chris Kunitz may look to reunite with old teammates and try to get his numbers back up on a one-year deal with the Pittsburgh Penguins. GM Steve Yzerman said the Lightning wouldn't be bringing back the 38-year-old and Pittsburgh doesn't have much room financially to add so the deal won't be large.
19. Riley Nash – Toronto Maple Leafs
There may be fewer names on the market who got over 40 points in a season last year and people don't really know about it. Nash, 29, scored 41 points in 2017-18 with 15 goals for the Bruins. If Tavares doesn't land in Toronto and the Leafs lose Bozak (which they will), they'll need a third-line center. If Nash can be had for under $3 million per season, that helps the Leafs who will have to fit a ton of contracts in over the coming years.
20. Valtteri Filppula – Detroit Red Wings
The Detroit Red Wings are rumored to be looking at former players and Valtteri Filppula is one of them. Detroit could use someone to fill in caps should Zetterberg have injury issues and he's a veteran who might be able to help a rebuilding franchise.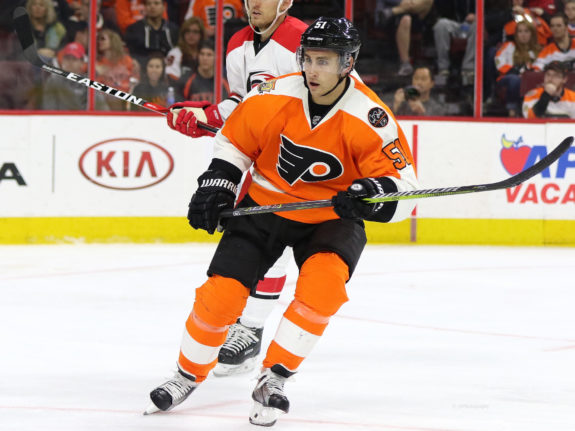 Related: NHL Rumors: Karlsson, Tavares, O'Reilly, More
Predicting the Final 20:
21. Ian Cole – Chicago Blackhawks
22. Thomas Hickey – New York Rangers
23. John Moore – Montreal Canadiens
24. Derek Ryan – Calgary Flames
25. Tobias Rieder – Edmonton Oilers
26. Brooks Orpik – Washington Capitals
27. Robin Lehner – New York Islanders
28. Ryan Reaves – Vancouver Canucks
29. Blake Comeau – Edmonton Oilers
30. Toby Enstrom – San Jose Sharks
31. Jason Chimera – Edmonton Oilers
32. Matt Calvert – Carolina Hurricanes
33. Jaroslav Halak – Carolina Hurricanes
34. Kyle Brodziak – Minnesota Wild
35. Jay Beagle – Washington Capitals
36. Tomas Plekanec – Montreal Canadiens
37. Kari Lehtonen – Boston Bruins
38. Luca Sbisa – Ottawa Senators
39. Nick Holden – New York Islanders
40. Antoine Roussel – Montreal Canadiens