The Los Angeles Kings have agreed to terms on an eight-year, $88 million contract extension with veteran defender Drew Doughty, the team announced Friday. The deal will come with an $11 million annual cap hit and will kick in during the 2019-20 season, keeping Doughty under contract through the 2027-28 season. This deal will make Doughty the highest-paid defender in the NHL.
Drew Doughty will ink new deal to remain with the LA Kings through the 2027 season!https://t.co/ExFOstg4DX

— LA Kings (@LAKings) June 29, 2018
The Kings wasted no time in getting their franchise defender under contract for the long-haul as Doughty will be eligible to sign a contract extension on July 1. Coming off of a significant contract that he signed in 2011 worth $56 million, Doughty still has one year left on his current deal that will come with a $7 million cap hit. The contract can't officially be signed until July 1 but the Kings were working diligently this offseason to ensure Doughty wasn't going anywhere.
The Kings had to sign Doughty to this extension. When a player with his skillset and ability comes around, it's almost impossible to let them go, even at the cost the Kings ultimately elected to extend him for.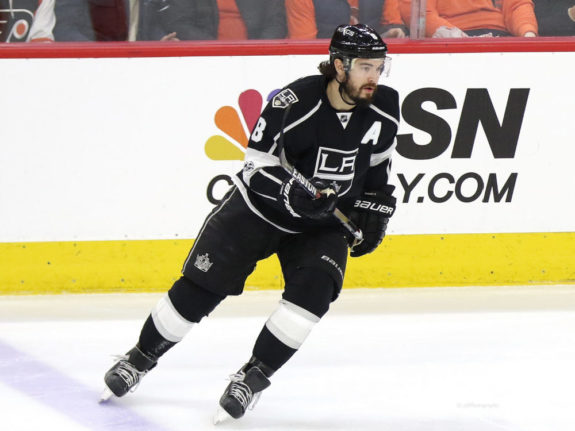 Still, there have to be some concerns about the deal given the fact that Doughty is already 28 years old and will turn less than halfway through the 2018-19 season. Despite this, the Kings are thrilled to have extended him and shouldn't have to worry about regression any time soon. When it does hit, it could be a major concern given Doughty's rough-and-tough play style. For now, though, the Kings are looking to restore their winning ways.
"Drew Doughty is one of the best defensemen in the world and we are obviously excited to have reached this point in the process in which he has committed to the Kings long-term," said Kings general manager Rob Blake. "This is great news for our organization and our fans and we will comment further once the contract has been signed and formally announced."
Doughty is a Superstar Defender
Across the board, Doughty is everything a team wants in a defenseman. His general demeanor on the ice and ability to impact the game in all three zones makes him a threat any time he steps onto the ice and any time the puck touches his stick. With 102 goals and 422 points in 770 games in his career, including seven seasons with double-digit scoring totals, Doughty is the type of player every team wishes they could have.
Though he's only a one-time Norris Trophy winner, there was a mutual feeling across the entire hockey community that Doughty was deserving of the honors prior to his first win in 2015-16. Doughty has been a finalist for the award three other times in his career, finishing in third place in 2009-10 – his sophomore season, second-place in 2014-15 and again in second-place in 2017-18.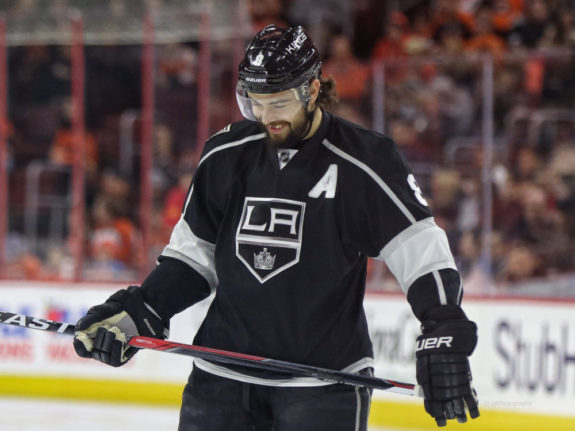 On and off the ice, Doughty has been a mainstay in Los Angeles since the Kings selected him in 2008 with the second overall selection. With this new deal, there's a very real chance that he could start and end his career as a King and that's something that's very rare in today's sports world.