In today's rumor rundown, teams are simply waiting to see how the dominos fall with both John Tavares and the five teams he's meeting with in Los Angeles, as well as what comes of the Erik Karlsson trade talks. Once those pieces fall, it could make for an interesting trade flood with names like Ryan O'Reilly and others.
The Flood Gates Will Open
Despite the silence at the NHL Entry Draft, Chris Johnston of Sportsnet thinks the trade floodgates will open. He noted a conversation he had with Leafs GM Kyle Dubas who said, "It was interesting. It seemed like afternoon there was going to be a lot of stuff happening all at once." Clearly, that didn't happen as only one major trade was made between the Carolina Hurricanes and Calgary Flames. Dubas added:
"It's just waiting for everything to unleash in the next couple days. Depending on who's available and who's not on July 1, I think you're going to see trades come very fast and be more of a frenzy. But we'll see. I think everyone's just kind of sitting and waiting and being patient."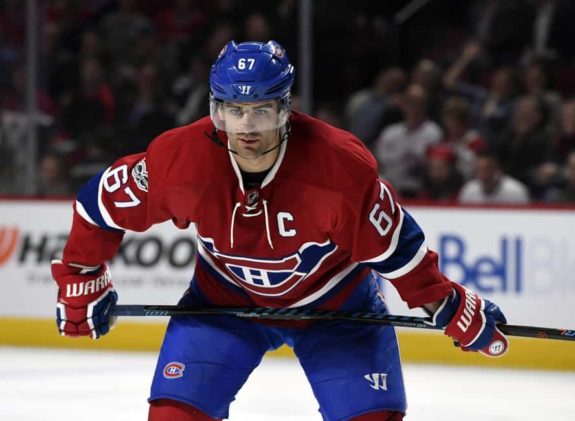 The teams that are most heavily rumored to be looking to make moves are still looking but the Erik Karlsson and John Tavares dominoes may need to fall first. Once they do, names like Ryan O'Reilly, Jeff Skinner, Justin Faulk, Max Pacioretty and others could follow.
Related: NHL Rumors: Kunitz, Stastny, Thornton, More
Karlsson Trade Update
Bruce Garrioch of the Ottawa Sun says the Senators are looking at options for Erik Karlsson but selling low is not one of them. Something was speculated as close between the Golden Knights and the Senators but the two sides are stuck on a few of the details which both sides are not willing to budge on. Those include Karlsson being signed past 2019 free agency and the Sens getting a first-round draft choice for 2019 back in return. Bobby Ryan's contract being included is not a deal breaker in this scenario.
Despite the constant chatter, Garrioch is suggesting there is no real rush to get this deal done right away. Karlsson is comfortable coming to camp and skating, even playing out the season and for the Sens, it's finding the right assets to come back in any trade.
The John Tavares Meetings
Newsday's Andrew Gross reports that free agent center John Tavares met with representatives from the Toronto Maple Leafs yesterday afternoon at his agent's office in Los Angeles and the San Jose Sharks have their meeting scheduled for Tuesday with the Dallas Stars, Tampa Bay Lightning and Boston Bruins all set to have made their pitches by Wednesday. Other teams, like the Golden Knights, will do so over the phone and teams could be added to the mix later. Meanwhile, the Islanders will continue to talk with Tavares' camp.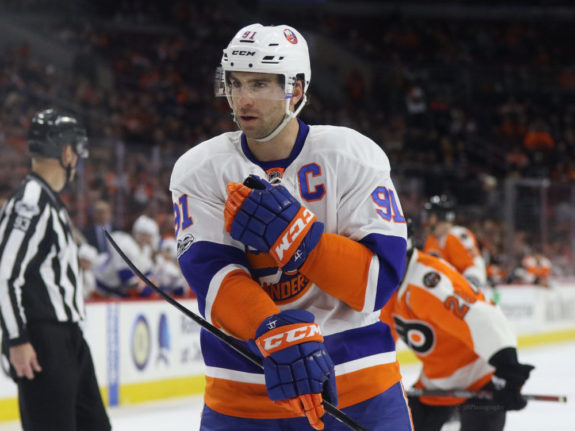 Elliotte Friedman of Sportsnet reports the Nashville Predators and Vegas Golden Knights are among the clubs in a "holding pattern".
One of the things being speculated here is whether or not Tavares is willing to accept a "huge" one-year salary deal that would allow teams like Toronto to max what they can pay him this coming season, try to win and then Tavares can see what's available next summer on a long-term deal when he can sign with that new team on an eight-year contract. It would be a gamble on the part of Tavares if he had a down season or an injury, but if he performs well, could get 8 years and huge money if the salary cap continues to increase.
Related: NHL Rumors: Carlson, Tavares, Hartnell, More
Potential Ryan O'Reilly Landing Spots?
When whatever happens with Tavares happens, Elliotte Friedman suggests the St. Louis Blues are believed to have interest in Buffalo Sabres' center Ryan O'Reilly. Part of that package might include forward Vladimir Sobotka. If not the Blues, perhaps the Sharks might be interested. That is if they fall out of the running for Tavares. He also thinks the San Jose Sharks could come calling on O'Reilly if they lose out in the bidding for John Tavares.
Non-Qualified Players to Watch
With the Chicago Blackhawks not offering a qualifying offer for winger Anthony Duclair there are a number of teams who might have interest. Montreal, Edmonton are among a couple of them. There are also players like Tobias Rieder out of Los Angeles, Nick Shore out of Calgary, Robin Lehner out of Buffalo and Petr Mrazak out of Philadelphia that might have multiple teams reaching out.
Some of the more interesting new UFAs, relatively speaking, after not receiving qualifying offers:
Tobias Rieder, LW, LA
Anthony Duclair, RW, CHI
Nick Shore, C, CGY
Dylan DeMelo, D, SJ
Derrick Pouliot, D, VAN
Robin Lehner, G, BUF
Petr Mrazak, G, PHI
Daniel Carr, LW, MTL

— Scott Cullen (@ByScottCullen) June 26, 2018