Over the weekend the Los Angeles Kings agreed to terms on a three-year deal with Ilya Kovalchuk. Signing Kovalchuk helps fill a glaring weakness the Kings had last season but, how does it affect the organization over the next three seasons, most notably their ability to re-sign Drew Doughty?
What the Kings Are Getting With Kovalchuk
What the Kings hope they're getting is a dynamic goal-scorer to play alongside Hart Trophy finalist Anze Kopitar and a resurgent Dustin Brown. Having topped 30 goals in a season nine times in 11 NHL seasons, including four seasons with over 40 and two of 50-plus, Kovalchuk is the type of talented scorer the Kings haven't had since Luc Robitaille. Robitaille is the last Kings player to top 50 goals in a season when he registered 63 in the 1992-93 season as well as the last to top 40 when he netted 44 the following year.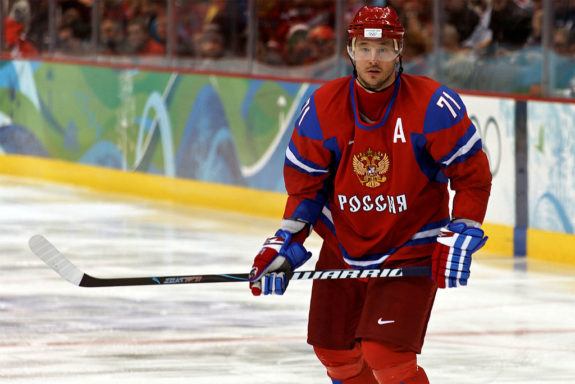 Even at 35-years-old, his shot hasn't regressed with age. Kovalchuk has always been willing to shoot the puck from anywhere and has a great one-timer. The key is going to be his ability to build chemistry with Kopitar and Brown, so they can feed off each and create space for him to get that shot off. One thing to factor in, Kovalchuk is coming from the larger ice surface in the KHL, meaning that he will need some time to adjust to the smaller surface where he will have less time and space to manoeuvre than he's been used to the past five years.
He will, however, have room for his immense skill set to flourish on the power play. Don't be surprised if the Kings use Alex Ovechkin's role on the Washington Capitals' power play as a model for Kovalchuk. With talent like Kopitar, Doughty and Jeff Carter out there, it's easy to see him roaming around the circles looking for an opening to snap off that shot.
The Risks of Adding Kovalchuk
It will also be interesting to see how he adapts to an NHL that is quite different from when he left. Kovalchuk's never been an exceptionally fast or quick player; will he be able to keep up with the pace of play? How will it affect his ability to get back defensively against younger, quicker opponents? Those are big questions to answer, especially for a team that prides itself on being one of the best defensive teams in the league year after year.
Another issue is, at his older age, will he be able to survive the rigours of an 82-game schedule, especially since the KHL plays only a 56-game season? His $6.25 million contract (in Average Annual Value) would be a steep price to pay for someone who might become a power play specialist if he is unable to keep up or can't stay on the ice for a full season.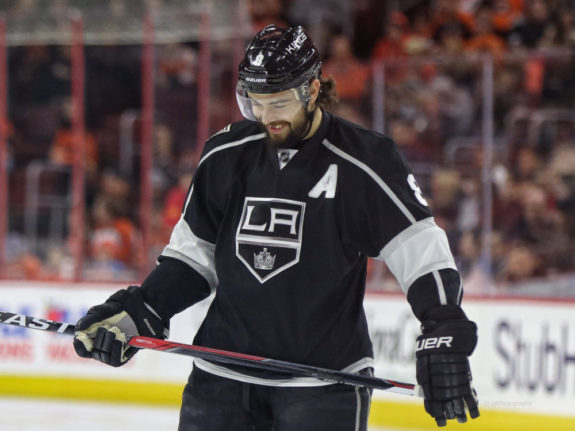 His contract is the biggest question: How do you fit Kovalchuk under the salary cap and still have money left to sign Doughty and field a competitive team? The Kovalchuk signing leaves the Kings with just over $3 million in cap space for 2018-19, not much to further upgrade an aging roster.
The team already has $63 million committed to 14 players for 2019-20, which would be the first year of a new deal for Doughty. If you add in $10-$12 million for Doughty, the amount jumps to $73-$75 million committed to 15 players. That leaves just $4.5-$6.5 million (assuming the cap stays the same) to fill out the roster which includes re-signing Adrian Kempe, Alex Iafallo and Daniel Brickley who will all be restricted free agents after next season.
That $10-$12 million cap hit for Doughty would also give the Kings $56-$58 million already committed to just nine players for the 2020-21 season. It's safe to assume the Kings may not be done retooling their roster.
Next Up: Pacioretty or Skinner?
Before they agreed to terms with Kovalchuk, there were rumors that the Kings were interested in trading for either the Montreal Canadiens' Max Pacioretty or Jeff Skinner from the Carolina Hurricanes. Don't discount those rumors, as one of those players would add further scoring depth to a team whose biggest weakness last season was a lack of secondary scoring. However, given their limited cap space, the Kings would have to send salary back to the Canadiens or Hurricanes in return.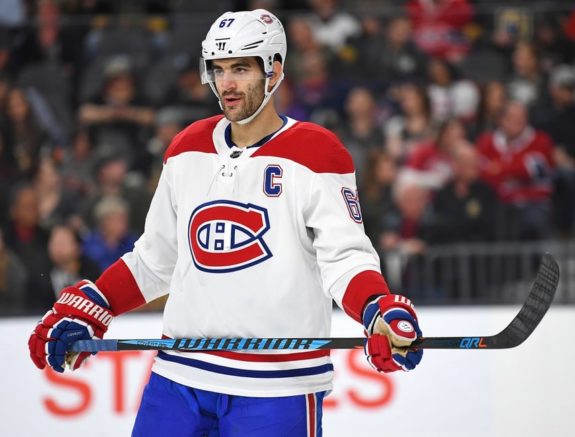 A package deal for either player could include defenseman Derek Forbort, forward Jonny Brodzinski, and a draft pick of some kind, likely a second- or third-rounder. Forbort, at just 26-years-old, could give either team a solid up-and-coming defenseman who was Doughty's primary defense partner the past two seasons.
Brodzinski, 25-years-old, has shown some strong offensive ability in the minors netting 13 goals and 30 points in just 29 games in the AHL this season. While that has yet to translate during his limited role at the NHL level, a new team that presents an increased opportunity to play might be just the thing Brodzinski needs to unlock his potential.
The only issue with a deal like this is that Forbort has only a $2.525 million cap hit and Brodzinski is a non-roster player, meaning thiss type of trade would either exhaust almost all of the remaining $3.2 million in cap space that the Kings have or they would need Montreal or Carolina to pay a portion of Pacioretty or Skinner's contract.
If that's not to their liking, a veteran player like Jake Muzzin or Alec Martinez could be substituted for Forbort while Tyler Toffoli or Tanner Pearson could replace Bordzinki.  Including one of these players in a deal instead would clear additional cap space for the Kings.
Muzzin and Martinez: This Year or Next
Muzzin or Martinez could be attractive to the Canadiens in particular as a possible left-handed partner for Shea Weber. Both have identical $4 million cap hits that would offset Pacioretty's $4.5 million cap hit. Muzzin, at 29-years-old and with two years remaining on his deal, would be more attractive than the 31-year-old Martinez who has three years remaining on his contract. Trading either Muzzin or Martinez would be removing a crucial piece from the number one defense in the league as the Kings allowed the fewest goals in the NHL last season.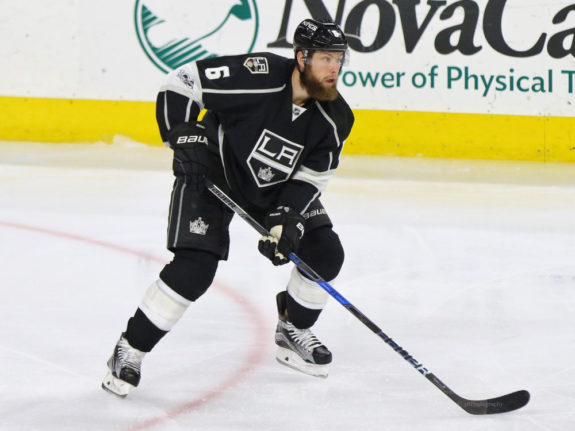 It might be more prudent to hang on to them and dangle them as potential trade candidates next summer, again to clear cap space for Doughty's new deal. Waiting a year would also allow them to see how Brickley performs during the season, in what could be an audition for their replacement.
Prospect Kale Clague is viewed as being about a year away from competing for an NHL roster spot, meaning he could be a replacement next summer as well. Extending a qualifying offer to Paul LaDue also makes him a logical replacement for any defenseman included in a deal this year.
Pearson the Odd Man Out?
Carolina might view either Toffoli or Pearson as a more attractive option as a replacement for Skinner than Brodzinski. Toffoli would be very attractive given he is only 26, has two years remaining on his deal and is at a very reasonable $4.6 million per season. Having averaged 23.5 goals a year the past four seasons including a team-leading 31 in 2015-16, Toffoli compares favorably in this category to Skinner who has averaged 27 goals a year over the same period. That fact makes it likely the Kings would be willing to include Pearson in the deal.
At just 25-years-old, Pearson might have the most upside of any player the Kings could include in a deal, having already recorded a 24-goal season two years ago. But, his inconsistent production and regression to just 15 goals last season make him a prime candidate to be dealt, and shedding his $3.75 million cap hit for the next three years in the process.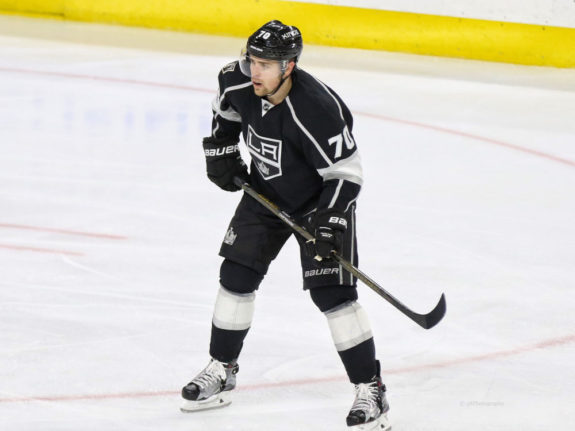 Adding either Pacioretty or Skinner would allow the Kings to keep both Kempe and top prospect Gabriel Vilardi in less pressurized roles on the third line. Both players have top-six potential so having them on the third line further lengthens the Kings' lineup and addresses the most pressing need for more secondary scoring.
Ultimately, if I'm the Kings I would offer Forbort, Pearson and a second-round pick to see what other big fish I could hook with that. If neither Canadiens or Hurricanes bite, I could take my chances and wait until next summer. Signing Kovalchuk has decreased the amount of cap space for the coming season and makes an additional deal tougher. But, it also allows the Kings to weigh their options knowing they have already addressed their biggest weakness.